Other important links:
Kermit Douglas Johnson
West Point, 1951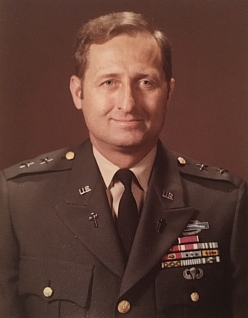 Be Thou At Peace
Posted by The Johnsons on January 20, 2020:
CHAPLAIN (MAJOR GENERAL)
KERMIT D. JOHNSON, USA (Ret.)



The son of Swedish immigrants, Kermit Douglas Johnson was born on September 2, 1928 in Minneapolis, Minnesota. His parents Anton and Judith provided a loving home and were influential in molding his character and that of his brother, Caywood. While in the tenth grade Kermit read the book West Point Today by Banning and dreamed of one day attending the United States Military Academy. Having graduated from Roosevelt High School, he was forever grateful to Congressman Walter Judd for appointing him to West Point solely on the basis of a competitive examination. At West Point he was an average student, interested mainly in the humanities. Athletically his desire to make the boxing team was halted when he missed his friend, Dick Wasson, with a left hook and threw his arm out of the socket. He then turned to squash, a racquet sport he had never played before. By his First Class (senior) year he was the number one West Point player, captain of the team, and ranked sixth nationally.

Amidst heavy demands on body and mind, West Point seemed an unlikely place for development of the interior life. Yet, that is precisely what took place in Kermit's life. His reading of the Bible resulted in a quiet, but life-changing commitment to Jesus Christ as Lord and Savior. Soon thereafter he was encouraged and strengthened in his faith by other cadets of like mind. Clearly this was a formative time, which eventually led to his decision to become an ordained minister.

Upon graduation from West Point he was commissioned a Second Lieutenant of Infantry. He attended the Infantry Officer's Basic Course and took jump training, followed by a short stint in the 82nd Airborne Division. It was there at Ft. Bragg, after marching his platoon to a Character Guidance class on "Thrift," that he told his wife Lynn, "There's one thing I will never be - and that's an Army Chaplain." Years later he was heard to say, "Never say 'Never'." Kermit's resignation from the Army marked the beginning of a journey that would bring him back to the Army as a chaplain. But before this happened, as an infantry officer he commanded two Heavy Mortar companies, one in the 9th Regiment of the 2nd Infantry Division in the Korean War and the other in the 29th Regimental Combat Team on Okinawa.

In 1954, Kermit resigned from active duty and retained a commission in the United States Army Reserve. After leaving the Army, Kermit and Lynn served as lay missionaries for three years in the Orient. Kermit entered Princeton Theological Seminary in 1957, received a Master of Divinity degree in June 1960, and was ordained a minister of the Presbyterian Church (USA). Immediately thereafter he went back into the Army as a chaplain and realized he was "back home."

Then followed a wide-ranging career in the Army chaplaincy including two tours with the third Armored Division in Germany, preaching posts at Mark Twain Village and Patrick Henry Village Chapels in Heidelberg, Adviser to the Vietnamese Armed Forces Chief of Chaplains, post chaplain positions at West Point and Carlisle Barracks, PA, graduation from the U.S. Army Command and General Staff College and in 1976 the U.S. Army War College, U.S. Army forces Command Chaplain, Deputy Chief of Chaplains and Chief of Chaplains from 1979 to 1982.

His military awards and decorations included the Distinguished Service Medal, the Legion of Merit, the Bronze Star with one Oak Leaf Cluster, the Meritorious Service Medal, the Joint Service Commendation Medal, and various campaign medals. He was also the recipient of the Four Chaplains Award and the Jewish Welfare Board's Distinguished Service Award. Finally, in 2013 Princeton Theological Seminary asked him to come speak as a Distinguished Alumnus and in 2015 he was nominated by his peers and recognized at the U.S. Army War College as an Outstanding Alumnus.

After retirement from the Army, Kermit served from 1983-1986 as Associate director of the Center for Defense Information in Washington, D.C. Subsequently he served for two years in the Washington Office of the Presbyterian Church (USA) and was a member of the Central America working group. Over the years he authored articles and individual chapters in books on military ethics, nuclear issues and just war. His book Realism and Hope in a Nuclear Age was published by John Knox Press in 1988 and in 1997, a book on the moral issues of U.S. involvement in counter-revolutionary warfare, Ethics and Counterrevolution: American Involvement in Internal Wars, University Press of America.

Kermit and Lynn retired in Northern Virginia, had a wonderful life near Rehoboth Beach, DE, and then moved to Harrisonburg, VA. Recently they moved back home to Minnesota to be close to their daughter, grandchildren, and great grandchildren.

Kermit applied the gospel of Jesus Christ to real world issues. He had a wholistic understanding of the gospel that applied to all of life. He never abandoned the evangelical claims of the gospel and his theology could be summarized in one word, grace, God's unmerited favor, God's love and of forgiveness for unworthy persons such as himself. The capstone of this gospel he held to be the stupendous reality of the resurrection and the hope of eternal life through Jesus Christ. This is what he wished to be his "last word" to the love of his life, Lynn, to his daughter Karin, son Chris, his nieces, nephews, grandchildren, great grandchildren, classmates, and friends.

Kermit died the morning of January 9th, 2020, in a Minnesota hospital after having put up a good fight. He was 91 years old. He will be interred in Arlington National Cemetery in Arlington, Virginia at a later date.



"Well done, good and faithful servant."
Previous Eulogy
Next Eulogy