View a eulogy for George Shibata, USMA '51, who passed away on May 20, 1987.
Other important links:
George Shibata
West Point, 1951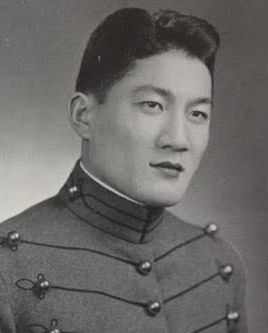 Be Thou At Peace
Posted by Jose Andres "Andy" Chacon on November 14, 2004:
George Shibata

Born November 14, 1926 - Died May 20, 1987



George Shibata was born in Garland, Utah on 14 November 1926 and was appointed to West Point on a Senatorial appointment.

His West Point classmates recall: "George came to us as a man of many tales. A former paratrooper, casanova, athlete and 'educator,' Sheebat rode in from the far West to wrestle with the Tactical Department. The little time that was left was used for writing letters, playing pool, or rereading history. Always ready for a good time, George combined pleasure with business, ranking high in his class and going 'all out' on weekends." During his cadet days George went out for Track plebe and yearling years; for Track plebe year and was a clean sleever first class year. Upon graduation George went in the Air Force and after flying training served in Korea flying the F-86 in combat. George resigned his First Lieutenant's commission in 1955 and went to USC where he earned an LLB degree and set out to practice law in Los Angeles. George played a supporting role in the movie Pork Chop Hill which cast Gregory Peck in the real life role of George's real life, our classmate, at West Point, Joe Clemens. Joe personally selected George to play the part as one of Joe's Platoon Leaders who was a Nisei, as was George.

George died in Huntington Beach, California on 20 May 1987. He is interred at West Point Cemetry xxxv d 046 20.



Next Eulogy
---
West-Point.Org (WP-ORG), a 501(c)(3) non-profit organization, provides an online communications infrastructure that enable graduates, parents, and friends of the military academy to maintain and strengthen the associations that bind us together. We will provide this community any requested support, consistent with this purpose, as quickly and efficiently as possible. WP-ORG is funded by the generosity of member contributions. Our communication services are provided in cooperation with the AOG (independent of USMA) and are operated by volunteers serving the Long Gray Line. For questions or comments, please email us at feedback@west-point.org.