View a eulogy for Raymond Alexander Karam, USMA '55, who passed away on November 27, 2009.
Other important links:
Raymond Alexander Karam
West Point, 1955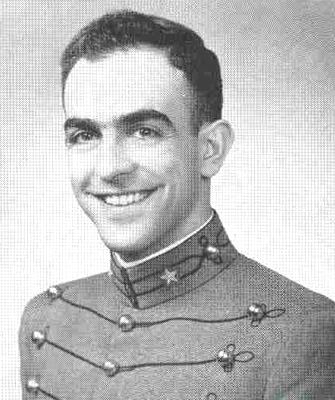 Be Thou At Peace
Posted by Carl H. McNair, Jr. on December 25, 2009:
Ray Karam was a role model within the Class of 1955 - outstanding cadet, scholar and leader, committed, confident and comfortable in all that he did and was called upon to do. Although I was in the First Regiment, Co E-1, and Ray was in the Second Regiment, Co K-2, I came to know him best on the Class General Committee in our Cow (Junior) year where we were our respective Company's representative. His organizational and leadership abilities were always evident and followed him all of his life, in and out of the military, as evidenced by his great successes on all fronts.

As a firstie on the Brigade Staff, living in Central Area among the lst Regiment, I came to know him even better and he stood among the tallest among a very select group of cadet officers, befitting the gold stars that he wore on his collar and the many stripes on his sleeve. Later, in retirement, Ray took a deep and abiding interest in class activities and served in a number of leadership positions. When I was asked in 1998 to serve as Chairman of the Class Constitution Committee, charged with rewriting our aging and outdated Constitution for Class approval at the 45th Reunion in 2000, I sought out Ray Karam to serve as our "institutional memory" and final editor of what would be presented to the class for approval. Ray faithfully came to each of the committee meetings over the next year contributing greatly to the effort, which met with full class ratification, serving our class well today. He enjoyed the confidence and respect of all of us and helped immeasurably in that key project at a critical time in our class history.

Thanks, Ray, always, for your leadership and support. The Class of 1955 will never forget you - dear comrade - as you now take your place among our hallowed heroes. God bless and be with you.

Carl H. McNair, Jr.
President, Class of 1955
Next Eulogy
---
West-Point.Org (WP-ORG), a 501(c)(3) non-profit organization, provides an online communications infrastructure that enable graduates, parents, and friends of the military academy to maintain and strengthen the associations that bind us together. We will provide this community any requested support, consistent with this purpose, as quickly and efficiently as possible. WP-ORG is funded by the generosity of member contributions. Our communication services are provided in cooperation with the AOG (independent of USMA) and are operated by volunteers serving the Long Gray Line. For questions or comments, please email us at feedback@west-point.org.