View a eulogy for Robert Peter Johnson, USMA '55, who passed away on January 26, 2003.
Other important links:
Robert Peter Johnson
West Point, 1955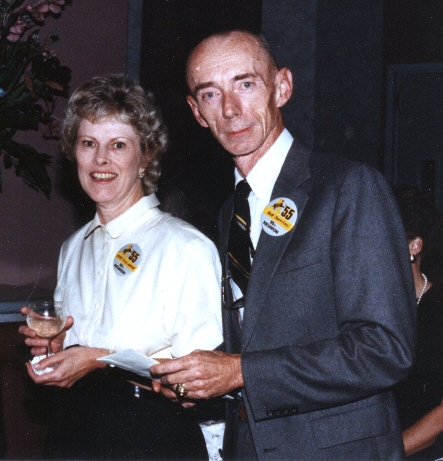 Be Thou At Peace
Posted by Dan Ludwig on January 31, 2003:
Bob: Being separated during our four years by our assignments to the shortest and the tallest companies, our association during cadet days was very limited. However, through athletics, Buckner, and Class summer trips we we cognizant of each other's progress. Since we both retired to Virginia, I have become more familiar with your dedication to West Point and the U.S. Army. Regretfully, we were unable to meet during your visits to Virginia Tech during visits when your daughter was a student here. As with other classmates, I admire your spirit and dedication toward the Army and West Point through your postings on the Class Forum. We will all miss your anecdotes, points of view, and clear incite regarding Class activities. Your sudden passing has caused us reflect upon our mortality and to thank God for your life, for your contributions to the U.S. Army, to your family, and to the Class of 1955. Well Done,Bob.
Dan Ludwig
Previous Eulogy
Next Eulogy
---
West-Point.Org (WP-ORG), a 501(c)(3) non-profit organization, provides an online communications infrastructure that enable graduates, parents, and friends of the military academy to maintain and strengthen the associations that bind us together. We will provide this community any requested support, consistent with this purpose, as quickly and efficiently as possible. WP-ORG is funded by the generosity of member contributions. Our communication services are provided in cooperation with the AOG (independent of USMA) and are operated by volunteers serving the Long Gray Line. For questions or comments, please email us at feedback@west-point.org.