Other important links:
Robert Peter Johnson
West Point, 1955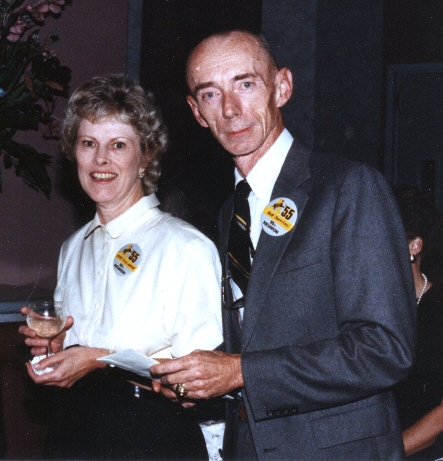 Be Thou At Peace
Posted by MAJ Stephen G. Johnson on February 4, 2003:
On behalf of our family I would like to thank everyone for their wonderful words about Dad...or in his lingo to me...DOD (Dear Old Dad). The service yesterday was wonderful and our thanks to everyone who was able to attend or helped out in anyway...DOD would have liked it.

I'd like to share my words about him that I read yesterday...

In all the right ways my father was a very proud man?proud of his wife, proud of his sister, proud of his children, proud of his grandchildren, proud of his whole family -past and present, proud to have so many caring friends?he was also immensely proud of his Alma Mater?and West Point was truly a mother to him?and proud of his country and his service to her.
Dad grew up in a wonderful family?a very loving but straightforward and practical Swedish father Carl and a very loving and giving mother Stella?I believe he got his generally uncommon common sense from my grandfather and from my grandmother his abiding love of God. She?s the one who worked diligently to help him get his appointment to West Point and they were both so proud of all his accomplishments. Dad and his wonderful sister Helen grew up in a wonderful neighborhood near Harlem, as Dad used to put it, within sight of Grant?s Tomb, with the likes of people like George Carlin. While not a wealthy neighborhood, it was a neighborhood rich in friendships and caring. It was a good place to grow up. His early education was at Corpus Christi with a pastor, life-long mentor and friend Father Ford and as well as numerous sisters who ensured that his foundation, both spiritual and educational was as sound as possible. He moved on to All Hallows High School where he excelled in both baseball and basketball. In fact, he was a member of the team that won the City Championship in 1949. While there he was also involved in several Gilbert and Sullivan productions?the basis for his lifelong love of their music.
When he came to West Point in 1951, he?d found his niche. The years spent here and the friendships made profoundly shaped his life. He found no greater service than serving his God, his family and his country. Those qualities in him underwent their final forging here on the banks of the Hudson. He was the president of the Lee-Grant Chapter of the Alumni Association in Central Virginia and considered helping the Academy?his Academy?and it?s sons and daughters the best way to spend his time in his later years.
My aunt swears she lost several friends after she brought them up to West Point to meet dad because he never showed any interest in any of them?that is until she brought my mother, Mary Alice, up?and it was love at first sight. She has always been foremost in his mind for over 50 years and 47 wonderful years of marriage. Mom?he had a wonderful life because of you and your love.
He loved his sister Helen deeply. While they didn?t always agree on things social or political, they always talked, they were always there for each other and they always had jokes to share. We?re both going to miss getting his latest jokes.
He was so very proud of my sister Valerie becoming a veterinarian, finding a great husband and raising two terrific grandchildren. He bought her her first horse years ago?and was down there helping her muck and feed whenever he could?and he?s had at least one horse ever since, but if you were to ask him who they belonged to, he?d always say that they were Valerie?s and that he was just looking after them for her.
Daryl?you became his second son. He loved you very much.
While he wasn?t always able to be around when we were growing up, we always knew he loved us deeply, but I think that he felt that he was the one who missed out the most?and he wasn?t about to let that happen with his two grandchildren, Justin and Claire?he was one of the proudest grand dads I?ve ever met and spent as much time with them as possible and loved watching them become young people.
I?d like to relate two personal stories. Even though I decided to attend another university, he didn?t pressure me in anyway to consider West Point. I did elect to be in the ROTC program, he was very proud. The first story is from when I was attending Airborne school as a cadet. The day before our first jump, I called home. I was nervous, but looking forward to my jump. My dad gave me a typical piece of his sage advice??keep your feet and knees together? and some other encouragement and said that I?d do fine. The next day, after our first jump, I was called to the company CQ and who was standing there, but Dear old Dad. He?d been planning to come down the whole time. He was there for the rest of my jumps; he took me around the training areas and described for me what it was like when he was going through the training. He was there to pin on my wings?the wings he earned in 1955. The second is?the day before my commissioning, he called and told me to be standing tall in uniform at my room first thing in the morning. He showed up, dressed in his greens with a little American Flag in hand?and he swore me in as a Second Lieutenant in the TV room of my dorm?because he said that he didn?t want them - the ROTC Cadre - to screw it up later?it seems to have taken.
Because this wonderful Academy was such an important part of my father?s life, I?d like to conclude by paraphrasing my father?s own words that he used to remember a dear friend of his, Ms. Adele Mitchell, only two weeks ago.
It would be an understatement to simply say that he had black, gold and gray running in his veins?the only thing more important to him in his life than the Academy was his family.
There are many more wonderful and complimentary adjectives that I could use to describe my father, but if I had to choose one way to describe him and the way he lived his life I would say that he lived the words of the Cadet Prayer. For those who have never heard it, it is worth repeating now.
O God, Our Father, Thou Searcher of Men?s hearts, help us to draw near to thee in sincerity and truth. May our religion be filled with gladness and may our worship of thee be natural. Strengthen and increase our admiration for honest dealing and clean thinking, and suffer not our hatred of hypocrisy and pretence ever to diminish. Encourage us in our endeavor to live above the common level of life. Make us choose the harder right instead of the easier wrong, and never to be content with a half-truth when the whole can be won. Endow us with the courage that is born of loyalty to all that is noble and worthy, that scorns to compromise with vice and injustice and knows no fear when truth and right are in jeopardy. Guard us against flippancy and irreverence in the sacred things of life. Grant us new ties of friendship and new opportunities of service. Kindle our hearts in fellowship with those of a cheerful countenance, and soften our hearts with sympathy for those who sorrow and suffer. Help us to maintain the honor of the Corps untarnished and unsullied and to show forth in the lives the ideals of West Point in doing our duty to Thee and to our Country. All of which we ask in the name of the Great Friend and Master of Men. Amen.

He knew long ago that this is where he wanted to be laid to rest and I?m happy and proud that we are able to accomplish this final thing for him.
Grip Hands.

Previous Eulogy
Next Eulogy
---
West-Point.Org (WP-ORG), a 501(c)(3) non-profit organization, provides an online communications infrastructure that enable graduates, parents, and friends of the military academy to maintain and strengthen the associations that bind us together. We will provide this community any requested support, consistent with this purpose, as quickly and efficiently as possible. WP-ORG is funded by the generosity of member contributions. Our communication services are provided in cooperation with the AOG (independent of USMA) and are operated by volunteers serving the Long Gray Line. For questions or comments, please email us at feedback@west-point.org.