View a eulogy for Rodney Lee Waterstrat, USMA '55, who passed away on February 20, 2001.
Other important links:
Rodney Lee Waterstrat
West Point, 1955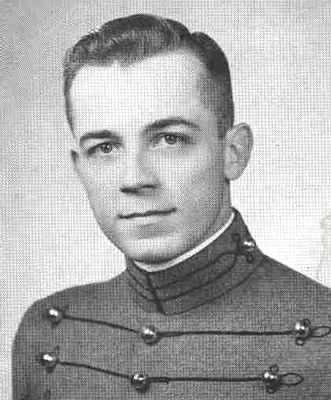 Be Thou At Peace
Posted by Rod's Family on February 23, 2001:
Rod, son of Walter and Lillian Waterstrat, was born September 2, 1929,in Tonawanda, New York. He graduated from Tonawanda High School and attended the University of Buffalo. After spending four years in the National Guard, he earned an appointment to the United States Military Academy at West Point. He received a commission and graduated from West Point on June 7, 1955.

He married Elaine Westbrook on the same day.His assignments took him to Fort Bliss, Texas; Fort Benning, Georgia; Fort Niagara, New York; Fort Sill, Oklahoma; Aberdeen, Maryland; Detroit Michigan; Leavenworth, Kansas, Fort Carson, Colorado and seven years in
Germany. He fought for his country in Vietnam. Rodney received an MBA at Arizona State University in 1965. He retired as a Lieutenant Colonel at Fort Carson in 1980.

Rod and Elaine moved to Arizona in 1980 and to Fountain Hills in 1984. Rod,a member of Shepherd of the Hills Lutheran Church, loved God, traditional church music and Bible study. As a member of The Club, he played regularly on two golf teams and headed a cooking team. He had a green thumb and spent hours weekly working around his yard. He was a loving husband and father and a very proud grandpa. He died February 20, 2001 in Scottsdale AZ.

Rod is survived by his wife Elaine; daughters Katie Beegle of DeSoto,
Texas; Susan Saliba of Colorado Springs, Colorado; son Steven of Bonney Lake, Washington; brother Lynn of Sanborn, New York; and 11 grandchildren-Susan, Steven, James, Kay, Ginny, Walter, Lilly and Beverly Beegle, Joseph andJacob Saliba, and one great grandchild, Shane Roesch.

Rod truly loved God, his wife and family, his friends, and his country.

Well Done Rod, Rest in Peace
Previous Eulogy
Next Eulogy
---
West-Point.Org (WP-ORG), a 501(c)(3) non-profit organization, provides an online communications infrastructure that enable graduates, parents, and friends of the military academy to maintain and strengthen the associations that bind us together. We will provide this community any requested support, consistent with this purpose, as quickly and efficiently as possible. WP-ORG is funded by the generosity of member contributions. Our communication services are provided in cooperation with the AOG (independent of USMA) and are operated by volunteers serving the Long Gray Line. For questions or comments, please email us at feedback@west-point.org.