View a eulogy for Gerald George Chikalla, USMA '55, who passed away on June 7, 2008.
Other important links:
Gerald George Chikalla
West Point, 1955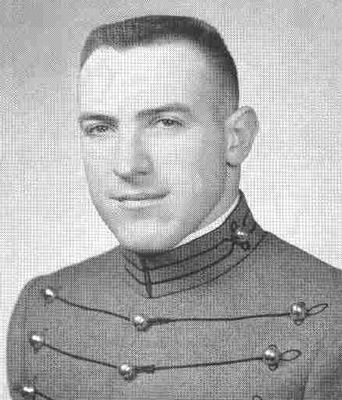 Be Thou At Peace
Posted by Chuck Ewing on June 27, 2008:
One of the first things I learned about Chick was that his Wisconsin background equipped him with an impressive set of outdoorsman's skills. He came to West Point to sharpen them, and to pick up a few tactical pointers on his way to becoming a dedicated and unyielding infantryman. That was his focus the whole four years, and the demands of academics, the intrusions of the tactical department, even his exasperation with pencil heads -- his endearing appellation for all kinds of dolts -- were only minor distractions along the way.

He was a legend in E-2 for many reasons, not the least of which was that he was the strongest man any of us ever knew, a thing we all recognized well before we had to face him in plebe wrestling. And it wasn't just physical strength. The academic department held no terrors for him; you could walk into his room and find him working the knife, burying arrows in a pile of newspapers, playing Shaafskopf with Mike and Pembo, only occasionally studying.

He was no less a legend when he went to the Infantry. No one who crossed his path ever forgot him, and the stories still abound, far outside the Army. Tom Bell tells a great one about flying his C-123 into a strip somewhere to pick up an infantry platoon. Used to seeing troops amble in and drop into the seats, he was amazed to see this platoon storm into the airplane at high port -- until he saw Lt. Chikalla storm in right behind them. No one in any outfit he commanded ever had an easy life, but when the rounds began to fly, every man aboard could concentrate on the job at hand; they knew they were an elite force, and he had their back.

Our world is a less safe and less colorful place without him. We mourn with Jessie the passing of her great and good man, our model for excellence. Wiedersehen, Chick.


Previous Eulogy
Next Eulogy
---
West-Point.Org (WP-ORG), a 501(c)(3) non-profit organization, provides an online communications infrastructure that enable graduates, parents, and friends of the military academy to maintain and strengthen the associations that bind us together. We will provide this community any requested support, consistent with this purpose, as quickly and efficiently as possible. WP-ORG is funded by the generosity of member contributions. Our communication services are provided in cooperation with the AOG (independent of USMA) and are operated by volunteers serving the Long Gray Line. For questions or comments, please email us at feedback@west-point.org.