View a eulogy for Christopher Jesse Miller, USMA '55, who passed away on October 20, 1966.
Christopher Jesse Miller
West Point, 1955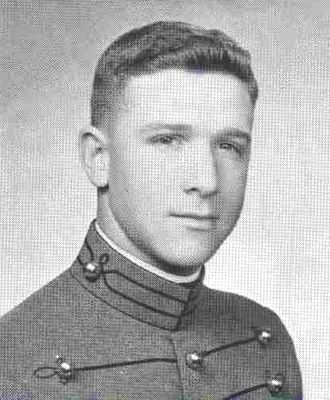 Be Thou At Peace
Posted by Bill Harris on April 29, 2004:
Along with Russ Parsons, Chris was my roommate during Beast Barracks. We spent the two most difficult months of our lives together, from our first meeting after our initial reception at West Point, through to our separation, at the end of Beasst. Russ and I were assigned to H-1. Chris was a little shorter than we were, so he was assigned to I-1.What a disappointment to us all, that we were going to be separated.

During Beast, we had many shared experiences, and laughs, and disappointments. I'll never forget the three of us, misreading our training schedule, and assembling in our Company Area, for a drill that was not to be. We were on time for First Call, but wondered why no one else was there. As we stood at attention in the area, in our assigned spots, in helmet liners and fatigues, eyes in motion trying to find familiar faces, and no one else showing up, the problem then became one of getting back to our rooms, without being caught, which obviously didn't happen. As time arrived for assembly, and the three of us were the only ones "assembled," a First Classman asked what we were doing in the area, all dressed up, with no where to go. That was the beginning of a very long discussion with him, and directions on how to better read our training schedule in the future. Obviously, having remembered this experience for fifty-three years, it left an indelible impression in my mind.

Chris, from Westminster, MD. Always a friend, so sorry to lose you at such an early age, but alweays a friend, forever.

Rest in Peace, Chris, and know you will always be remembered by those to whom you meant the most.
Previous Eulogy
Next Eulogy
---
West-Point.Org (WP-ORG), a 501(c)(3) non-profit organization, provides an online communications infrastructure that enable graduates, parents, and friends of the military academy to maintain and strengthen the associations that bind us together. We will provide this community any requested support, consistent with this purpose, as quickly and efficiently as possible. WP-ORG is funded by the generosity of member contributions. Our communication services are provided in cooperation with the AOG (independent of USMA) and are operated by volunteers serving the Long Gray Line. For questions or comments, please email us at feedback@west-point.org.