View a eulogy for George Keith Garner, USMA '60, who passed away on September 30, 2020.
Other important links:
George Keith Garner
West Point, 1960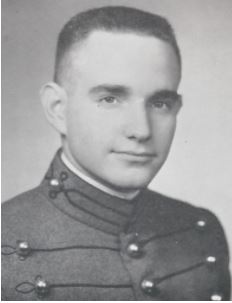 Be Thou At Peace
Posted by James A. Garner on October 4, 2020:
REMARKS BY RANDY PERKINS, West Point Class of 1960
Company A-2
"GO LIKE SIXTY"

I AM RANDY PERKINS AND I WAS KEITH'S "FIRST WIFE"..... LET ME EXPLAIN ..THAT IS WHAT A ROOMMATE WAS CALLED BACK WHEN WE WERE AT WEST POINT IN 1956. KEITH WAS MY ROOMMATE AND DEAR FRIEND.
Y'ALL HAVE KNOWN AND LOVED KEITH AS A NEIGHBOR AND FRIEND. NOW LET ME SPEND A FEW MOMENTS AND TELL YOU ABOUT THE KEITH THAT I KNEW. KEITH WAS THE MOST TEXAS!!! TEXAN, I HAVE EVER MET WITH AN ACCENT AND A HEART TO MATCH THE SIZE OF HIS STATE. L'M SURE HE WOULD HAVE FELT HE WAS IN HEAVEN ON EARTH IF HE COULD HAVE SPENT HIS ENTIRE ARMY CAREER IN TEXAS.

KEITH WAS A VERY STRONG PERSON, ONE WHO WAS ABSOLUTELY DEDICATED TO WEST POINT, THE ARMY, AND ABOVE ALL HIS FAMILY AND FRIENDS. I KNEW HIM AS ONE WHO COULD BE ABSOLUTELY RELIED AND COUNTED UPON TO SUPPORT HIS BUDDIES IN ANY AND ALL SITUATIONS WHETHER IN COMBAT OR PEACE.

I MET KEITH FOR THE FIRST TIME AT WEST POINT WHILE MOVING INTO OUR BARRACKS ROOM AROUND 3 IN THE AFTERNOON ON THE 3rd OF JULY 1956. "HOWDY, l'M KEITH GARNER FROM AMARILLO, TEXAS!' HE SAID. I TOLD HIM THAT I WAS FROM SAN ANTONIO. TWO HOURS LATER WE EXPERIENCED THE BEGINNING OF "HELL ON EARTH" AS SHAVED HEAD, WEST POINT PLEBES WE WERE SWORN INTO THE CLASS OF 1960 DURING THE RETREAT CEREMONY AT TROPHY POINT OVERLOOKING THE HUDSON RIVER. TALK ABOUT A BONDING EXPERIENCE!!!.

OUR OTHER ROOMATEWAS BOB ESTES FROM MAINE AND AS FAR AS KEITH WAS CONCERNED BOB SPOKE A STRANGE VERSION OF ENGLISH. AT LEAST I WAS FROM SAN ANTONIO. KEITH MUST HAVE THOUGHT WE WERE BOTH IN A FOREIGN COUNTRY IN UPSTATE NEW YORK. BOB WAS SOON REASSIGNED AND REPLACED WITH JIM LYNN WHO ALSO HAILED FROM MAINE. WE WERE AN UNUSUAL ROOM WITH DIFFERENT LEVELS OF MATURITY. KEITH HAD ALREADY SPENT A FISH YEAR AT A&M IN THE CORPS OF CADETS, BOB ESTES HAD 2 YRS OF COLLEGE AND JIM HAD 3 YRS AT U OF MASS
...BUT HAD TO REPEAT HIS PLEBE YEAR AT WEST POINT BECAUSE OF ACADEMICS. JIM WAS THE "OLD" MAN OF THE ROOM AND I WAS THE YOUNGESTER COMING DIRECTLY OUT OF HIGH SCHOOL. FOR THE NEXT 4 YRS KEITH ALWAYS LOOKED OUT FOR HIS ''FIRST WIFE".

KEITH PERFORMED PRETTY WELL IN PLEBE YEAR EXCEPT FOR THE FACT THAT HE CHOOSE GERMAN AS HIS FOREIGN LANGUAGE. WOW!!! I CAN ONLY IMAGINE WHAT THE GERMAN PROFESSOR THOUGHT OF KEITH'S AMARILLO PRONUNCIATION. OF "VEI GETTIES ENIEN". I TRIED TO TALK HIM INTO SPANISH... BUT HAD NO LUCK.. WELL WE...,HE... WAS REALLY DETERMINED TO BEAT THE GERMAN DEPT AND AFTER SOME MIGHTY TOUGH EXAMS FINALLY WON AND LIFE GOT BETTER.

WE WERE REQUIRED TO STAY AT THE ACADEMY DURING CHRISTMAS AS PLEBES....NO GOING HOME FOR THE HOLIDAYS FOR US! MY SISTER, JEANNE, CAME TO VISIT AND KEITH PROVED TO BE AN OBLIGING FRIEND WHEN HE AGREED TO DATE HER SIGHT UNSEEN AND 5 YEARS YOUNGER. HE WAS ALSO RESPONSIBLE FOR ARRANGING A BLIND DATE FOR ME IN OUR COW YEAR (JR YEAR). MY DATE MAIDA CAME UP WITH KEITH'S DATE FOR A HALLOWEEN DANCE AND BOTH CAME IN BOROWED SAILOR SUITS--- CREATING QUITE A SCENE WITH THE CORPS. WELL, SIXTY YEARS LATER I AM FOREVER GRATEFULL. THANKS, KEITH!

WE SPENT MANY UPPERCLASS WEEKENDS AFTER THAT WITH MAIDA AND ME TAKING KEITH TO NEW YORK CITY. WE HAD AS MUCH FUN AS HE DID WHEN INTRODUCING KEITH TO TIMES SQUARE, THE NEW YORK THEATERS, BRIGHT LIGHTS, TRAFFIC, AND RESTAURANTS.
AT GRADUATION BOTH KEITH AND I SELECTED FIELD ARTILLERY AS OUR BRANCH OF SERVICE. WE WERE ALSO IN THE GROUP THAT WENT TO BOTH RANGER AND AIRBORNE TRAINING PRIOR TO THE BASIC COURSE AT FORT SILL OKLA.

AS RANGERS IN THE SAME PATROL, WE STARTED OUT AND ENDED UP AS RANGER BUDDIES. KEITH DEVELOPED A BAD LEG INFECTION DURING THE MOUNTAIN PHASE OF THE COURSE BUT IN ORDER TO EARN OUR RANGER TABS WE STILL HAD TO COMPLETE A FIVE MILE RUN WITH RIFLE AND FULL BACKPACK. HE WAS IN PAIN SO AFTER OVER 3 MILES I GRABBED HIS BACKPACK SO HE COULD COMPLETE THE RUN AND NOT HAVE TO DROP OUT. HE GOT IT BACK THE LASTAA1/4 MILE. HE WOULD HAVE DONE THE SAME AS WE WERE "RANGER BUDDIES."

WE WERE IN GREAT PHYSICAL SHAPE AFTER RANGER SCHOOL. PRIOR TO REPORTING TO JUMP SCHOOL THEY TOLD US NOT TO SEW ON OUR GOLD RANGER TABS BECAUSE VERY FEW OF THE AIRBORNE CADRE HAD ALSO EARNED THE COVETED TAB. WE SOON FOUND WE COULD EASILY OUTRUN THE AIRBORNE NCO CADRE ON OUR DAILY 0600 DAWN RUNS. EVERY TIME KEITH WOULD WISE OFF, WHICH WAS OFTEN, AN NCO WOULD YELL. "GIMME 20" MEANING PUSH UPS AND KEITH'S REPLY WAS ALWAYS "WHICH ARM SGT.'RIGHT OR LEFT". NOT THE CORRECT RESPONSE UNLESS YOU WANT THEIR FULL ATTENTION. WE MADE OUR FIRST AIRBORNE JUMP TOGETHER. I STILL SWEAR HE PUSHED ME OUT THE AIRCRAFT DOOR AND FOLLOWED TO END UP ON TOP OF MY CHUTE AS IT OPENED.

KEITH WAS ONE OF OUR CLASS THAT VOLUNTEDRED FOR SPECIAL FORCES AND AIRBORNE UNITS AS A FIRST ASSIGNMENT. SINCE I WAS GETTING MARRIED 10 DAYS AFTER THE BASIC COURSE, I THOUGHT BETTER OF RAISING MY HAND AND OFF I WENT TO OUR WEDDING AND TO THE 2ND ARMORED DIVISION AT FORT HOOD AND THE GARDEN SPOT OF KILLEEN TEXAS. KEITH HEADED TO FORT BRAGG AND THE 82ND AIRBORNE DIVISION AND SPECIAL FORCES. THE SPECIAL FORCES PRIOR TO THIS TIME HAD ONLY ACCEPTED EXPERIENCED 1st LTS IN THE ELITE FORCE. WELL NOW THEY HAD 10 OR SO 2LTS SIGNING IN KEITH AND HIS COMRADES IMMEDIATELY BECAME KNOWN AS D.A.S.Ls...(DUMB ASS 2ND
LTS)...THATEXPERIENCE IS AN INTERESTING STORY IN ITSELF,TO SAY THE LEAST.

OUR PATHS WOULD NOT CROSS AGAIN UNTIL THE SUMMER OF 1965 IN VIET NAM. I WAS ASSIGNED TO THE 1st INF DIV (BIG RED ONE) IN PHOU LOI AND KEITH WAS IN THE 25th DIV..AT CU CHI. WE WERE ABOUT 10 MILES APART FROM ONE ANOTHER AND BOTH OF US WERE BTRY CMDRS. ONE DAY A CALL CAME ON THE RADIO FROM KEITH WHO SAID HE WAS ON THE WAY TO MY UNIT AND WOULD SPEND THE NIGHT.. LATE THAT NIGHT WE CAME UNDER VC MORTAR ATTACK .. I WENT TO MY FIRE DIRECTION CENTER AND LOOKING BACK I SAW KEITH SITTING ON TOP OF THE SAND BAGS AROUND OUR TENT.. HE WAS ALL DECKED OUT IN STEEL POT, COMBAT BOOTS AND ONLY JOCKEY SHORTS.. WELL...MAYBE HE MIGHT HAVE HAD ON A FLACK JACKET. HE WAS UNCONCERNED TO SAY THE LEAST. FOR MANY YEARS I KEPT THE TAIL FINS OF A MORTAR ROUND THAT LANDED BETWEEN US. I CAN ONLY IMAGINE WHAT A GREAT COMMANDER KEITH WAS AND ONE WHO REALY TOOK CARE OF HIS TROOPS. KEITH HAD 3 TOURS IN VIETNAM AND WITH HIS TEXAS ACCENT EXCELLED AT SPEAKING THAI. IN FACT HE SCORED THE HIGHEST SCORE, AT THE TIME, ON THE ARMY'S THAI LANGUAGE TEST.

WE WERE NEVER STATIONED FOR ANY LENGTH OF TIME CLOSE TO ONE ANOTHER AGAIN BUT WE ALWAYS STAYED IN TOUCH THROUGH CHRISTMAS CARDS BETWEEN OUR FAMILIES.

WE BOTH ATTENDED CG&SC AT FT LEAVENWORTH AND BOTH OF US WERE SELECTED FOR POST GRADUATE SCHOOL. KEITH ATTENDED HARDIN-SIMMONS AND BECAME A PROFESSOR OF MILITARY TACTICS AT HARDIN SIMMONS.

KEITH LOVED THE OUTDOORS AND WAS A GREAT SPORTSMAN. YOU COULD SEE HIS LOVE OF HUNTING AND FISHING FROM HIS MANY PHOTOS AND TROPHIES THROUGHOUT BOBBIES AND KEITH'S HOME. ONE OF THE GREAT THRILLS OF HIS LIFE WAS AN AFRICAN HUNTING SAFARI HE TOOK WITH HIS SON, JIM. HE LOOKED FORWARD FOR MANY YEARS TO COMING TO HUNT WITH HIS CLASSMATES JIM PEARL AND J.J. YORK ON JIM'S RANCH AS WELL AS HUNTING ON HIS OWN LEASES.

AFTER KEITH RETIRED FROM A VERY SUCCESSFUL 20 YEAR ARMY CAREER, HE EMBARKED ON ANOTHER CHALLENGE IN THE INSURANCE INDUSTRY. HE VOLUNTEERED IN SEVERAL ORGANIZATIONS AND NEVER STOPPED CONTRIBUTING TO HIS COMMUNITY. I AM SURE ALL OF YOU IN ABILENE ARE WELL AWARE OF THE POSITIONS OF IMPORTANCE AND INFLUENCE KEITH HELD. I AM VERY IMPRESSED BUT NOT IN THE LEAST SURPRISED WITH THE EXTENT OF KEITH'S ACCOMPLISHMENTS AND CONTRIBUTIONS HE HAS MADE TO EVERYONE.

KEITH WAS A MOST FORTUNATE MAN DURING HIS LIFE TO HAVE SO MANY FRIENDS AND TO BE SO SUPPORTED AND LOVED BY BOBBIE, HIS WIFE AND HIS SON,JIM AND DAUGHTER,SUKIE. HE WILL BE MISSED BY THEM AND HIS GRANDSONS GRAYSON, QUINCY, LOGAN, MAC, GEORGE, AND SCOUT.

HE LIVED HIS WHOLE LIFE INFLUENCED BY THE VALUES OF WEST POINT...DUTY.. HONOR..COUNTRY. KEITH WAS THE PERFECT EXAMPLE OFAN OFFICER AND A GENTLEMAN.

I LEAVE YOU WITH THIS THOUGHT- THOSE WE HOLD MOST DEAR NEVER TRULY LEAVE US. THEY LIVE ON IN THE KINDNESS THEY SHOWED, THE COMFORT THEY SHARED AND THE LOVE THEY BROUGHT TO OUR LIVES.


Next Eulogy
---
West-Point.Org (WP-ORG), a 501(c)(3) non-profit organization, provides an online communications infrastructure that enable graduates, parents, and friends of the military academy to maintain and strengthen the associations that bind us together. We will provide this community any requested support, consistent with this purpose, as quickly and efficiently as possible. WP-ORG is funded by the generosity of member contributions. Our communication services are provided in cooperation with the AOG (independent of USMA) and are operated by volunteers serving the Long Gray Line. For questions or comments, please email us at feedback@west-point.org.