View a eulogy for Robert Bruce Magruder, USMA '64, who passed away on September 17, 2018.
Other important links:
Robert Bruce Magruder
West Point, 1964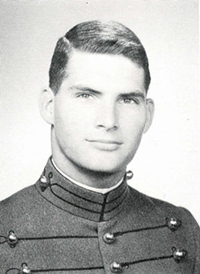 Be Thou At Peace
Posted by Brig. Gen. RM Ong (Ret) on September 24, 2018:
I knew Bob only as a Cadet -- he was one year my junior. We were members of the Army Swim Team, so we saw each other almost every day, at swimming practice, during my last 3 years at West Point.

Bob was a fantastic athlete, and probably the first all-around speed swimmer (backstoke, breaststroke, butterfly and freestyle) that I had ever seen. Of course he was always tapped to swim in the 200-yard Individual Medley event, which he usually won in intercollegiate competitions. And then he'd contribute his share of points, when needed, for the breaststroke and/or freestyle events.

When not churning the water in his Speedo trunks, Cadet Magruder was a regular fun-loving guy. He had an impish sense of humor that sometimes overshadowed his seriousness in his military duties. But we knew that he was a soldier's soldier through and through.

Bob and I parted ways after graduation; he served his country as a career soldier, just as I served mine. We never crossed paths again, even in Vietnam. After retirement, I did learn that Bob was one of the key figures, who organized the W-P.ORG, an alumni website for West Pointers. Yes, that type of work was right up Bob's alley and typical of his character.

As the years pass, my memories of Bob Magruder may slowly fade, but I shall never forget -- word for word -- the song he taught me about a man with his same surname, who wooed a girl in Bermuda...

Farewell, amigo, be thou at peace! And now, my final salute to my comrade-in-arms.

Brigadier General Ramon M. Ong (Retired)
Armed Forces of the Philippines
USMA 1963
Previous Eulogy
---
West-Point.Org (WP-ORG), a 501(c)(3) non-profit organization, provides an online communications infrastructure that enable graduates, parents, and friends of the military academy to maintain and strengthen the associations that bind us together. We will provide this community any requested support, consistent with this purpose, as quickly and efficiently as possible. WP-ORG is funded by the generosity of member contributions. Our communication services are provided in cooperation with the AOG (independent of USMA) and are operated by volunteers serving the Long Gray Line. For questions or comments, please email us at feedback@west-point.org.