View a eulogy for Carl Robert Arvin, USMA '65, who passed away on October 8, 1967.
Other important links:
Carl Robert Arvin
West Point, 1965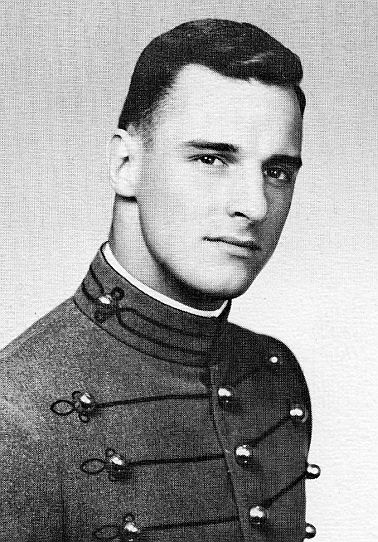 Be Thou At Peace
Posted by Stanley J. Bozich, Director Michigan's Own, Military Museum on February 2, 2008:
Our Museum is very proud to have Captain Robert C. Arvin's complete West Point Uniform, his Class A uniform (505th 82nd Abn), photos and all of his original decorations awarded for heroism in Vietnam.

The copy on Captain Arvin that we have with the exhibit is as follows.

Captain Bob Arvin graduated from Ypsilanti High School Michigan as Valedictorian in 1961. Bob had captained the wrestling team and quarterbacked the "Braves" football squad. In addition, he had been student council president, president of his class for one year and the 1961 Michigan 154 pound wrestling champion. He became a plebe at the U.S. Military Academy at West Point in July of 1961. The following summer, at Camp Buckner, New York, he distinguished himself by winning both the Triathlon (swimming, cross country and rifle) and "Recondo" competitions; in the latter, a hand to hand combat pit fight, he was the last man standing among better than 700 classmates. In his remaining years at the Point, he became Cadet First Captain and Brigade Commander, captained the wrestling team, and graduated 44th in a class of 596, and won the Varian Award for highest military efficiency. As a 2nd Lieutenant, Bob completed "Ranger" and "Airborne Jumpmaster" schools. He was attached to the 505th Infantry Regiment of the 82nd Airborne Division. Lt. Arvin went to Vietnam and served as military advisor to the 7th Battalion of the 8th Vietnamese Airborne Division in Thua Tien Province on June 1, 1967. He was wounded in the left arm in September 1967 by enemy fire and after a short period of recovery went back into action. Lt. Bob Arvin and his men were ambushed by Vietcong forces on October 8th, 1967, and Bob was killed in this action at the age of 24. He was awarded the Silver Star. This much decorated hero was survived by his wife of fourteen months, Merry Lynn, his parents and brother David. He is buried at West Point. On February 25, 1989, West Point dedicated their gymnasium and renamed it the Arvin Gymnasium. The V.F.W. Post in Ypsilanti, Michigan, is also named for Captain Robert Arvin and with his brother David's permission, we placed another complete West Point uniform and his Dress Blue uniform there.

Captain Arvin is a true American hero.

Previous Eulogy
Next Eulogy
---
West-Point.Org (WP-ORG), a 501(c)(3) non-profit organization, provides an online communications infrastructure that enable graduates, parents, and friends of the military academy to maintain and strengthen the associations that bind us together. We will provide this community any requested support, consistent with this purpose, as quickly and efficiently as possible. WP-ORG is funded by the generosity of member contributions. Our communication services are provided in cooperation with the AOG (independent of USMA) and are operated by volunteers serving the Long Gray Line. For questions or comments, please email us at feedback@west-point.org.