View a eulogy for Edgardo Querijero Abesamis, USMA '65, who passed away on March 17, 2016.
Edgardo Querijero Abesamis
West Point, 1965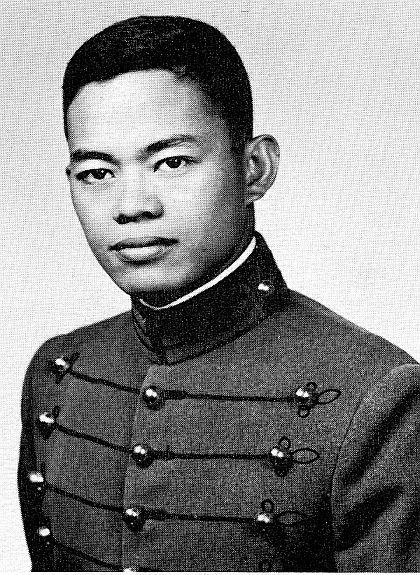 Be Thou At Peace
Posted by Mike Viani on April 1, 2016:
I first ran into Ed Abesamis during Reorg Week of 1961. My room (with Greg Letterman and Ed Simpson) was just at the bottom of the stairs of the 43rd Division, New North, and as we plebes flew out of the building we hit the bottom of the internal stairway and slid across floor and out onto the stoops. I was running late and quickly stepped out the room door into the stream of plebes coming down the stairs, right onto the spit shined toe of Ed's right shoe--MAJOR CLASSMATE! We both looked down: I had scraped Ed's finely spit-shined right toe into rough white leather. We both looked up and I saw the horror in Ed's eyes--and he hurried off to formation, with me in rapid pursuit--Ed in the row just before me. The yearlings were gathering to do their duty and "screw out necks in". The fist yearling, Dave Holsworthy, looked down, then up, then down again, and managed to chew out Ed for his terrible shoes--eventually getting around to asking how this had happened--by now there had to be half a dozen yearlings swooping around Ed

Who did THIS?? "Sir, Mr. Viani stepped on my shoe..." at which point the yearlings and now cows looked up from Ed's shoes to my tightly squeezed in neck in the next row back. The questions and threats rose in volume and we were in close quarters!! At this point my unfortunate sense of humor and irony chose to come out. I was not a good poker player and was unable to keep the straight face.

As you can image my evening stretched into the night--meeting all the new company mates senior to me. Having a room on the first floor ensured that I had plenty of company for the next few nights, and weeks! I am sure Greg and Ed loved having a celebrity for a room mate.

Ed and I eventually compared notes the next few days, and I promised to shine-up the damage, but the only solution was to buy a new pair of shoes and start spit-shining all over again.

However, I had made a new reputation, with a new group, just when I was hoping to be low key. As time went on Ed and I became good friends, and were roommates during yearling year. Ed was smart, industrious, and real initiative. After yearling year we went to new companies, and had lots of good cadet memories, but none to me was explosive as the first get together!!
Previous Eulogy
Next Eulogy
---
West-Point.Org (WP-ORG), a 501(c)(3) non-profit organization, provides an online communications infrastructure that enable graduates, parents, and friends of the military academy to maintain and strengthen the associations that bind us together. We will provide this community any requested support, consistent with this purpose, as quickly and efficiently as possible. WP-ORG is funded by the generosity of member contributions. Our communication services are provided in cooperation with the AOG (independent of USMA) and are operated by volunteers serving the Long Gray Line. For questions or comments, please email us at feedback@west-point.org.