View a eulogy for Leo Peter Allen, USMA '65, who passed away on July 22, 2004.
Other important links:
Leo Peter Allen
West Point, 1965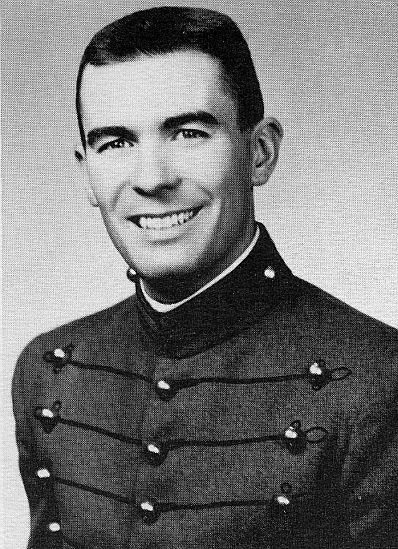 Be Thou At Peace
Posted by Jay Stewart on July 29, 2004:
Leo

I have not seen Leo since graduation or have I had information of his life. My memories are only from cadet days, but they are significant. Leo was a member of a previous class, maybe ?63. He had been in a very serious car accident, taking lots of time to recover. I believe his injuries were life threatening. He pulled through and joined us, Class of ?65, our cow (Junior) year. He could have easily given up on his dream of being a graduate of West Point ? he did not. Leo was kind, gentile, but very tenacious and driven. I had thought that the ?Drive? in our class motto came at least partly from Leo, even though he was just with us the last 2 years. Life was not easy for Leo as a cadet because of his injuries, but he put out 100% effort and graduated with us in June 1965.

I remember that even as a 2nd classman, Leo came flying out of his bed at the sound of the reveille cannon, clearly 6-8 minutes before any self respecting Cow would lift an eyelid. After all we had 10 minutes to be dressed and in formation. Leo was driven to make sure he met every requirement.

In the last days just before graduation, we were in some sort of rather large academic class setting ? maybe a lecture. A hundred or so classmates were there. The professor made a few comments about our class, as it was his last time with us. He then said that he wished to congratulate Leo on behalf of the entire academic staff on his upcoming graduation. His tenacity was just sensational. One by one the class stood and gave Leo a standing ovation. We were all men then, but there were tears. As there are here now.

God Bless, Well Done, Be Thou At Peace.

Jay

Next Eulogy
---
West-Point.Org (WP-ORG), a 501(c)(3) non-profit organization, provides an online communications infrastructure that enable graduates, parents, and friends of the military academy to maintain and strengthen the associations that bind us together. We will provide this community any requested support, consistent with this purpose, as quickly and efficiently as possible. WP-ORG is funded by the generosity of member contributions. Our communication services are provided in cooperation with the AOG (independent of USMA) and are operated by volunteers serving the Long Gray Line. For questions or comments, please email us at feedback@west-point.org.