View a eulogy for Donald Edward Nowland, USMA '65, who passed away on May 10, 2017.
Other important links:
Donald Edward Nowland
West Point, 1965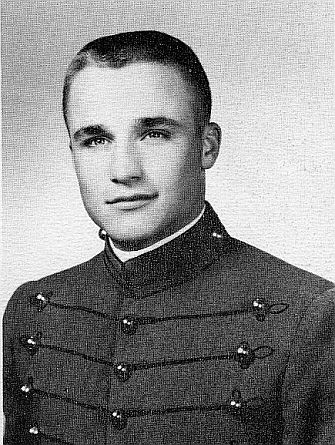 Be Thou At Peace
Posted by Bob Axley on May 12, 2017:
When I heard the news that Don had died it literally took my breath away. Don Nowland was one of the nicest people I have ever met. I spent my last two years at West Point as a company-mate of "Donnie's" and never heard him say a bad word about anyone. Don liked everyone.....and everyone liked Don. He always had that wonderful smile, with a quick word of encouragement or something funny to say. People naturally gravitated to him. Tommy Thompson reminded me today that Don was one of four of us from I-2 who had an "unauthorized" car our Firstie year that we kept off Post. We called this gray '55 Plymouth the Gray Ghost, for obvious reasons. It was gray, it belonged to cadets and it didn't exist (as far as West Point was concerned). We kept it in a rented garage in Highland Falls. Oh, the fun we had with that car, and with each other, terrorizing the Hudson River Valley. Don Nowland was a fun guy!

After we graduated I would see Don from time to time at Reunion's, and he hadn't changed a bit, even down to the point of always looking like he did when we graduated. Lately, however, I saw him as he fought for his health.....but his attitude never changed. Always quick with a smile. Always ready with a kind word. His health may have been failing but his courage and character never wavered.

Davita, we only had a few years to have been with Don but you have a lifetime of memories. I know you will cherish them as we do ours.

Don, we will miss you! Rest in Peace my brother, "thou good and faithful servant".

Bob Axley
Previous Eulogy
Next Eulogy
---
West-Point.Org (WP-ORG), a 501(c)(3) non-profit organization, provides an online communications infrastructure that enable graduates, parents, and friends of the military academy to maintain and strengthen the associations that bind us together. We will provide this community any requested support, consistent with this purpose, as quickly and efficiently as possible. WP-ORG is funded by the generosity of member contributions. Our communication services are provided in cooperation with the AOG (independent of USMA) and are operated by volunteers serving the Long Gray Line. For questions or comments, please email us at feedback@west-point.org.