Other important links:
John Parsons Wheeler
West Point, 1966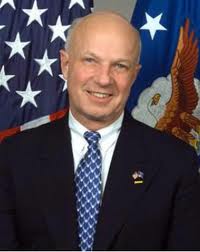 Be Thou At Peace
Posted by John Boyd on January 10, 2011:
John Boyd

He personified the principles we learned as cadets including, "Make us to choose the harder right instead of the easier wrong, and never to be content with a half truth when the whole can be won."
-------------------------
Doug Laipple

Jack Wheeler was the epitome of the words "magnanimous, patriotic, tireless, and dedicated", and he was just as much so in December of 2010 as he was in June of 1962 when we first met him. I will
remember him as being vibrant and fully aware of everything, as he was on 23 December, just as always.
----------------------------
Mike Brown Bluemax_36@west-point.org

I'm sure that I'm not alone in my feeling of deep sorrow and shock at this news. I had great respect for Jack's intellect and for his deep faith. He and I corresponded fairly frequently off line. I regarded him as a close friend. I looked forward to introducing him to my wife. We have lost a treasure. Our nation has lost a treasure. I pray that the circumstances of his death are quickly resolved.

RIP and God Bless you, good friend,

------------------------------------------
Floyd Culhane

Huge loss for our class and our country.

I sought his advice on cochlear implants for my grandson and learned how much Jack had done to promote implants. My grandson's doctor spoke of Jack as a hero.

Jack was special.
----------------------------------------------------
Jim and Diane Connell

This is a terrible shock.
Jack was a keystone in our class and one who could be relied on for help and advice at any time.
When my wife was undergoing some confusing and scary medical tests for a then unknown problem, Jack stepped right in and passed her name on to several prayer groups and contacted me daily until we had a resolution.
I know my wife, Diane, felt she had a very special relationship with him , although she never had the opportunity to meet him. She loved his sense of humor and wit ,as expressed in this forum, and she looked forward to seeing his comments and erudite critiques.

Jack, Truly well done. Be thou at peace.
----------------------------
Wes Clark

Jack was incredibly committed to the military profession. He loved West Point, the country, and, yes, the Army. Especially the Army. And he did much for many of us. I worked with him and Matt Harrison on some of the initial ideas for a memorial at West Point. Then he teamed up with Jan Scruggs on the Washington Vietnam Veterans memorial.

He was just seized with the project. I recall his tough argument with Jim Webb about the Memorial in DC concerning Maya Lin's design, and Jim's demand for a more heroic representation. I sat through a tough breakfast meeting in August of '82 between the two of them trying to work through that issue. Later, Jack befriended my son as he was entering the workforce. I'm sure lot of us have stories we'll be swapping about Jack for a long time.

----------------------------
Doug Thornbloom

Jack was my roommate plebe year. Always a character, his sense of humor got us both in trouble frequently- Believe me he had no easy plebe year, but he never let it get to him. Smart as a whip, star man, and he'd do anything for you. We'll all miss him for many reasons.

----------------------------
Brian W. Ashbaugh
Jack was one of a kind. Generous with his time and always willing to give his assistance more than anyone I know. Our class has lost a gem. Kirsten and I will miss him dearly.

----------------------------
Ed Hathaway
He and I were Beast roommates along with Denny Loftheim and Tom Hayes. Always the one who had his Plebe poop memorized before any of us! And to leave us this way is beyond comprehension. He will be deeply missed.
Be Thou at Peace, Old Friend!

----------------------------
John Zierdt Jr jzierdtjr@gmail.com

He loved West Point more than most of us.

Appreciated his friendship even though I disagreed with many of his air supremacy arguments. We have lost a real influential classmate.

----------------------------
Dan Coonan
I am still in paralyzed disbelief at the news of Jack's death. He was one of the few who became the persona of our class, from the Wall to the "The Long Gray Line" to his steadfast commentary regarding air support of the foot soldier.

At the Delaware mini a few years back, Jack spent a long time in conversation with my father, a WWII B-17 pilot. Dad was impressed. The last time I saw Jack was here in San Antonio at a memorial dinner for the friends and family of Steve Singer. He and Mike Wynne walked away from activities at an Air Force Airpower symposium to be with us at Steve's event.

As a First Regiment guy, I had little contact with Jack. I wish I had known him better.

Go with God, Jack. You've served your country well.

----------------------------
William Bergman wkbergman@gmail.com
The loss to our Class is just one more of the Good Guys, but the loss to the Country is enormous. Am I right? I could reverse the values in this sentence and it could maybe be more true.

What an incredibly productive patriot we lost; he did not hesitate to continue to contribute his talents for the greater good after leaving the Service, and considerable talents they were. Besides the Vietnam Memorial, didn't he also work to get our rail system out of the middle ages and get Amtrak going?
When I read the Forum, I'm amazed at the kind of things, and the many kind things to which he contributed his time and his leadership.
A superb sailor when teamed with Grog, aka our Jeff Rogers. Didn't they Beat Navy?

When I last saw Jack, strolling into NATO with our SecUSAF Mike Wynne, he was mobbed by folks who wanted his autograph on their copy of The Long Grey Line; I was surprised how many people at USNATO had read it, military and diplomats.
One of the few who could fairly criticize the French because he was one of the few to know and love the country and appreciate its people's sometimes odious ways; the most stalwart of Army veterans supporting the US Air Force's outrageous [from the perspective of a ground pounder] requirements and demands with tough reasoned realpolitik prose, while his more casual prose reached for and often surpassed the hilarious limits of polite satire.

When I first heard him, 1962, in the now renamed South Auditorium during Beast Barracks I thought he'd bring the wrath of Beast on us all.
Moral courage in the face of conformity and the ever awake Beast Detail: while we just prayed to survive until the next class, Jack dared to take the Chaplain to task for his slight modification of our Cadet Prayer. It is our prayer, and not his. You have no right but to leave it the way the author wrote it!
Already arguing like a lawyer. Never mind that decades later USMA caved into doctoring up a more PC version.

I bet you were still saying the old version.
Jack, rest in peace, requiescat in pace; you gave much, you deserved better.
Well done.


----------------------------------
Art Shulcz
Jack's loss is more severe by the unexpected and tragic circumstances surrounding it; he was the last guy you would think would wind up murdered and discovered in a landfill.
King David expressed his understanding of how fragile our lives are: "Show me, O Lord, my life's end and the number of my days; let me know how fleeting is my life. *** Each man's life is but a breath." Ps 39:4-5; 144:4.
May we treasure Jack's memory, and his contribution and input in our lives and our nation; pray for his family, and may we be also thankful God has given us breath.

----------------------------
Ralph Cruikshank
Many of us knew, talked with and even disagreed with Jack. But none among us could ever foresee what has happened. We live our lives doing good, being the best we can be, but never thinking where the end is. My thoughts, prayers, and tears go out to a friend, classmate and equal. GOD it is terrible that you chose to take one of us in our prime. May we remember the good times with Jack and hope that those who have taken him from us receive their just rewards. Jack we will always remember. Rest in Peace.

----------------------------
Jeff Rogers jeff@faceco.com
Jack was the Best Man at our wedding. We shared a sandbox at Ft Riley in the mid-40's, and double-dated as teenagers. He and I and a few of you worked on the Pointer together. As zany as we could get, as cadets. He was my crew on the USMA sailing team for 4 years, and we raced competitively in the New York-New Jersey area for a year after graduation, when he was stationed at a Nike Base nearby. Won a few pewter cups, too. I visited him in Long Binh twice and tried to get him to turn in that stolen (sorry, long-term borrowed) jeep, or at least to repaint the bumper markings, to no avail. He never visited me in the sticks, but we did meet one time in Cam Ranh Bay. We did the plebe marchback together the first time a few years ago. We met cadet Kirsten Jenkins (Jim Jenkins' daughter) that day. He kept doing the plebe marchback every year, but I dropped out of that activity. I visited him at his house in New Castle several times, and he stayed with us in Hampton, VA several times. I stayed with them in his NYC condo as well. He attended the weddings of both my kids. I considered him one of my best friends. I actually considered joining him in the "Earth Corps" enterprise, but chickened out. I'm an engineer, not a sociologist. I knew of his many many enterprises -- MADD, the two Walls, the Deafness Research Foundation, the project to build schools in Vietnam, etc, etc, but am still amazed by the myriad little stories that keep popping up. The circumstances are all different, but there is one constant: he was helping someone who had a serious problem. He was a complex and sometimes strange guy, but there was never another quite like him.

----------------------------
John Donovan
Almost exactly two years ago, when my 28 year old son had been diagnosed with MS, and I posted a question if anyone knew something about that incurable disease, Jack was not only one of the people who responded with valuable information, but he personally called me from Washington, DC on his way home on the train to give me the name of the foremost authority on the disease in San Francisco. What an incredibly nice thing for him to do.

He has been in my prayers.



Previous Eulogy
Next Eulogy