View a eulogy for Richard Roger Garay, USMA '69, who passed away on June 10, 2017.
Other important links:
Richard Roger Garay
West Point, 1969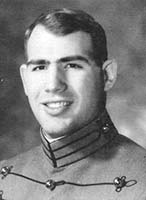 Be Thou At Peace
Posted by Mark "Doc" Dillon on June 14, 2017:
I offered the following tribute today, June 14, 2017, on the eulogy web page offered for Dick's memorial service.

It came as quite a shock to me when I received the message from the USMA Association of Graduates that our companymate, from D Company, 1st Regiment had passed on.

The image of Dick that persists in my mind is of a gentle giant of a man, generous to a fault, unswervingly optimistic despite whatever strenuous challenges we faced.

I last spoke in person with Dick while working on our Class of 1969 Legacy Book for our 45th reunion in 2014. Although he was extremely busy at the time, we had a long conversation during which the 40+ year interval since our graduation separation melted away. I learned about his love of his family and his chosen profession of Dentistry. My conversation with Dick I count as one of the highlights of my effort at herding the "Ducks" (our warlike mascot of D-1) to get their contributions to the book.

If my recollection serves me correctly, Dick and I began during Beast Barracks in 1st New Cadet Company, and he was later assigned to Company B-1 for two years. We were brought back together for our Yearling (Sophomore) Summer Training in 1st Company Camp Buckner. When the Corps expanded in our junior year, we arrived in the new D-1 and spent the final two years of our cadet career there, with a unique group of characters who were regularly involved in a lot of hi-jinks, in which Dick participated regularly. Another vision I have is of Dick patrolling the halls of old East Barracks in his slippers, gray trousers and B-robe, being his usual friendly, positive self.

Dick and I didn't cross paths while on active duty, but when I spoke to him years later we picked right up again.

This is a sad day for all of us who knew Dick, but I choose to carry my warm memories and very high opinion of him and all he touched.

My Sincere Sympathies,

Mark "Doc" Dillon
Co D, 1 Rgt

---
West-Point.Org (WP-ORG), a 501(c)(3) non-profit organization, provides an online communications infrastructure that enable graduates, parents, and friends of the military academy to maintain and strengthen the associations that bind us together. We will provide this community any requested support, consistent with this purpose, as quickly and efficiently as possible. WP-ORG is funded by the generosity of member contributions. Our communication services are provided in cooperation with the AOG (independent of USMA) and are operated by volunteers serving the Long Gray Line. For questions or comments, please email us at feedback@west-point.org.