View a eulogy for Harold Halsey Dunwoody, USMA '70, who passed away on March 26, 2018.
Other important links:
Harold Halsey Dunwoody
West Point, 1970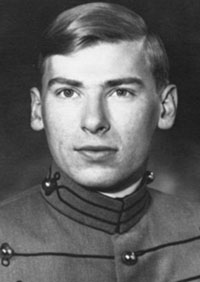 Be Thou At Peace
Posted by Tex Turner on April 15, 2018:
Dear Dunwoody Family and Friends,

We send our heartfelt condolences to Buck's friends and the entire Dunwoody family for the loss of Buck Dunwoody.

After graduating West Point, Buck was assigned to our Warrior Battalion in the late 1970s. He held several leadership and staff positions: Weapons, Rifle, and Support Platoon Leader; and Deputy installation Coordinator. These positions were important because our battalion sat on the leading edge of the battle area in Europe during the Cold War, confronting the Soviet Union. And Buck performed his duties very well, indeed.

We loved him like a brother. We laughed with him, we cried with him, we disagreed with him at times, but we always knew he was a man's man and a Soldiers' Soldier and we truly loved him.

He has made it to the High Ground. His course on earth has run, and now it can be said, "Well done, Buck our friend, be thou at peace."

Officers and men of the Warrior Battalion
1st Battalion, 4th Infantry Regiment (Mech)
3rd Brigade, 3rd Infantry Division
Aschaffenburg, Germany
1970-1974
---
West-Point.Org (WP-ORG), a 501(c)(3) non-profit organization, provides an online communications infrastructure that enable graduates, parents, and friends of the military academy to maintain and strengthen the associations that bind us together. We will provide this community any requested support, consistent with this purpose, as quickly and efficiently as possible. WP-ORG is funded by the generosity of member contributions. Our communication services are provided in cooperation with the AOG (independent of USMA) and are operated by volunteers serving the Long Gray Line. For questions or comments, please email us at feedback@west-point.org.