View a eulogy for Richard A. Carlin, USMA '76, who passed away on October 22, 2021.
Other important links:
Richard A. Carlin
West Point, 1976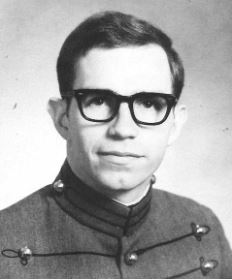 Be Thou At Peace
Posted by Louis J Carlin on November 8, 2021:
Thank you all for joining us to remember the life of Richard Carlin. There is nothing that Rick cherished more than his family and friends and we are so touched and grateful by the huge amount of effort you have taken to gather here today.

To his family, Rick was the ideal. He was knowledgeable in all areas, infinitely patient, understanding, generous, and kind to a fault. You might be surprised to learn of Ricks many achievements because in a conversation he was always more interested in hearing about you. Rick was a proven leader but never seemed to seek out the spotlight. You might not immediately notice him in a crowd, but if you had the good fortune to become acquainted, you could gain a faithful friend for life. Rick was a stalwart both at home and at work. He accomplished an incredible number of tasks large and small. He did not shy away from responsibility and would diligently do whatever it took to get the job done. He was man of great discipline and determination. He consistently worked long hours without complaint. If he could not finish it in a day, he would come back to it again, and again - chipping away at the challenge until there was nothing left. Although most people would be content to have simply finished a job, Rick was an engineer at heart who was always interested in improving the process, trying to make things better wherever he went.

Rick only had friends. He walked through the same world we all do, endured lifes frustrations and suffered losses but he was perpetually optimistic. He chose to remember the good. It was easy to love him and he loved us too. In our materialistic consumer-driven world Rick was oddly immune. Unless it was a book he specifically requested, buying presents for him was very difficult. If you imagine that this means he had very few possessions you would be mistaken. Tucked into every corner of his house are mementos of the past. He kept every letter, birth announcement, wedding invitation, and graduation announcement he received. If you sent him a Christmas card in the 80s Rick still has it, neatly filed away in a cabinet. It is these things that he valued the most, his friends, family, and all of the relationships he built along the way.

Rick loved a good joke. He had his own special understated wit. His delivery was usually deadpan and if you were not expecting it, you might not realize what was happening. He was not inclined to fits of laughter but his eyes would twinkle like his fathers and you would know that the he was pleased. When the news of his passing spread an enormous amount of love and support poured out from all over the country. He touched many lives. Everybody remembered his humor. People remembered how he used it to boost morale, people remembered how he used it to keep in touch, people remembered how much they loved it.

Rick was diagnosed with leukemia in 2017. He accepted it with the same calm and resolve that he had accepted so many challenges before. He did not like hospitals but dutifully attended his every appointment and underwent the many procedures without complaint. He lived with cancer for several years and, because of this, he had time to think. If he despaired, he did not show it. He became reflective. He revisited memories of trips, family, and friends. He did not express any regrets and his faith never wavered. It has been said that grief is the price we pay for love, and it seems to be true. Rick was dearly loved, and our grief is heavy. His caliber of person is rare for any generation and his absence is acutely felt. Although we bury his body today, we can take comfort in knowing that his soul has happily joined his parents and all of the loved ones that have gone before him. We can choose to celebrate his life and all of the wonderful memories that he gave us to keep forever.
---
West-Point.Org (WP-ORG), a 501(c)(3) non-profit organization, provides an online communications infrastructure that enable graduates, parents, and friends of the military academy to maintain and strengthen the associations that bind us together. We will provide this community any requested support, consistent with this purpose, as quickly and efficiently as possible. WP-ORG is funded by the generosity of member contributions. Our communication services are provided in cooperation with the AOG (independent of USMA) and are operated by volunteers serving the Long Gray Line. For questions or comments, please email us at feedback@west-point.org.