View a eulogy for Martin Hans Cesana, USMA '89, who passed away on May 8, 1996.
Other important links:
Martin Hans Cesana
West Point, 1989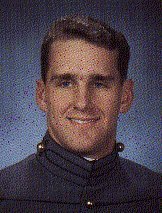 Be Thou At Peace
Posted by Timothy Mathis MD on July 8, 2002:
I first learned of Marty's death when I opened my home town newspaper in Rome NY one night. I graduated from USMA in 1979, and just did not expect to see what was written there. From that point on, my family and I visited Marty's grave several times a year when visiting West Point. Eventually, my daughter Candace became a part of the Class of 2004. After watching his simple wooden marker detioriate for 4 years without a replacement, I decided to do something about it. After contacting several people with no results, I took a polaroid of it and mailed it with a letter and a copy of his eulogy in the Assembly to the Superintendant. Shortly after my daughter started Beast, I received a letter from the Deputy Superintendant that a government issued marble headstone had been installed. After a year of trying, I had gotten a stone for Martin. It just bothered me greatly that such a sacrifice could have ben ignored for so long like that. For the rest of her Plebe year Candace was convinced there was a guardian spirit watching over her, and was convinced it was Martin. During intercesion between semesters Cadets were assigned to write about someone famous buried in the USMA graveyard. Her instructor was suprised to learn that she had her own request...Martin Cesana. Her paper about him and the qualities of oficership he espoused so impressed her instructor, that it was forwarded to the Commandant, and from there was quoted by him in his keynote address to the Class of 2004 during Yearling Winter Weekend. We still visit Martin several times a year, and Candace does so regularly. For smeone whom we never had met, he has had a large impact on us, and others, still. I wish had gotten to know you, Martin. Rest in Peace. T Mathis MD, '79
Previous Eulogy
Next Eulogy
---
West-Point.Org (WP-ORG), a 501(c)(3) non-profit organization, provides an online communications infrastructure that enable graduates, parents, and friends of the military academy to maintain and strengthen the associations that bind us together. We will provide this community any requested support, consistent with this purpose, as quickly and efficiently as possible. WP-ORG is funded by the generosity of member contributions. Our communication services are provided in cooperation with the AOG (independent of USMA) and are operated by volunteers serving the Long Gray Line. For questions or comments, please email us at feedback@west-point.org.