View a eulogy for William Fredrick Hecker, USMA '91, who passed away on January 5, 2006.
Other important links:
William Fredrick Hecker
West Point, 1991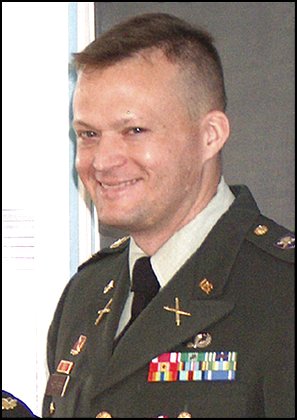 Be Thou At Peace
Posted by brian hardy on April 19, 2006:
I was a good friend of Bill's at Maclean High School, in fact I considered him a best friend, and I am deeply saddened to hear of his recent death. Bill and I were both new to the area; he had come from Alabama, and I from England and it was this 'newness' which probably brought us together. We soon realised that we had a great deal in common, fundamentally a similar comedic outlook on our lives, which allowed us to gently mock school and each other. I haven't seen Bill since he came to England for a short holiday, after an initial year at Westpoint, however, he has always remained in my heart and my memories. Bill, I wish we hadn't lived so far apart after school, I know our friendship was such that it will always live on. You epitomised loyalty and I know you will live on in your family and in all those who had the good fortune to know you. Bless you for touching my life, thank you for your friendship, I will always remember your smile, your sense of humour, and your absolute honesty to me.
Goodbye mate.

Previous Eulogy
Next Eulogy
---
West-Point.Org (WP-ORG), a 501(c)(3) non-profit organization, provides an online communications infrastructure that enable graduates, parents, and friends of the military academy to maintain and strengthen the associations that bind us together. We will provide this community any requested support, consistent with this purpose, as quickly and efficiently as possible. WP-ORG is funded by the generosity of member contributions. Our communication services are provided in cooperation with the AOG (independent of USMA) and are operated by volunteers serving the Long Gray Line. For questions or comments, please email us at feedback@west-point.org.