View a eulogy for Ian P Weikel, USMA '97, who passed away on April 18, 2006.
Other important links:
Ian P Weikel
West Point, 1997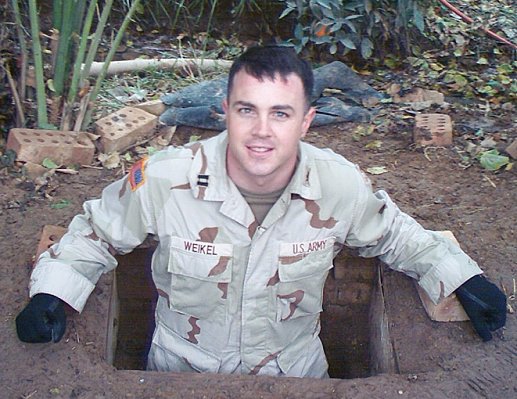 Be Thou At Peace
Posted by Chi Szeto '97 on April 26, 2006:
Ian was always a guy that you smiled with. Through the years of B4 with all our "special" TACs, to having to deal with hearing all his trash talking about the Bronco's being Superbowl champions, to finding out he and Wendy were dating, there was never a time that wasn't interesting. To seeing you guys at Hood, saying good luck the first time we were in the sand, and that last breakfast I had with you before you went back again, every moment seemed like it was as it always should have been: positive, optimistic, with sports and Wendy always being topics. All I know is this: Ian was a warrior, and that JT will know his dad because all his uncles will be there in the years to come to let him know what a great soldier, husband, father, brother he was to everyone in his life. See you on the high ground brother.
Previous Eulogy
Next Eulogy
---
West-Point.Org (WP-ORG), a 501(c)(3) non-profit organization, provides an online communications infrastructure that enable graduates, parents, and friends of the military academy to maintain and strengthen the associations that bind us together. We will provide this community any requested support, consistent with this purpose, as quickly and efficiently as possible. WP-ORG is funded by the generosity of member contributions. Our communication services are provided in cooperation with the AOG (independent of USMA) and are operated by volunteers serving the Long Gray Line. For questions or comments, please email us at feedback@west-point.org.