View a eulogy for Ian P Weikel, USMA '97, who passed away on April 18, 2006.
Other important links:
Ian P Weikel
West Point, 1997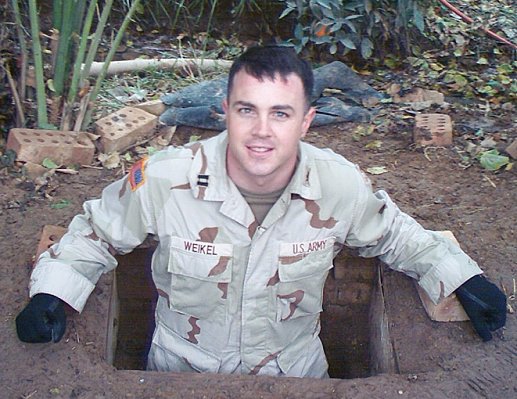 Be Thou At Peace
Posted by CPT John Wilson on April 26, 2006:
Ian Weikel was one of the best human beings I have ever met. When I heard that Ian had been killed in combat, my heart sunk. After thinking more about it, I no longer feel bad for this great man from Colorado. Ian led a life that was rich. As company mates, I always looked upon Ian with envy. He was everything that I wanted to be: optimistic, fun-loving, and hard working. He was also a man of deep faith, though he never wore it on his sleeve. He was one of those blokes whose actions marked him as a man of God. Though we were peers, I looked up to him. There was no doubt in my mind that he was going to be a great officer. After graduation, I was fortunate enough to see Ian a few times. I was taking a convoy up to Mosul and I called his unit's TOC to let them know we had entered their sector. Hearing Ian's voice on the other end gave me a sense of security. I knew that if we got into trouble, Ian had my back. I also had the chance to see Ian and Wendy at CAS3 where we took in a bible study. I was so impressed not only with the richness and sincerity of Ian's faith, but at what a wonderful couple Ian and Wendy had become. You could see very clearly that Ian loved Wendy with all his heart. I have never met JT, but I bet he is a chip off the old block. Someday, I hope to sit down with him and tell him what a great man his father was. I am proud to have known him and will always consider him my brother. Thanks Ian.
Previous Eulogy
Next Eulogy
---
West-Point.Org (WP-ORG), a 501(c)(3) non-profit organization, provides an online communications infrastructure that enable graduates, parents, and friends of the military academy to maintain and strengthen the associations that bind us together. We will provide this community any requested support, consistent with this purpose, as quickly and efficiently as possible. WP-ORG is funded by the generosity of member contributions. Our communication services are provided in cooperation with the AOG (independent of USMA) and are operated by volunteers serving the Long Gray Line. For questions or comments, please email us at feedback@west-point.org.