View a eulogy for Ralph John Harting, USMA '98, who passed away on April 29, 2005.
Other important links:
Ralph John Harting
West Point, 1998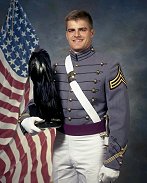 Be Thou At Peace
Posted by Jen Harting on April 29, 2009:
Jay,

When you engraved the Movado watch you gave me for my college graduation who knew that those words, "Perseverance," would foreshadow the life I live now without you. I am persevering, honey, though some days feel harder than others. Your legacy in this world has changed lives including my own. It took me awhile to figure out how, but now I LIVE so that I may see you again. On this day four years ago I was a happily married woman, an Army wife, and an always pregnant mommy. Today, I am a Catholic, a triathlete, a civilian, an educator, a decorator, and a single mommy to our children. I will write your story Jay like you wanted me to and then I will add writer to the many ways you have changed my life.

As I move forward, I continue to keep you as my hero in my pocket. Those who know me now know I take you out of my pocket almost every day. I guess some days I have deep pockets and other days they are very shallow. Sometimes I take you out for the kids, friends, or even strangers. Sometimes I reach in and just hold on for me because you give me strength beyond my fears. Regardless, of when or why I reach into my pocket, I am comforted knowing you are always by my side.

I love you now and always.

Your wife,
Jen
Previous Eulogy
Next Eulogy
---
West-Point.Org (WP-ORG), a 501(c)(3) non-profit organization, provides an online communications infrastructure that enable graduates, parents, and friends of the military academy to maintain and strengthen the associations that bind us together. We will provide this community any requested support, consistent with this purpose, as quickly and efficiently as possible. WP-ORG is funded by the generosity of member contributions. Our communication services are provided in cooperation with the AOG (independent of USMA) and are operated by volunteers serving the Long Gray Line. For questions or comments, please email us at feedback@west-point.org.