View a eulogy for Ralph John Harting, USMA '98, who passed away on April 29, 2005.
Other important links:
Ralph John Harting
West Point, 1998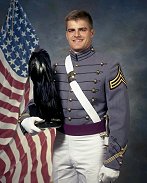 Be Thou At Peace
Posted by Sarah Harting on June 7, 2005:
My beloved brother:

Jay, I miss you. Are you still running up there? Maybe some day we?ll have the chance to go for a long run together again. In the mean time, I?ll run with my music ? don?t worry, it?ll surely be heavy metal since you, Will and Joe corrupted, nay, enriched my life at a young age with such music, sweet music:)

Jay, you were an amazing brother. You, Will, and Joe really have taken care of me over the years ? to say I?m lucky is an understatement. Also, thank you for bringing Jen and her entire family into my life. The love you and Jen shared was so real and genuine ? a beauty for us all to see. Your children- Adeline, Ralph and Warren- are absolute gems. We all have so many stories to share with them about you.

Jay, you set such a fine example for us all. You touched so many lives- I?m grateful Mom and Pa brought you into this world because life has certainly been better with you in it. It?s hard with you gone, but so many of us will take great pride in living for you. We love you, Jay. March on with your fellow soldiers, and give a hug to Grandma Badgley and Uncle George for me. Rest peacefully, dear brother.

****
?They shall grow not old, as we that are left grow old:
Age shall not weary them, nor the years condemn.
At the going down of the sun and in the morning
We will remember them?
As the stars that shall be bright when we are dust,
Moving in marches upon the heavenly plain,
As the stars that are starry in the time of our darkness,
To the end, to the end, they remain.?

- Lawrence Binyon, from For the Fallen (September 1914)

Previous Eulogy
Next Eulogy
---
West-Point.Org (WP-ORG), a 501(c)(3) non-profit organization, provides an online communications infrastructure that enable graduates, parents, and friends of the military academy to maintain and strengthen the associations that bind us together. We will provide this community any requested support, consistent with this purpose, as quickly and efficiently as possible. WP-ORG is funded by the generosity of member contributions. Our communication services are provided in cooperation with the AOG (independent of USMA) and are operated by volunteers serving the Long Gray Line. For questions or comments, please email us at feedback@west-point.org.