View a eulogy for Rebecca Jarabek, USMA '00, who passed away on September 14, 2006.
Other important links:
Rebecca Jarabek
West Point, 2000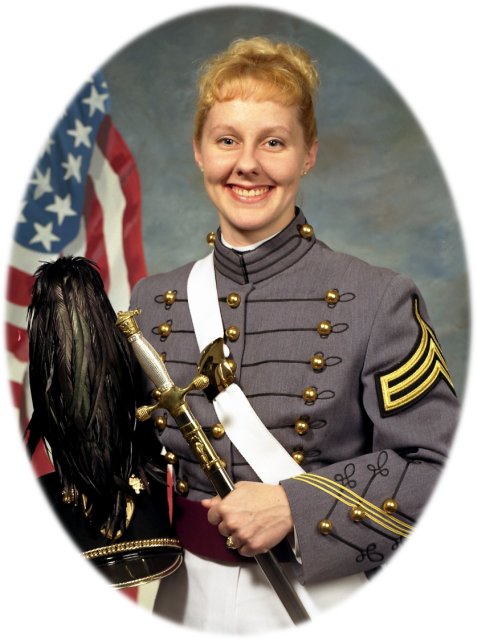 Be Thou At Peace
Posted by SSG Rich on September 29, 2010:
I know it has been many years, but I still think of CPT Jarabek from time to time. I was one of the Crew Chiefs in the 236th when CPT Jarabek first came to the unit. I was with her on several training flights. I could tell she was an very intelligent woman. Also through simple everyday casual observation I could tell she and I had similarities, but honestly I never took the time to initiate a conversation with her. That's just not something a enlisted man, I was a Specialist at the time, well not something that he does. I never spoke to her outside of being on the ICS system in the aircraft, I never spoke to her unless it was mission oriented. I saw her all of the time, in the flight planning area, around Camp Bondsteel. Though I never took the time to talk to her.

After being in th 236th I wound up reclassed into the Infantry during the war...in both Afghanistan, and Iraq. At times I can picture a list in my mind...a list that starts with someone I grew up with...a list that seems a little too long...a list of people who are now remembed as casualties. After a while I learned that another name had been added to the list. I learned about CPT Jarabek's passing two and a half years ago. Though I really only knew her for a few months, it still impacted me. I still think about those times being in that unit. I still think about her. I wish I had talked to her. I wish I had not paid attention to the Army's way of doing things. I wish I had taken the time to talk to her. In 2/30 INF when we were down range...or even in the rear...I made a point to always talk to my soldiers. They were trained, they did their duty, but they always knew I was there and truly cared. I felt it was something taught to me, by knowing CPT Jarabek. Even when it made people think I was a "joe lover"; I made sure that they knew...no matter what, they could talk to Sergeant Rich. I just wish I had talked more with CPT Jarabek when I had the opportunity to know her.

I'm a civilian now for nearly a year...but a friend of mine commands a Active Guard Air Ambulance unit, and they are scheduled to go to Afghanistan. He's talked me into joining the unit in a full time capacity come January...so I can help with the training and the deployment. One of the things I'll take with me back downrange...is my memory of CPT Jarabek. I thought of her again today, and wrote this for her. I'm sure she is someone I will never forget.
Previous Eulogy
Next Eulogy
---
West-Point.Org (WP-ORG), a 501(c)(3) non-profit organization, provides an online communications infrastructure that enable graduates, parents, and friends of the military academy to maintain and strengthen the associations that bind us together. We will provide this community any requested support, consistent with this purpose, as quickly and efficiently as possible. WP-ORG is funded by the generosity of member contributions. Our communication services are provided in cooperation with the AOG (independent of USMA) and are operated by volunteers serving the Long Gray Line. For questions or comments, please email us at feedback@west-point.org.