View a eulogy for Rebecca Jarabek, USMA '00, who passed away on September 14, 2006.
Other important links:
Rebecca Jarabek
West Point, 2000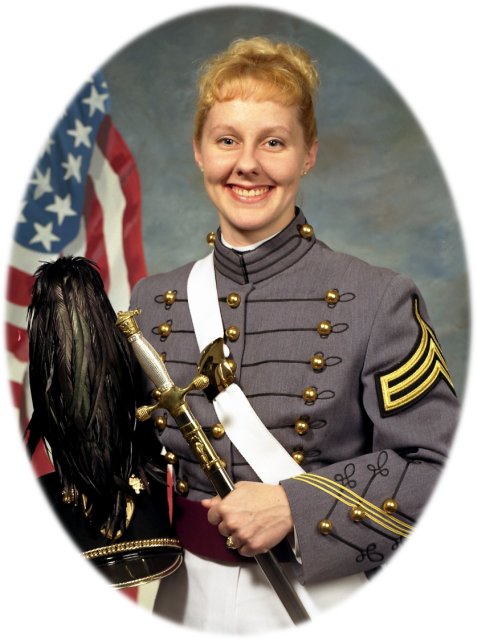 Be Thou At Peace
Posted by Amanda on January 7, 2012:
I met Rebecca in the fall of 2000, when she was training as a pilot. Although we lost touch, I would regularly check online to see if there was news of her achievements.

I had found this article in 2005- http://www.arcent.army.mil/media/10274/31aug%20desert%20voice.pdf.

I was not surprised that Rebecca was heroic.

I would like to offer some of my Becky memories:

A task could be as simple as compactly packing luggage into her Camaro or as complex as learning to fly a helicopter, either way, Rebecca could accomplish it with astonishing diligence.

She enjoyed going out with friends, whether it was for dinner, horse riding, or a road trip.

Her family was from Ohio, as was mine. We both flew home to see family around the same time at Christmas and actually ended up riding back to Rucker from the airport together.

Rebecca had enviously nice abs. She ran so hard when she worked out!

She expertly performed a piano piece at Troy University one evening; it was a wonderful listening experience. Our group of friends was very proud of her.

She acted in a fun dinner theatre play and competently performed her role...I think she was wearing a bonnet! There are probably pictures somewhere...

Rebecca was often adventurous, but in a very thoughtful, responsible way. She was so intelligent.

Basically, whatever Rebecca set her mind to, she was capable of doing it well, including being a kind and caring friend.

My favorite memory is how great her room would smell some days, whenever she would make cinnamon toast for breakfast. Every time I smell anything cinnamon, I think of her warm and cozy room, her beaming smile, and how the world lost an incredible and compassionate young woman, daughter, sister, soldier, and human, far too soon.

My condolences to you, Abby, and to the rest of your family.
Previous Eulogy
Next Eulogy
---
West-Point.Org (WP-ORG), a 501(c)(3) non-profit organization, provides an online communications infrastructure that enable graduates, parents, and friends of the military academy to maintain and strengthen the associations that bind us together. We will provide this community any requested support, consistent with this purpose, as quickly and efficiently as possible. WP-ORG is funded by the generosity of member contributions. Our communication services are provided in cooperation with the AOG (independent of USMA) and are operated by volunteers serving the Long Gray Line. For questions or comments, please email us at feedback@west-point.org.