View a eulogy for Rebecca Jarabek, USMA '00, who passed away on September 14, 2006.
Other important links:
Rebecca Jarabek
West Point, 2000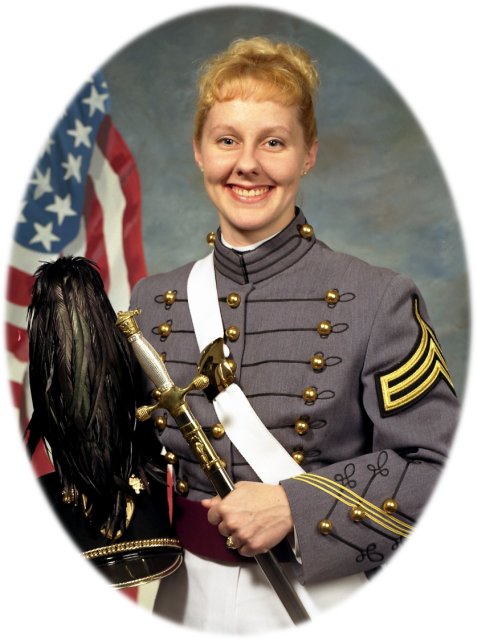 Be Thou At Peace
Posted by Walter Hollis on November 15, 2006:
We met in DDS of '96. After one class, I noticed my jacket and cover were gone. I waited till everyone else left, and then took the only set remaining. It is a very unique feeling, traveling from Thayer to Ike, wearing a jacket 2 sizes too small and wearing a female's cover. As soon as I got to my room, I jumped into gym-a, looked up her company, and headed out. After (or because of?) such an obscure and humorous event, we became friends.

Throughout the rest of our time at Greyskull, I knew her as "Jarabekky". She was one of the the kindest and happiest people I've ever known. I distinctly remember the shine in her eyes when she told me her sister was coming. Rebecca not only derived great joy out of life, she infused glee into others with her aura.

There is a shortage of truly inspirational people in this world; now that shortage is greater. Rebecca will be missed.

Mick, my brother, was killed almost two years ago. His death had profound impact on me. I was raised in the church, and I knew to expect countless recitations of "It's all part of God's will. He has a purpose for this." But that idea infuriated me. Whether it was true or not, I didn't want to hear it. All I really wanted was someone I could vent to, without them saying "It's God's plan" as though that was justification. I can't really offer any great insight or revelations, but I offer myself as a sounding-board if any of you / your family just want to vent to someone who is not going to hold anything against you. I've been there. My email is included.

Peace,
Walter
Previous Eulogy
Next Eulogy
---
West-Point.Org (WP-ORG), a 501(c)(3) non-profit organization, provides an online communications infrastructure that enable graduates, parents, and friends of the military academy to maintain and strengthen the associations that bind us together. We will provide this community any requested support, consistent with this purpose, as quickly and efficiently as possible. WP-ORG is funded by the generosity of member contributions. Our communication services are provided in cooperation with the AOG (independent of USMA) and are operated by volunteers serving the Long Gray Line. For questions or comments, please email us at feedback@west-point.org.