View a eulogy for Michael Robert Adams, USMA '02, who passed away on March 16, 2004.
Other important links:
Michael Robert Adams
West Point, 2002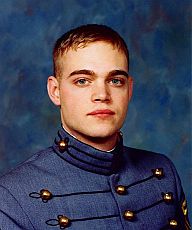 Be Thou At Peace
Posted by Amir Soofi on March 19, 2004:
It seems like yesterday that Mike and I were running around Ft. Benning being yelled at as "Charlie" by the Sergeants Airborne. We went to a local arcade one weekend and I showed him how to hack one of the newer netword arcade machines so you could get online. The first thing he did was email his family.

I had a chance to talk to his father about my time with Mike at Benning, and the 2 years in F2. Mr. Adams moved me with his perception of the American effort in Iraq and he seemed completely unconcerned with his own well-being, but rather how Mike's friends were, and hoping that his son's death didn't detract from the concentration of all of us who knew him. It was obvious where Mike got his selflessness.

Mike lives in the memories of those of us who love and respect him. He lives in the souls of young Iraqi boys, free for the first time to really live, and old Iraqi women who have finally heard their prayers for liberation from tyranny answered. He lives in the essence of a just Iraq, with the gratitude of nations, ours and theirs alike, which is to say, he lives, and serves, forever.

Very respectfully,
Amir Soofi
Previous Eulogy
Next Eulogy
---
West-Point.Org (WP-ORG), a 501(c)(3) non-profit organization, provides an online communications infrastructure that enable graduates, parents, and friends of the military academy to maintain and strengthen the associations that bind us together. We will provide this community any requested support, consistent with this purpose, as quickly and efficiently as possible. WP-ORG is funded by the generosity of member contributions. Our communication services are provided in cooperation with the AOG (independent of USMA) and are operated by volunteers serving the Long Gray Line. For questions or comments, please email us at feedback@west-point.org.