View a eulogy for Timothy J Moshier, USMA '02, who passed away on April 1, 2006.
Other important links:
Timothy J Moshier
West Point, 2002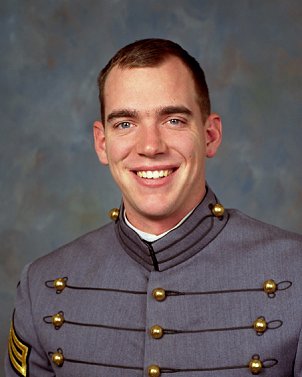 Be Thou At Peace
Posted by Larry & Linda Bryant, '02 & '00 Parents on April 4, 2006:
It is hard to know what to say at a time like this. Words seem so inadequate, yet sometimes that is all we have. We know Tim was a wonderful young man, not just from the too brief time we have known him, but mostly because Todd considered him more than a roommate, Tim was a friend. Mary Ellen and Jim, you were Mom and Dad Mosh to the Ducks, and the qualities you nurtured in Tim were shared by all of them. Tim, the words of comfort you shared with us on that gray November morn in 2003 still echo in our memories. If he were able, there is no doubt that Todd would be here to comfort your loved ones, particularly Katie and Natalie as you and Katie did Jen. Now our hearts weep for the dear ones you have had to leave behind, your family and Katie's, but we are certain that somewhere, Todd has the grill and blender going awaiting your arrival.
Next Eulogy
---
West-Point.Org (WP-ORG), a 501(c)(3) non-profit organization, provides an online communications infrastructure that enable graduates, parents, and friends of the military academy to maintain and strengthen the associations that bind us together. We will provide this community any requested support, consistent with this purpose, as quickly and efficiently as possible. WP-ORG is funded by the generosity of member contributions. Our communication services are provided in cooperation with the AOG (independent of USMA) and are operated by volunteers serving the Long Gray Line. For questions or comments, please email us at feedback@west-point.org.