View a eulogy for Timothy J Moshier, USMA '02, who passed away on April 1, 2006.
Other important links:
Timothy J Moshier
West Point, 2002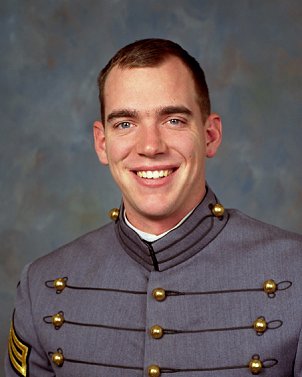 Be Thou At Peace
Posted by Stephen Anderson on April 5, 2006:
I offer a poet's thoughts, as I don't have the words:

He stood, a soldier, to the last right end,
A perfect patriot and a noble friend,
But most a virtuous son.
All offices were done
By him, so ample, full, and round
In weight in measure, number, sound,
As, though his age imperfect might appear,
His life was of humanity the sphere.

(Ben Jonson (1572-1637), British dramatist, poet
Previous Eulogy
Next Eulogy
---
West-Point.Org (WP-ORG), a 501(c)(3) non-profit organization, provides an online communications infrastructure that enable graduates, parents, and friends of the military academy to maintain and strengthen the associations that bind us together. We will provide this community any requested support, consistent with this purpose, as quickly and efficiently as possible. WP-ORG is funded by the generosity of member contributions. Our communication services are provided in cooperation with the AOG (independent of USMA) and are operated by volunteers serving the Long Gray Line. For questions or comments, please email us at feedback@west-point.org.