View a eulogy for Leonard Mallonee Cowherd III, USMA '03, who passed away on May 16, 2004.
Leonard Mallonee Cowherd III
West Point, 2003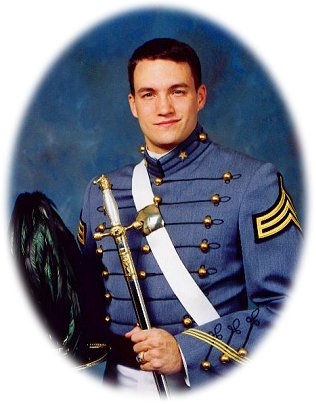 Be Thou At Peace
Posted by Ruth Patnovic Atkins on May 19, 2004:
When events such as this occur, the tragic, heartbreaking loss of Leonard Cowherd, I realize all I can give are words to lend sight to what Lenny means to me. There is much that is impressive about West Point?its history, its traditions, its pomp and ceremony, its ideals and values?but nothing impressed me more during the four years my son Erich Atkins was a cadet than its people?the faculty, military staff and fellow cadets that surrounded him and influenced his growth from an unsteady high school graduate to a 2LT ready to take on the challenges of the Army in this time of war. The friends he found at West Point go far beyond friendships; they are bonds like brothers, steadfast, loyal, devoted, fun loving and sharing, unconditional in love and commitment to each other. I delighted in sharing and experiencing the extraordinary friendship between Erich and Lenny. The world seems quieter today; I will miss Lenny?s laughter and bright, inquisitive mind, his kindness and caring, his love for his family, Sarah, his parents, his brothers and sister, his soldiers and his friends. Yet brightness still burns in that spirit Lenny gave the world. It will shine in all of us who had the great privilege to know him. Thank you Lenny and God bless you.
Previous Eulogy
Next Eulogy
---
West-Point.Org (WP-ORG), a 501(c)(3) non-profit organization, provides an online communications infrastructure that enable graduates, parents, and friends of the military academy to maintain and strengthen the associations that bind us together. We will provide this community any requested support, consistent with this purpose, as quickly and efficiently as possible. WP-ORG is funded by the generosity of member contributions. Our communication services are provided in cooperation with the AOG (independent of USMA) and are operated by volunteers serving the Long Gray Line. For questions or comments, please email us at feedback@west-point.org.