View a eulogy for Leonard Mallonee Cowherd III, USMA '03, who passed away on May 16, 2004.
Leonard Mallonee Cowherd III
West Point, 2003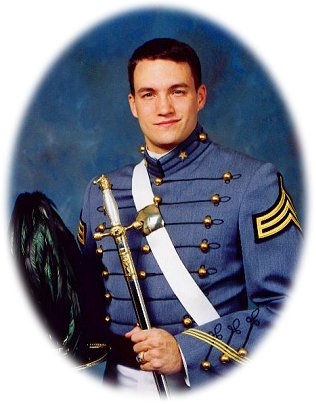 Be Thou At Peace
Posted by Padraig Q. Maloney on July 19, 2004:
Our Thoughts,
I would like to take a moment to honor this man. I am a US Army retired Sergeant First Class and a fellow Gulf War Veteran. I salute you Leonard; I sympathize with you, Sarah; You are the rock to hold the ship steady, Tony; and Our Lord is Leonards shelter.

Mary and I give our fondest and most sincerest condolences and forever will be standing tall to help, listen, and to pray for, you and yours. Although we have known each other but through Mary and Tony, Leonard and I shared some of the same damn sand together.

I would like to now leave you with an Irish Blessing:

May the road rise up to meet you.
May the wind be always at your back.
May the sunshine warm upon your face.
And rains fall soft upon your fields.
And until we meet again,
may God hold you in the small of his hand.

note: When one airborne soldier passes another and a salute is in order, you always say with a clear, steady, commanding voice:
"All the Way, Sir!

Padraig and Mary Maloney
Lanexa, VA

Previous Eulogy
Next Eulogy
---
West-Point.Org (WP-ORG), a 501(c)(3) non-profit organization, provides an online communications infrastructure that enable graduates, parents, and friends of the military academy to maintain and strengthen the associations that bind us together. We will provide this community any requested support, consistent with this purpose, as quickly and efficiently as possible. WP-ORG is funded by the generosity of member contributions. Our communication services are provided in cooperation with the AOG (independent of USMA) and are operated by volunteers serving the Long Gray Line. For questions or comments, please email us at feedback@west-point.org.