View a eulogy for Leonard Mallonee Cowherd III, USMA '03, who passed away on May 16, 2004.
Leonard Mallonee Cowherd III
West Point, 2003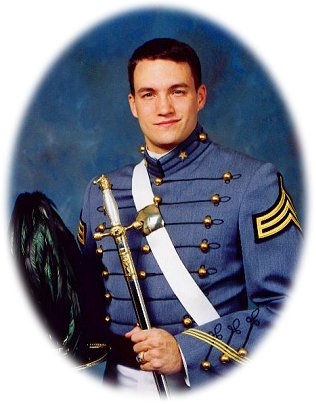 Be Thou At Peace
Posted by LTC Bryan S. Eckstein on July 26, 2004:
It was with shock and disbelief when I read of Leonard's death in the Culpepper Star-Exponent that was e-mailed to me. I'm currently serving in the Headquarters, Multi-National Forces - Iraq located in Baghdad. When I read of casualties here, it is very impersonal, just numbers, and very seldom do we see the names. So it became very personal when I read Leonard's name. As the local USMA admissions rep, I came to know Leonard when he applied for admission to West Point, and later when he performed school visits for the Cadet Public Relations Council. While this program afforded Leonard a few extra days home around Thanksgiving and Spring Breaks, it was a valuable service and contribution for me and the aspiring candidates. Time passed quickly as Leonard matured from Cadet to Second Lieutenant: a boy to man, cadet to soldier, and son to husband. Surely Leonard will be missed by many that he touched in his all together short life. He accomplished more in his 22 years, than most ever will over a much longer lifetime. It was only proper for the state to fly the Commonwealth flag at half mast leading up to Memorial Day. To his wife Sarah, and his parents, Mary Ann and Leonard II, my prayers are with you as we all share in your sorrow. To 2LT Leonard Cowherd, "WELL DONE! REST IN PEACE."

Bryan S. Eckstein
LTC, AV, USAR
USMA 1982
Harrisonburg, VA
Previous Eulogy
Next Eulogy
---
West-Point.Org (WP-ORG), a 501(c)(3) non-profit organization, provides an online communications infrastructure that enable graduates, parents, and friends of the military academy to maintain and strengthen the associations that bind us together. We will provide this community any requested support, consistent with this purpose, as quickly and efficiently as possible. WP-ORG is funded by the generosity of member contributions. Our communication services are provided in cooperation with the AOG (independent of USMA) and are operated by volunteers serving the Long Gray Line. For questions or comments, please email us at feedback@west-point.org.