View a eulogy for Benjamin Thomas Britt, USMA '04, who passed away on December 22, 2005.
Other important links:
Benjamin Thomas Britt
West Point, 2004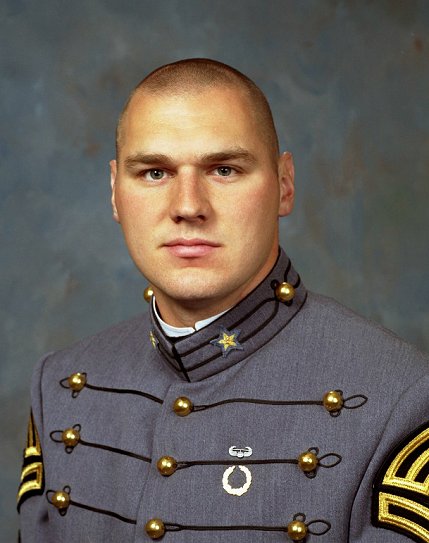 Be Thou At Peace
Posted by Ehren Miller on January 2, 2006:
My and my wife Jennifer's thoughts, prayers, and condolences go out to Ben's family in this, probably their most trying time. Although we weren't the best of friends at West Point, Ben was always someone I looked up to and admired. I met him for the first time when we became roommates Yuk year. Ben was such an outstanding classmate...I was the worst at physics and no matter the time, he would never turn me down when I asked him for help. Ben is the epitome of the true citizen soldier. Like many, he found his calling. Nearing graduation, Ben and I became chess buddies. I will never forget our games as I determined to beat him just once...which I did only once (only because I got lucky!). After that, it was hopeless. Ben, you held firm in your beliefs, yet remained open minded, you constantly improved yourself, but still took time to help others, in the face of adverstiy you stood strong, and carried many of us along the way. You are a true warrior and a hero. You were and still are the outstanding individual I hope to be like. My thanks go to Ben's family for giving all of us a great American. We all will miss you big guy.
Previous Eulogy
Next Eulogy
---
West-Point.Org (WP-ORG), a 501(c)(3) non-profit organization, provides an online communications infrastructure that enable graduates, parents, and friends of the military academy to maintain and strengthen the associations that bind us together. We will provide this community any requested support, consistent with this purpose, as quickly and efficiently as possible. WP-ORG is funded by the generosity of member contributions. Our communication services are provided in cooperation with the AOG (independent of USMA) and are operated by volunteers serving the Long Gray Line. For questions or comments, please email us at feedback@west-point.org.