Other important links:
Neale Moran Shank
West Point, 2005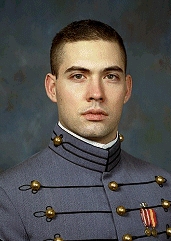 Be Thou At Peace
Posted by Major Scott Morris on July 18, 2010:
It was my solemn honor to have given one of two eulogies at Neale's Memorial Service in his hometown. It is long overdue that I post it here (I apologize for it being all in caps. I wrote it that way so that it was easier to read through teary eyes at the podium):

HELLO. I AM MAJOR SCOTT MORRIS. I WAS NEALE'S TACTICAL OFFICER AT WEST POINT. I FIRST MET NEALE JUST PRIOR TO HIS SENIOR YEAR, AND WE HAD STAYED IN CONTACT SINCE THEN (AS MUCH AS HIS ARMY TRAINING AND DEPLOYMENT WOULD LET HIM). AT THE INVITATION OF HIS FAMILY, I STAND HUMBLY BEFORE YOU WITH THE IMPOSSIBLE TASK OF PAYING TRIBUTE TO THE GREAT AMERICAN WE ALL KNEW AS FIRST LIEUTENANT NEALE M. SHANK.

I CANNOT HELP BUT FEEL THAT I DID NOT KNOW NEALE AS WELL AS MANY OF YOU, BUT I ALSO THINK THAT I KNEW HIM IN A DIFFERENT CONTEXT... BUT A MAN'S LIFE IS NOT BEST TOLD FROM JUST ONE ANGLE, THERE IS ALWAYS MORE TO THE STORY, AND AS ANY LEADER WORTH HIS SALT WILL TELL YOU, THEY ARE ONLY AS GOOD AS THE TEAM THAT THEY SURROUND THEMSELVES WITH. SO IN ORDER TO BEST TAKE ON THIS IMPOSSIBLE TASK, I ASKED THE MEMBERS OF NEALE'S WEST POINT FAMILY, HIS FELLOW TROOPERS FROM COMPANY F-3 TO SHARE WITH ME THEIR MEMORIES OF NEALE AND THE IMPACT THAT HE HAD ON THEIR LIVES. THESE STORIES, ALONG WITH MY OWN MEMORIES AND OBSERVATIONS ARE WHAT I AM HERE TO SHARE WITH YOU TODAY.

I REMEMBER THE FIRST TIME I SAT DOWN WITH NEALE. HE HAD JUST GOTTEN INTO SOME TROUBLE AT THE ACADEMY. NOW, SOME OF YOU ARE PROBABLY ASKING WHY I AM BRINGING THIS UP IN HIS EULOGY, BUT I BELIEVE THAT WE OFTEN LEARN THE MOST FROM OUR MISTAKES, AND AS I OBSERVED NEALE LEARNING FROM HIS MISTAKES, I LEARNED A LOT ABOUT HIM. NOW DON'T WORRY, WE'RE TALKING ABOUT WEST POINT, WHERE YOU CAN BE PUNISHED IF YOUR SHOES ARE DIRTY... THOUGH NEALE NEVER HAD DIRTY SHOES.

NEALE EXPLAINED WHAT HAD HAPPENED, BUT HE ALSO EXPLAINED WHAT HE HAD LEARNED FROM IT ALREADY, AND HOW HE COULD USE IT TO MAKE HIM A BETTER PERSON, AND A BETTER LEADER. I LEARNED A LOT ABOUT NEALE SHANK THAT DAY. I WAS IMPRESSED WITH HIS CANDOR AND HIS PRIDE, HIS ATTENTION TO DETAIL AND HIS PURPOSEFULNESS- HIS DRIVE. THERE HAVE BEEN MANY TIMES SINCE THAT DAY THAT I HAVE SAT IN MY OFFICE LISTENING TO A CADET EXPLAINING THEMSELVES, AND HAVE OFTEN WISHED FOR THEM TO BE A BIT MORE LIKE NEALE...

NEALE QUICKLY BECAME ONE OF MY FAVORITE CADETS. HE WOULD FREQUENTLY STOP BY MY OFFICE TO UPDATE ME ON A PROJECT HE WAS WORKING ON, TO ASK ME FOR MY INPUT, OR TELL ME ABOUT AN IDEA HE HAD. AS I GOT TO KNOW MORE ABOUT NEALE, I CAME TO UNDERSTAND JUST HOW MUCH HE LOVED THIS COUNTRY, THIS COMMUNITY, AND THAT HE BELIEVED IN WHAT HE WAS TRAINING TO DO. HE DESCRIBED THIS IN A PAPER HE WROTE. HE GAVE ME A COPY OF IT BECAUSE I WAS ONE OF THE OFFICERS THAT HE INTERVIEWED. I'D LIKE TO READ PARTS OF IT TO YOU. NEALE WROTE, "THE IDEAL OF COMPASSION IS ONE THAT I FEEL WORTHY AND WORTHWHILE TO UPHOLD AND SUPPORT... AS A LEADER, IT IS EVER SO IMPORTANT TO BE LOOKING OUT FOR YOUR TROOPS BY KNOWING THE QUALITIES OF EACH AND EVERY TROOP UNDER YOUR COMMAND. THIS TIES WITH RESPECT BECAUSE YOU HAVE TO KNOW AND ACKNOWLEDGE SOMEONE AND EXCEPT THEM FOR WHO THEY ARE BEFORE YOU CAN INFLUENCE THEM... YOU HAVE TO BE KNOWLEDGEABLE AND KNOW YOUR SOLDIERS INDIVIDUAL CAPABILITIES. THE TERM COMPASSION IS WHAT I HAVE FELT IN MY HEART OF HEARTS AND IS WHY I JOINED THE ARMY. I JOINED FOR MY LITTLE SISTER AMONG MANY THINGS. I KNEW THAT I WANTED TO BE THE ONE TO ENSURE THAT SHE WAS SAFE. THIS COMPASSION EXTENDS TO EVERYDAY PEOPLE THAT I SEE. WHEN I AM AT HOME, WHEN I AM WALKING THROUGH THE SUPER-MARKET OR STANDING IN LINE AT A GAS STATION, I FEEL AN INHERENT NEED TO HELP, BE KIND TO, OR PROTECT THOSE WHOM I LOOK UPON. I HAVE ALWAYS THOUGHT THIS EACH AND EVERY TIME I GO HOME. EVER SINCE 1999, WHEN I GRADUATED FROM BASIC TRAINING I HAVE USED MY TIME BACK AT HOME AS BOOST AND AS A REINFORCEMENT MECHANISM FOR WHY I JOINED THE INFANTRY. TO DO FOR OTHERS WHAT THEY CANNOT DO THEMSELVES. I THINK THAT AS A CADET, OR OFFICER, ONE SHOULD TAKE A STEP BACK AND ASK WHY THEY DO WHAT THEY DO. WHY ARE YOU IN THE ARMY? WHY DO YOU HOLD THE POSITION YOU DO AND WHAT MOTIVATES YOU? MY PASSION IS PEOPLE AND COMPASSION IS WHAT I NEED TO ENSURE THAT I ESPOUSE. THIS IS WHAT I HAVE AS MY TAKE AWAY FROM MY TACTICAL OFFICER, THE IDEAL OF TAKING CARE OF SOLDIERS AND TAKING IT A STEP FURTHER BY COMMITTING YOURSELF TO A PRINCIPLE OF COMPASSION IN THE WAY YOU INTERACT AND RESPECT THEM. NOT BEING SELFISH AND RIGID TO THE POINT OF ABRASIVENESS, BUT BEING HOLISTICALLY CARING AND REALLY DEVOTING YOURSELF TO YOUR JOB, LEADING."

NEALE TOOK HIS COMMITMENT TO LEADING AMERICAN SOLDIERS VERY SERIOUSLY, AND HE EXCELLED AT IT, AND AS HE WAS DOING SO HE ALSO CONTINUED TO BE A PART OF MY COMPANY AT WEST POINT THROUGH HIS FREQUENT UPDATES AND ADVICE FROM IRAQ. HE WANTED TO SHARE HIS EXPERIENCES WITH CADETS AS THEY PREPARED TO BECOME LIEUTENANTS.

IN ADDITION TO THE SERIOUS AND FOCUSED SIDE OF NEALE, YOU ALSO KNOW THAT ENJOYED A GOOD JOKE AND HAD A GREAT SENSE OF HUMOR. I'D LIKE TO SHARE SOME OF THOSE STORIES WITH YOU NOW.

A FEW OF MY CADETS TOLD ME ABOUT A TIME DURING THEIR FRESHMAN YEAR (WHEN NEALE WAS A SENIOR), WHEN THEY WERE WATCHING A MOVIE TOGETHER (PLEBES AREN'T ALLOWED TO WATCH MOVIES OR PLAY VIDEO GAMES IN THE BARRACKS DURING FIRST SEMESTER- THEY'RE SUPPOSED TO STUDY). NEALE KNOCKED ON THEIR DOOR, AND THE STARTLED FRESHMEN QUICKLY TURNED THE COMPUTER OFF, POPPED TO ATTENTION AND SAID, "ENTER, SIR!" EXACTLY AS THEY ARE SUPPOSED TO. WHEN NEALE OPENED THE DOOR HE WAS SURPRISED TO FIND THE FOUR FRESHMEN STANDING THERE, AT RIGID ATTENTION... IN THE DARK... HE JUST SMILED, SHOOK HIS HEAD, SAID, "I DON'T EVEN WANT TO KNOW!" AND WALKED AWAY. THEY HAD EXPECTED THE WORST FROM THE ALWAYS EXACTING CADET SHANK, WHO ON THAT NIGHT DECIDED TO LET THE PLEBES HAVE THEIR FUN. TO THIS DAY THEY STILL GET A GOOD LAUGH FROM IT.

ANOTHER STORY RECOUNTED TO ME IS AN INTERACTION BETWEEN NEALE AND ONE OF MY SCRAWNIER CADETS. NEALE WALKED UP TO HIM, EYEBALLING HIM UP AND DOWN AND SAID, "HAVE YOU LIFTED YET TODAY? YOU'RE TOO SKINNY. I WAS INFANTRY AND I WOULDN'T HAVE TRUSTED MY LIEUTENANT IF HE SHOWED UP LOOKING LIKE YOU." THE QUESTION ABOUT LIFTING WEIGHTS BECAME A FREQUENT ONE AS NEALE BECAME A MENTOR TO THE YOUNG CADET AND HIS ROOMMATES. NEALE LATER EXPLAINED TO THEM THAT HE SAW POTENTIAL IN THEM AND THAT HE WAS HARD ON THEM BECAUSE HE WANTED THEM TO DO BETTER- TO BECOME BETTER SOLDIERS AND LEADERS. NEAL'S INSTINCTS WERE RIGHT. TODAY THOSE FORMER ROOMMATES ARE AMONG THE BEST IN THEIR CLASS.

ANOTHER ONE OF THEIR CLASSMATES WAS ON OUR COMPANY INTRAMURAL WRESTLING TEAM THAT YEAR DESPITE NEVER HAVING WRESTLED BEFORE. NEALE WAS HIS COACH. HE REMEMBERS "I HAD NEVER WRESTLED BEFORE AND HAD ABSOLUTELY NO IDEA WHAT I WAS DOING, BUT NEIL BELIEVED IN ME AND I ENDED UP WINNING HALF MY MATCHES DURING THE SEASON. WHENEVER I LOST TO AN OPPONENT, EVEN IF THE OPPONENT WAS OBVIOUSLY STRONGER AND BETTER THAN ME, NEIL WOULD ALWAYS SAY "WHAT HAPPENED?" BECAUSE HE ALWAYS EXPECTED ME TO WIN. ONE TIME I WENT UP AGAINST A GUY THAT EASILY HAD 20 LBS ON ME AND PROBABLY BENCHED TWICE AS MUCH AS I CAN. I WENT THREE ROUNDS WITH THE GUY AND FINALLY PINNED HIM IN THE LAST THIRTY SECONDS. NEIL BRAGGED ABOUT IT FOR A WEEK AND TOLD ALL OF HIS FRIENDS, AND THE C.O. I WAS JUST A PLEBE SO IT MEANT A LOT TO ME THAT AN UPPERCLASSMEN WOULD BE PROUD OF MY ACCOMPLISHMENTS."

THIS SAME DESIRE TO MENTOR AND DEVELOP YOUNGER CADETS WAS POINTED OUT TO ME BY ANOTHER STORY SHARED BY A CADET WITH WHOM NEALE SPENT OVER AN HOUR WITH, TEACHING HIM HOW TO SHINE SHOES. THERE ARE SOME TRICKS TO GETTING A PAIR OF BLACK LEATHER SHOES TO SHINE LIKE MIRRORS, AND NEALE WAS KNOWN FOR HIS SKILL IN THIS AREA. AGAIN THIS CADET TOLD ME HOW MUCH IT MEANT FOR A SENIOR TO SPEND TIME HELPING HIM.

YET ANOTHER EXAMPLE IS ONE TOLD TO ME BY A CADET ALSO COACHED BY NEALE, THIS TIME ON OUR COMPANY INTRAMURAL ORIENTEERING TEAM. HE WRITES, "I REMEMBER NEALE SHANK BEING A GUY, WHO TOOK TIME OUT OF HIS DAY TO SHOW YOU SOMETHING. HE SHOWED ME HOW STRIP DOWN MY M14 [RIFLE] AND CLEAN IT ON A FRIDAY NIGHT BEFORE A [SATURDAY MORNING INSPECTION]. ALSO, HE WAS A GREAT ORIENTEERING COACH, WHO OFTEN TOOK US TO COOL PLACES THAT OVERLOOKED WEST POINT AND GOT US THINKING ABOUT THE BIG PICTURE. HE EMPHASIZED LEARNING GOOD MAP SKILLS OVER WINNING EVERY RACE. HE WAS A GREAT MENTOR, AND HE ALWAYS HAD TIME FOR A PLEBE."

NEALE WAS IN STAFF POSITIONS HIS SENIOR YEAR THAT DID NOT AFFORD HIM ANY DIRECT SUBORDINATES, BUT AS YOU HAVE JUST HEARD, THAT NEVER STOPPED NEALE FROM MENTORING MANY OF THE YOUNGER CADETS. TAKING TIME TO SHOW A PLEBE THE SECRETS OF SHINING SHOES, OR HOW TO SQUARE AWAY A UNIFORM, IMPROVE PHYSICALLY, OR LEARN MORE ABOUT MILITARY SKILLS AND TACTICS NOT ONLY MADE THOSE CADETS BETTER, BUT IT WAS ALSO A POWERFUL LESSON TO THEM OF HOW TO TAKE CARE OF SOLDIERS. THIS IS A COMMON THEME - THAT HE FELT STRONGLY ABOUT HELPING OTHERS AND MAKING THEM BETTER.

BY THE WAY, TO THIS DAY CADET JASON MCCARTT CAN'T PICK UP A RAG AND TIN OF POLISH WITHOUT THINKING OF NEALE, JUST LIKE CADET JIM GALLAGHER CAN'T GO TO THE WEIGHT ROOM WITHOUT THINKING ABOUT NEALE, AND HOW CADET TREVOR SHIRK REMEMBERS TO TAKE THE TIME TO STEP BACK AND SEE THE BIGGER PICTURE. YOU SEE, THAT'S THE EFFECT THAT LEADERS HAVE ON OTHERS. THEY MAKE LASTING IMPRESSIONS THAT GUIDE THEM THROUGH THE REST OF THEIR LIVES.

WHEN I ASK NEALE'S CLASSMATES TO SHARE THEIR MEMORIES OF HIM, TIME AND TIME AGAIN THE SAME WORDS COME OUT: HONEST, BRUTALLY HONEST, DEPENDABLE, HARD WORKING, POLISHED. NEALE WAS ALL OF THESE THINGS. TO SAY THAT NEALE WAS HONEST - THAT HE WAS HONORABLE, DOES NOT DESCRIBE ACCURATELY THIS FACET OF HIS PERSONA. BRUTAL HONESTY GETS CLOSE, BUT TRULY WHAT NEALE HAD WAS CANDOR. SOME OF YOU KNOW OR HAVE HEARD OF THE SEVEN ARMY VALUES: LOYALTY, DUTY, RESPECT, SELFLESS SERVICE, HONOR, INTEGRITY AND PERSONAL COURAGE. CANDOR, QUITE LITERALLY, IS THE 8TH ARMY VALUE THAT DID NOT MAKE THE CUT BECAUSE IT DOESN'T FIT INTO THE LEADERSHIP ACRONYM.

CANDOR- A POWERFUL BLEND OF HONOR, INTEGRITY, AND COURAGE; TO BE ABLE TO SPEAK YOUR MIND AND PROVIDE MEANINGFUL INPUT, EVEN IF IT IS NOT WHAT YOUR BOSS WANTS TO HEAR IS A KEY ELEMENT OF A LEADER'S PSYCHE THAT DEVELOPS OVER TIME. IT IS NOT EASY WHEN YOU ARE THE NEW KID IN TOWN, IN THE ARMY FOR A FAR SHORTER TIME THAN MOST OF YOUR SUBORDINATES, YET IN CHARGE, BUT THOSE OF YOU WHO HAVE SPENT EVEN A DAY WITH NEALE KNOW THAT HE WAS A MAN OF CANDOR.

A CLASSMATE OF NEALE'S, LT BRANDON BODOR DESCRIBED IT AS FOLLOWS, "NEALE LIVES ON IN ME IN THE FACT THAT I WILL ALWAYS, ALWAYS VOICE MY OPINION WHEN I BELIEVE STRONGLY ABOUT SOMETHING; THE ARMY DOESN'T NEED MORE 'YES MEN.' THE ARMY AND ITS SOLDIERS NEED MEN WHO HAVE THE COURAGE TO CHARGE ANY HILL, BUT ALSO THE COURAGE TO TELL THEIR COMMANDER WHY IT WOULD BE A TERRIBLE DECISION. NEALE SHANK WAS THAT KIND OF MAN, AND I WILL NEVER FORGET HIM FOR THAT."

HIS FORMER ROOMMATE AND ONE OF HIS BEST FRIENDS AT THE ACADEMY, LT JOSH CONNOR SAYS OF NEALE, "HE ALWAYS DID WHAT HE FELT WAS RIGHT AND HE NEVER MADE EXCUSES IF SOMETHING DIDN'T WORK OUT QUITE HOW HE HAD PLANNED. THERE WAS NEVER A GREY AREA WITH NEALE; THINGS WERE ALWAYS BLACK AND WHITE. FOR THOSE WHO NEEDED ADVICE, THERE WAS NEVER ANYONE BETTER TO TALK WITH THAN NEALE. THE REASON FOR THIS IS THAT NEALE COULD ALWAYS BE COUNTED ON TO GIVE THE ABSOLUTE TRUTH, WHETHER YOU WANTED TO HEAR THAT OR NOT. THERE WAS NO SUGARCOATING THINGS WITH NEALE. HE WAS DEAD HONEST AND THAT IS THE WAY HE APPROACHED LIVING HIS LIFE.

HE WAS STEADY AND SOLID AND MORE PERSISTENT THAN ANY OF THE PROBLEMS WE EVER RAN INTO AS ROOMMATES OR YOUNG OFFICERS. THERE WAS ABSOLUTELY ZERO QUIT IN NEALE, NO MATTER HOW TUFF A SITUATION BECAME. WHEN I MEASURE MY FRIENDS TODAY, THERE IS ONLY ONE STANDARD BY WHICH I JUDGE THEM. THAT IS THE NEALE SHANK STANDARD. NEALE'S LOYALTY AND DEVOTION AS A FRIEND OVER THE LAST 4 AND A HALF YEARS ARE UNPARALLELED. FOR THAT REASON I'LL SORELY MISS NEALE, BUT I KNOW HIS LEGACY WILL LIVE ON THROUGH THE YOUNGER CADETS AND SOLDIERS IN THE ARMY HE WAS ABLE TO HAVE AN IMPACT ON AND MENTOR."

I'D LIKE TO SHARE WITH YOU A COUPLE OF MY FAVORITE EXAMPLES OF THIS UNDYING LOYALTY THAT NEALE DEMONSTRATED. JOSH SHARED WITH ME THAT AFTER CONTINUALLY GETTING INTO TROUBLE FOR HAVING POORLY SHINED SHOES (I GUESS JOSH WAS A POOR STUDENT OF THE SHANK SHOE SHINING ACADEMY) THAT NEALE SECRETLY SHINED HIS LOW QUARTERS FOR HIM WHEN HE SAW THAT HIS ROOMMATE WAS BEHIND A BIT AND NEEDED A HAND TO STAY OUT OF TROUBLE.

BUT PERHAPS THE MOST DRAMATIC EXAMPLE IS ONE THAT LT SCOTT CASSIDY SHARED WITH ME RECENTLY. SCOTT WAS WOUNDED AND HOSPITALIZED IN IRAQ TOWARDS THE END OF HIS TOUR LAST FALL. AS NEALE'S OWN TOUR BEGAN, HE CAME TO SEE SCOTT IN THE HOSPITAL EVERY DAY (AND LATER IN HIS TENT) BRINGING HIM FOOD AND A HEALTHY DOSE OF HIS JOKES AND SMART REMARKS TO LIFT SCOTT'S SPIRITS. YOU SEE, IT WAS NEVER ABOUT NEALE.

AS I SAID EARLIER, THOSE OF US WHO KNEW HIM BEST ALSO KNEW THAT BEHIND THE DISCIPLINED, SHINY EXTERIOR WAS A SPIRITED, FUN LOVING SIDE. THIS SIDE OF NEALE'S PERSONALITY IS BEST DESCRIBED BY LT LINDSAY MARCH, WHO WROTE, "HE WAS ALWAYS UP FOR ANYTHING. SOMETIMES WE WOULD GO TO THE MOVIES, OR DINNER, AND MAKE FUN OF EACH OTHER NON-STOP. IN FACT, HE WAS CONVINCED THAT ME AND LIV FORTIN WERE BOTH SECRETLY IN LOVE WITH HIM, SAYING [THAT], "HE COULD SEE IT IN OUR EYES."
THE NEXT WEEKEND NEALE WOULD SIT FOR HOURS AND TALK OPENLY ABOUT ANYTHING, BE IT THE ARMY OR LOVE, OR JUST LIFE IN GENERAL. HE WAS THE GUY WHOSE LIGHT WAS ALWAYS ON AT 2AM...AND HE WOULD OPEN HIS DOOR FOR A HEART-TO-HEART NO MATTER WHAT PROJECT WAS DUE THE NEXT MORNING. HE WAS SO COCKY, AND CANDID AND SO MUCH FUN TO BE WITH. BUT WHEN IT WAS TIME TO DO THE "ARMY THING" HE WAS INCREDIBLY FOCUSED BECAUSE HE KNEW HOW SERIOUS COMBAT WOULD BE AND HOW IMPORTANT IT WAS TO BE A GOOD OFFICER. I THINK HE WAS THE UPPERCLASSMAN WHO THE PLEBES WERE TERRIFIED OF, BUT SECRETLY THEY WANTED TO BE JUST LIKE HIM. WHEN I PICTURE HIM NOW I CAN'T IMAGINE HIM WITHOUT A BIG GRIN AND A FLIRTATIOUS WINK. I'M GOING TO MISS THAT SMILE SO MUCH, BUT I WOULDN'T WANT TO REMEMBER HIM ANY OTHER WAY."

AND THAT IS WHAT WE ARE HERE TO DO TODAY- TO REMEMBER AND CELEBRATE NEALE'S LIFE. TO TAKE STOCK OF ALL THE WAYS THAT HE AFFECTED OUR OWN LIVES. THE FIERCE LOYALTY, THE INCREDIBLE WORK ETHIC, THE SHINING EXAMPLE OF WHAT RIGHT LOOKS LIKE - THE SMILE AND THE SENSE OF HUMOR. THAT IS WHAT I TAKE AWAY FROM THE BRIEF TIME THAT I HAD THE HONOR OF KNOWING NEALE. THOSE ARE THE LESSONS LEARNED THAT I STRIVE TO APPLY TO MY DAILY LIFE. WE HONOR HIM BY REMEMBERING THESE THINGS AND BY NOT ONLY APPLYING THEM TO OUR OWN JOURNEYS, BUT BY USING THEM AS WE INFLUENCE THE LIVES OF OTHERS.

I STILL STRUGGLE TO UNDERSTAND WHY SUCH A TREMENDOUS INDIVIDUAL, WHO CLEARLY THIS WORLD COULD USE A FEW MORE OF, WAS TAKEN AWAY FROM US. I HAVE TROUBLE MAKING SENSE OF IT ALL... AND FIND SOLACE IN THE KNOWLEDGE THAT THE LORD'S UNENDING MERCY PENETRATES INTO EVEN THE MOST UNCERTAIN AND UNEXPLAINABLE OF TIMES. I HAVE LEARNED THAT WE ALL FOLLOW OUR OWN PATH IN LIFE, AND THAT WE GROW THROUGH OUR EXPERIENCES... OFTEN TO A GREATER DEGREE FROM THE MOST TROUBLING OF THEM... SO I PRESS ON- KNOWING THAT THE LORD'S INTENTIONS AND LESSONS, THAT HIS UNDERSTANDING AND PURPOSE, WILL COME IN GOOD TIME.

ONE MORE STORY THAT I THINK DEMONSTRATES THIS BEST IS ONE I HEARD IN PASSING FROM MY REGIMENT'S CADET COMMAND SERGEANT MAJOR. NEALE WAS HIS SQUAD LEADER DURING CADET BASIC TRAINING. HE SAID OF NEALE, "I HATED HIM AT THE TIME. HE WAS SO HARD ON US EVERY DAY. BUT LOOKING BACK, I APPRECIATE IT NOW. I LEARNED A LOT FROM HIM - HE MADE ME A BETTER CADET."

SO THOUGH WE MAY HATE THAT NEALE IS NO LONGER WITH US, AND STILL DO NOT FULLY UNDERSTAND WHY HE IS GONE, WE ALSO RECOGNIZE THAT OUR LIVES ARE BETTER FOR HAVING KNOWN HIM, AND WE HONOR HIM BY USING HIS EXAMPLE TO DO BETTER EACH DAY. I MISS HIM DEARLY, BUT HE WILL ALWAYS BE WITH ME... AND I KNOW THAT HE IS WITH US HERE TODAY. IN FACT HE'S PROBABLY LOOKING DOWN ON US NOW, SAYING, "AH, DON'T WORRY ABOUT ME, I'M GOOD."

I'LL CLOSE WITH A PASSAGE FROM THE WEST POINT ALMA MATER:
"AND WHEN OUR WORK IS DONE, OUR COURSE ON EARTH IS RUN, MAY IT BE SAID WELL DONE, BE THOU AT PEACE."

WELL DONE NEALE, BE THOU AT PEACE.
Previous Eulogy
Next Eulogy