View a eulogy for Ian Samuel Morrison, USMA '07, who passed away on March 21, 2012.
Other important links:
Ian Samuel Morrison
West Point, 2007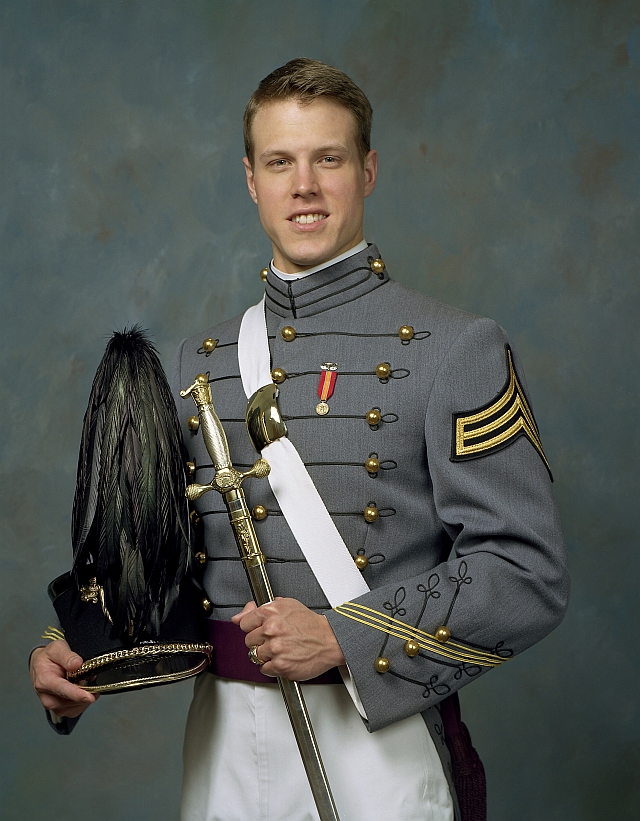 Be Thou At Peace
Posted by Sean McBride on March 31, 2012:
Ian,

I first met you during Cadet Field Training in the summer of 2004. I can't quite remember my first impression of you, but I imagine that you likely struck me as a funny guy with a large CD collection that liked to lift weights. During the fall of 2004, we became G-2 Gators together. We weren't always the closest of friends at that point, but we often ran into each other in Bradley Barracks, on the parade field, and at church. We became closer friends through our shared suffering going through Airborne School at Fort Benning during the summer of 2005. It wasn't the hazing or physical stuff that bothered us, but the time waiting with our packed chutes before getting on the planes. During our free time, Fort Benning didn't offer much for us to do. I remember that we spent a lot of time at the post Burger King and the post movie theater. We saw Batman Begins several times that summer. During the final years of West Point, our paths crossed often. You met Erica when she and I had our first blind date during 500th Night. We both branched Aviation, graduated, and moved to Fort Rucker, where we shared a townhouse in Enterprise, Alabama. In Alabama, you were like a brother to me. We worked together, lived together, prayed together, worshipped together. As we were both raised as Presbyterians, we church shopped together. You really supported me during those days. When I was going through medical issues and struggled with Army HR, you would put me at ease. When I was going through doubts and crises of faith, you would pray with me. When I found out that I would be medically discharged from the Army, you encouraged me. You were like Christ to me when I hit rock bottom and felt like the least of the West Point brothers and sisters. You offered me food, drink, and clothing, and you visited me when I was sick. I will always remember the countless moments we spent together going shopping at Walmart, going to church or bible study, cooking mac & cheese with chopped up hot dog slices, watching Seinfeld or Jeeves & Wooster DVDs, or battling it out online on real-time strategy video games like Warhammer 40k. I remember picking you up from the hospital when your lung popped and having a discussion with you about heaven and the fragility of our earthly existence. I remember meeting Becca and being so happy for you. I remember helping you move out on your own with my pick-up truck. Though our paths diverged when I became a civilian in December of 2008, you and your loved ones will always remain in my thoughts and prayers. I know that you are in a better place, but I will always miss you and remember you with the deepest sense of brotherly love.

-Sean
Previous Eulogy
Next Eulogy
---
West-Point.Org (WP-ORG), a 501(c)(3) non-profit organization, provides an online communications infrastructure that enable graduates, parents, and friends of the military academy to maintain and strengthen the associations that bind us together. We will provide this community any requested support, consistent with this purpose, as quickly and efficiently as possible. WP-ORG is funded by the generosity of member contributions. Our communication services are provided in cooperation with the AOG (independent of USMA) and are operated by volunteers serving the Long Gray Line. For questions or comments, please email us at feedback@west-point.org.