View a eulogy for Tyler Edward Parten, USMA '07, who passed away on September 10, 2009.
Other important links:
Tyler Edward Parten
West Point, 2007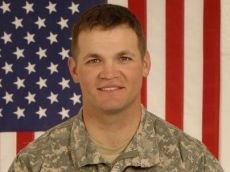 Be Thou At Peace
Posted by Jared Flurry on September 13, 2009:
To Tyler's Family and all who loved him dearly,

My thoughts fail me at such a loss. I had the pleasure of spending six weeks with Tyler while he was the First Sergeant of our Beast Company, then of being his friend ever since. Every single time we passed each other, we would stop and chat. Every time. I loved that about him.

Before my Beast cadre rotation, I had been a little bitter about getting injured and relegated to an administrative role within the company. I now look back on that summer, though, of one filled with happiness and contentment...mainly because of Tyler. I'll be honest, my job was pretty much worthless. I was the Training Sergeant...basically a less critical admin buddy of the Supply Sergeant (also a gimp) and the slavechild of our XO. Recognizing my place in the company, I tried to let the guys in charge be the visible ones...let them do the hard jobs and earn the respect and internal rewards they deserved. Tyler didn't see it that way at all. He told me that he wanted me around and visible as much as possible...that I could provide some balance for the new cadets...and that I was just as much a part of the company as he. Really basic stuff, I know. Middle School stuff, actually, said to a junior at West Point. But that's what Tyler knew he needed to say; and he said it at just the right time, in just the right way. What an awesome guy and a good friend. He made that summer for me.

Tyler did so many things right as First Sergeant, and--what I liked best--he did so many things wrong, but didn't get caught. His interests were always completely unselfish...I think, haha...or, at least, he wanted to help everybody else out and maybe make his life easier as a happy by-product. In any case, you can ask anybody--officer cadre, cadets, or the new cadets of that company...and they'd all say that the thing that they remember most about that CBT was Tyler Parten as First Sergeant. The things I'll remember most are Tyler auctioning off gatorades for pushups, Tyler hijacking the talent show stage to sing 'cadet ironic' to a screaming crowd of his loyal Delta Company-ers (by the way, I still remember all the words and crack up imagining him singing them "...it's like 4000 guys, when all you need is a girl..."), Tyler laughing and not quite turning a blind eye to a cadre dare of a new cadet to snort some orange MRE drink powder (by the end he was rolling on the ground laughing, and lauding the new cadet in question with compliments and rewards), and--and this is the funny one--Tyler dumping an entire box of ammo we had completely misplaced and not fired--into the amnesty box at headquarters. The amnesty box in question couldn't have been bigger than a shoebox; it would have fit inside the box of ammo Ty was carrying. I remember watching Tyler weasel in, pour out the rounds as quietly as possible (not possible), gawk at the fact that he had completely overflowed the amnesty box and created an ammo pyramid, and walk away calmly. Until some officers saw him, at which time he ran away, haha. Like a man, and a true cadet.

Those are the small reasons we loved him, why I loved him so much. The big reasons are too obvious; you know them all. I wanted to share those stories and thoughts with you; I hope that they might soon bring joy and the warmth of happy memories of your Beloved Tyler. In time, I pray that you may all find comfort in the fact that you all made Tyler a light to so many lives. I consider myself truly blessed to have been his friend, and I place my faith in the solemn hope that I'll be able to see him on the other side, and maybe sip some MRE orange drink while he plays that damned guitar with talent and skill that no one should possess. What a great guy.

God Bless,
Jared Flurry
Previous Eulogy
Next Eulogy
---
West-Point.Org (WP-ORG), a 501(c)(3) non-profit organization, provides an online communications infrastructure that enable graduates, parents, and friends of the military academy to maintain and strengthen the associations that bind us together. We will provide this community any requested support, consistent with this purpose, as quickly and efficiently as possible. WP-ORG is funded by the generosity of member contributions. Our communication services are provided in cooperation with the AOG (independent of USMA) and are operated by volunteers serving the Long Gray Line. For questions or comments, please email us at feedback@west-point.org.