Click on any eulogy link to view that eulogy.
Click on "Post a new eulogy" to add your own eulogy to David.
Other important links:
David Bernstein
West Point, 2001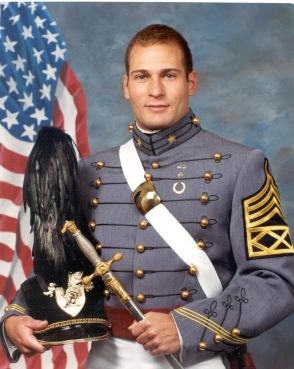 Be Thou At Peace
To date, 91 eulogies have been posted for David. Post a new eulogy to share some memories and thoughts that you may have. Additional biographical information may be found on the personal home page.
| Subject | Name | Date Posted |
| --- | --- | --- |
| Personal Remembrance | Judy Campbell | October 18, 2016 |
| Thinking of Dave | JCM | October 22, 2012 |
| Be thou at Peace | Paul Gates | April 14, 2011 |
| Grip hands with us strengthen our hearts | Dallas Cheatham | October 19, 2010 |
| Thinking of you (Gail & Richard) | Diana Pulliam | February 8, 2010 |
| Thinking of Dave...as always | Kyle Barden | December 26, 2009 |
| Remembered | Brendan Maisni | December 3, 2009 |
| Community Comment | K McArthur | October 17, 2008 |
| Hey Dave... | Jeremy Scholtes | May 2, 2008 |
| Personal Eulogy | Rob Swartwood | May 2, 2008 |
| Go Hurricanes | Juliza Ramirez | March 4, 2008 |
| Til Duty Is Done | Peter Katzfey | October 18, 2007 |
| Thinking of Dave | JCM | August 20, 2007 |
| Personal Eulogy | Roger A. Gross | July 30, 2007 |
| Personal Eulogy | John Bender | January 23, 2007 |
| Personal Eulogy | SSG David Cutler | December 17, 2006 |
| 2 years | Michelle (Bernstein) Lee | October 17, 2005 |
| Personal Eulogy | Erica Hemmy | June 20, 2005 |
| Personal Eulogy | David Swenson | March 16, 2005 |
| Personal Eulogy | CPT Brendan Mullen | November 23, 2004 |
| Personal Eulogy | Brooke Matherly | October 18, 2004 |
| Personal Eulogy | Will Fulton | August 13, 2004 |
| Personal Eulogy | Tim Marvich | August 3, 2004 |
| Personal Eulogy | Juliza Ramirez | June 28, 2004 |
| Trip to PA and West Point for David's Memorials | Rich Bernstein | June 14, 2004 |
| Personal Eulogy to the family of David Bernstein | Bob Barrett | April 27, 2004 |
| Personal Eulogy | Joe Hardy | January 7, 2004 |
| Personal Eulogy | James A. Vestermark | January 7, 2004 |
| Personal Eulogy | Major Michael A Carlino | December 2, 2003 |
| Personal Eulogy | Doug Corwin | November 30, 2003 |
| Personal Eulogy | 2LT Robert T. MacLean | November 18, 2003 |
| Personal Eulogy | Jennifer Cross | November 16, 2003 |
| Personal Eulogy | Jeremy E. Lane | November 16, 2003 |
| Personal Eulogy | Joe Whitener | November 8, 2003 |
| Personal Eulogy | Michael Jeroslow | November 5, 2003 |
| Personal Eulogy | Paul Chafetz | November 3, 2003 |
| farewell to a brother Aleph | Larry Schooler | November 2, 2003 |
| Personal Eulogy | Jere Hanchak | November 2, 2003 |
| Personal Eulogy | Robyn Rosen | November 3, 2003 |
| To Gail and Rich | June and Bill Burch | November 1, 2003 |
| Personal Eulogy | Reis Brandon Ritz | November 3, 2003 |
| Personal Eulogy | LtCol (ret) Ed Kennedy, Jr | October 31, 2003 |
| Personal Eulogy | Rabbi Steven Folberg | October 31, 2003 |
| Personal Eulogy | Diana Simmons | October 31, 2003 |
| Personal Eulogy | Carol Mandik | October 30, 2003 |
| Personal Eulogy | Mike and Carol Rosenberg | October 30, 2003 |
| Personal Eulogy | Moon Glade | October 30, 2003 |
| Personal Eulogy | Arnold Winter, '49 | October 30, 2003 |
| Personal Eulogy | COL Roy Marokus, MD, MPH, Flt Surg 1/244th AVN BN, LAARNG | October 30, 2003 |
| Personal Eulogy | Jake & Dink Boundy | October 29, 2003 |
| Personal Eulogy | Steve and Anita Schweitzer | October 29, 2003 |
| Personal Eulogy | Gary & Roberta Standish | October 29, 2003 |
| Personal Eulogy | Lloyd Lee | October 29, 2003 |
| Personal Eulogy | Vernet Spence-Brown | October 29, 2003 |
| Personal Eulogy | David Rodenbough | October 29, 2003 |
| Personal Eulogy | David Hansen | October 29, 2003 |
| Personal Eulogy | Judith & Arthur Travis | October 29, 2003 |
| My BBYO Little Brother | Mike Harnisch | October 28, 2003 |
| To Rich and Gail | Don & Vicki Bobo | October 28, 2003 |
| Personal Eulogy | Connie | October 28, 2003 |
| Personal Eulogy | Pete and Julia Misslin | October 28, 2003 |
| Personal Eulogy | Linda Blair | October 27, 2003 |
| Personal Eulogy | Sharon Sato | October 27, 2003 |
| Personal Eulogy | Jaron Wharton | October 27, 2003 |
| Personal Eulogy | Giao Do | October 27, 2003 |
| Personal Eulogy | Ron & Marlene Hall | October 26, 2003 |
| Personal Eulogy | MAJ Pete Kilner USMA 1990 | October 26, 2003 |
| Personal Eulogy | Patrick | October 24, 2003 |
| To the Bernstein family | Dian Welle | October 24, 2003 |
| Personal Eulogy/ To Mr and Mrs Bernstein | Michael Taylor | October 23, 2003 |
| Personal Eulogy/ To Mr. and Mrs. Bernstein | Kirsten Malonoski | October 22, 2003 |
| Personal Eulogy | Matt Fix | October 22, 2003 |
| Personal Eulogy | Col Ron Smith, 1975 | October 22, 2003 |
| Personal Eulogy | Barbara Van Epps | October 22, 2003 |
| Personal Eulogy | Paul Lima | October 22, 2003 |
| Personal Eulogy | Joe Minor | October 22, 2003 |
| Personal Eulogy | Matt Lee | October 22, 2003 |
| Personal Eulogy | Bill Taylor | October 22, 2003 |
| Personal Eulogy | Stephen Hays | October 21, 2003 |
| Personal Eulogy | J.J. Williamson | October 21, 2003 |
| Personal Eulogy | Douglas Graham | October 21, 2003 |
| Personal Eulogy | Grace and Bill Knowles | October 21, 2003 |
| Personal Eulogy | Jason Hetzel | October 21, 2003 |
| Message to parents of Richard Bernstein | Steve Barton, USMA 1977 | October 21, 2003 |
| Personal Eulogy | Cyndi Ayres | October 21, 2003 |
| Personal Eulogy | D. E. Pullen | October 21, 2003 |
| Personal Eulogy | Chuck Brooks | October 21, 2003 |
| Personal Eulogy | Ray Bosse | October 21, 2003 |
| Personal Eulogy | Wendy Andrews | October 21, 2003 |
| Article in PennLive.COM | Associated Press | October 21, 2003 |
| Article in the Pittsburgh Tribune-Review | The Associated Press | October 21, 2003 |