Click on any eulogy link to view that eulogy.
Click on "Post a new eulogy" to add your own eulogy to Michael.
Other important links:
Michael Robert Girdano
West Point, 2007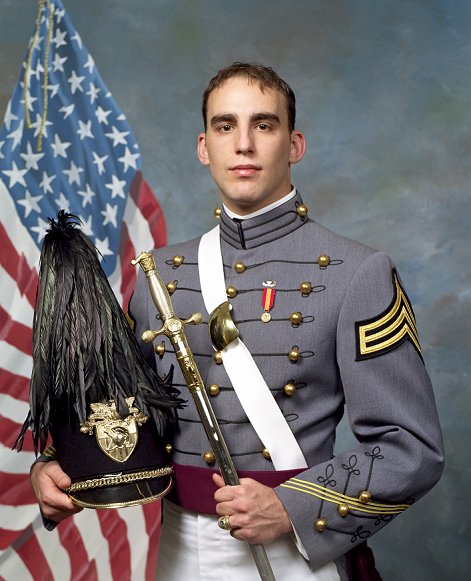 Be Thou At Peace
To date, 130 eulogies have been posted for Michael. Post a new eulogy to share some memories and thoughts that you may have. Additional biographical information may be found on the personal home page.
| Subject | Name | Date Posted |
| --- | --- | --- |
| Personal Eulogy | Cpt Jacob Marshall | July 15, 2010 |
| Thank You Michael | Rob Mercuri, USMA 04, CPT (USAR) | May 31, 2010 |
| Personal Eulogy | Marty J. Eaton | March 11, 2009 |
| Personal Eulogy | 1LT Patrick Dullano, Class of 2007 | March 11, 2009 |
| Personal Eulogy | jeannette o walker | October 8, 2008 |
| Personal Eulogy | Mary ('03 & '06 mom) | September 21, 2008 |
| Personal Eulogy | 2LT Sylvia Amegashie | September 16, 2008 |
| Personal Eulogy | Cara Kopowski | September 13, 2008 |
| Personal Eulogy | 2LT Travis Boltz | September 5, 2008 |
| Personal Eulogy | Anne Fields | September 3, 2008 |
| Personal Eulogy | 2LT Bradford Long | September 2, 2008 |
| HERO | ANTHONY CAROLLO | August 20, 2008 |
| Personal Eulogy | 1LT Brandon June | August 18, 2008 |
| Personal Eulogy | 2LT Andrew Littel | August 18, 2008 |
| fellow Grad parents '07 | Don and Shelley Filer | August 17, 2008 |
| Personal Eulogy | 2LT James Thies | August 15, 2008 |
| You'll Be Missed Brother | CPT Harrington | August 12, 2008 |
| Personal Eulogy | 2LT Tim Ashcraft | August 11, 2008 |
| Personal Eulogy | 2LT Raymond AUgustine | August 11, 2008 |
| Personal Eulogy | 2LT Joshua Rodriguez | August 11, 2008 |
| Personal Eulogy | Phil Biggs '86 | August 10, 2008 |
| Personal Eulogy | Veronica May | August 10, 2008 |
| Personal Eulogy | Anna Metzger | August 10, 2008 |
| Fellow peer and Steeler fan | Arturo Rodriguez | August 10, 2008 |
| Personal Eulogy | 2LT Jillian Busch | August 10, 2008 |
| Personal Eulogy | Frank McKnight, Parent of '07 Grad and '11 Cadet | August 9, 2008 |
| Personal Eulogy | The MIkstas Family 2009 | August 9, 2008 |
| Personal Eulogy | Roger and Dianna Mathews | August 9, 2008 |
| Personal Eulogy | Sam and Pat Gill | August 8, 2008 |
| Personal Eulogy | 2LT Adam Jannetti | August 8, 2008 |
| Personal Eulogy | Diane Salava | August 8, 2008 |
| Personal Eulogy | 2LT Walter Vogel | August 8, 2008 |
| Personal Eulogy | 2LT Gerret Davis | August 8, 2008 |
| Personal Eulogy | 2LT Greg Lewandowski | August 7, 2008 |
| Personal Eulogy | Cadet Brian Alvarez | August 7, 2008 |
| Personal Eulogy | The Harris Family | August 7, 2008 |
| Personal Eulogy | 2LT Tanja Duester | August 7, 2008 |
| Personal Eulogy | Kathy Nudi | August 7, 2008 |
| Personal Eulogy | Hughbert and Gail Collier | August 7, 2008 |
| Mike... | 2LT Brandon Thomas | August 7, 2008 |
| Personal Eulogy | Jennifer Garigliano | August 7, 2008 |
| Personal Eulogy | 2LT Marjana Mair | August 7, 2008 |
| Personal Eulogy | John Chambers | August 7, 2008 |
| Rest well my friend | William Williams | August 7, 2008 |
| Personal Eulogy | Mary & Mike Conway, 06 Parents | August 7, 2008 |
| Personal Eulogy | Chris Hostler | August 7, 2008 |
| Personal Eulogy | Joan Casillas Gonzalez | August 7, 2008 |
| Our Condolences | Barry and Barb Willey | August 7, 2008 |
| For Michael | Glenn Fairman | August 6, 2008 |
| Personal Eulogy | Alice pena | August 6, 2008 |
| Condolenses | John and Maria Laufasa | August 6, 2008 |
| Personal Eulogy | Andra Kai Shaw | August 6, 2008 |
| Condolences | Deirdre and A. Edward Major | August 6, 2008 |
| Personal Eulogy | Ed and Julie Culver | August 6, 2008 |
| Personal Eulogy | 2LT A. Chris Ballard | August 6, 2008 |
| Personal Eulogy | Shirley Olivieri-Mathies ('05 parent) | August 6, 2008 |
| Personal Eulogy | 2LT Colin Robb | August 6, 2008 |
| Personal Eulogy | Sue Piers | August 6, 2008 |
| With deepest sympathy and gratitude | Steven and Tina Saxion | August 6, 2008 |
| Eulogy From Afghanistan | Michael Gasser | August 6, 2008 |
| Personal Eulogy | The Connolly Family Gerard '11 | August 6, 2008 |
| My sympathy | Olinda Smith | August 6, 2008 |
| Personal Eulogy | 2LT Patrick Linford | August 6, 2008 |
| Personal Eulogy | The Mizell Family | August 6, 2008 |
| Personal Eulogy | 2LT Kelsey Tardieu | August 6, 2008 |
| Personal Eulogy | 2LT Michael Baddley | August 6, 2008 |
| Personal Eulogy | 2LT Anthony Ciaffone III | August 6, 2008 |
| Personal Eulogy | Tracy Wilson | August 6, 2008 |
| Personal Eulogy | The Laufer Family | August 6, 2008 |
| In Sympathy | Bette & Larry Escudier | August 6, 2008 |
| Personal Eulogy | The Gronberg Family | August 6, 2008 |
| Personal Eulogy | Jeff Kinley | August 6, 2008 |
| Personal Eulogy | Aaron Fairman | August 6, 2008 |
| Always in our hearts. | Vallejos Family | August 6, 2008 |
| Personal Eulogy | mary pleuss | August 6, 2008 |
| Personal Eulogy | 2LT Cherith Boycan | August 6, 2008 |
| Personal Eulogy | Joan & Lou Verardo | August 6, 2008 |
| Personal Eulogy | 2LT Hunter Wakeland | August 6, 2008 |
| Personal Eulogy | Mr. & Mrs. Alvarez | August 6, 2008 |
| In Sympathy | Jeanette Grayeb-Mihal | August 6, 2008 |
| Personal Eulogy | Kathryn 08 Parent | August 6, 2008 |
| Personal Eulogy | Beatriz C. Fernandez | August 6, 2008 |
| Personal Eulogy | 2LT Miles Murray | August 6, 2008 |
| Personal Eulogy | Chris Stoinoff | August 6, 2008 |
| Personal Eulogy | Elizabeth Salinas | August 6, 2008 |
| Be Thou At Peace | 2LT Collin Smith | August 6, 2008 |
| You will be missed! | Jose Peterson | August 6, 2008 |
| Personal Eulogy | 2LT Marcus Brooks | August 6, 2008 |
| Our thoughts and prayers are with you | The Levy Family | August 6, 2008 |
| Personal Eulogy | 2LT Matt Dembowski | August 6, 2008 |
| Personal Eulogy | kerin morgan | August 6, 2008 |
| Personal Eulogy | 2LT Chad Lorenz | August 6, 2008 |
| Personal Eulogy | Amberle Kurkowski | August 6, 2008 |
| Personal0007 Eulogy | George and Donna Patten | August 5, 2008 |
| Personal Eulogy | Len & Barbara Lewandowski | August 5, 2008 |
| Personal Eulogy | Jan and Warren Swoope | August 5, 2008 |
| Personal Eulogy | The Mott Family | August 5, 2008 |
| Personal Eulogy | Mark and Kara Brown | August 5, 2008 |
| Personal Eulogy | Pam & Dennis Desilets | August 5, 2008 |
| Personal Eulogy | The Shurtz | August 5, 2008 |
| Personal Eulogy | Marshall and Trudy Johnson | August 5, 2008 |
| Personal Eulogy | Patricia & Phillip Supple | August 5, 2008 |
| Personal Eulogy | Pamela Gilley | August 5, 2008 |
| Personal Eulogy | Gregory Fuhrer | August 5, 2008 |
| Personal Eulogy | Laurie Lehman, mother of NC, Class of 2012 | August 5, 2008 |
| Personal Eulogy | Elli De Kock | August 5, 2008 |
| Personal Eulogy | Paul and Mary Rykken | August 5, 2008 |
| Personal Eulogy | RANDY YOUNG | August 5, 2008 |
| Personal Eulogy | Michael and Carol Rosenberg | August 5, 2008 |
| Personal Eulogy | Russell Harris | August 5, 2008 |
| Personal Eulogy | McClelland Family | August 5, 2008 |
| Personal Eulogy | Melinda White | August 5, 2008 |
| Personal Eulogy | Sandy Kolano | August 5, 2008 |
| Personal Eulogy | Paula Ferris | August 5, 2008 |
| Condolences | The Powell Family | August 5, 2008 |
| Personal Eulogy | Tom and Anne Marie Taylor | August 5, 2008 |
| Personal Eulogy | Richard and Deborah Nifong | August 5, 2008 |
| Personal Eulogy | gigi sanders | August 5, 2008 |
| Personal Eulogy | Judith and Richard Mikula | August 5, 2008 |
| Personal Eulogy | Joe and Rhonda Guilliams | August 5, 2008 |
| Personal Eulogy | Patti & Steve Thweatt | August 5, 2008 |
| Personal Eulogy | winnie pritchett | August 5, 2008 |
| Personal Eulogy | MG Bob and Shelly Caslen | August 5, 2008 |
| Personal Eulogy | Jann Sheeran | August 5, 2008 |
| Personal Eulogy | Rick & Sue Due | August 5, 2008 |
| Personal Eulogy | The Fine Family | August 5, 2008 |
| Personal Eulogy | Charles and Mary Crigger | August 5, 2008 |
| Personal Eulogy | David Eisenlohr | August 5, 2008 |
| Personal Eulogy | Ann Johansmeyer | August 5, 2008 |
| Personal Eulogy | Dave & Karyn Kumlien | August 5, 2008 |