Click on any eulogy link to view that eulogy.
Click on "Post a new eulogy" to add your own eulogy to John.
Other important links:
John W. Lewis
West Point, 1989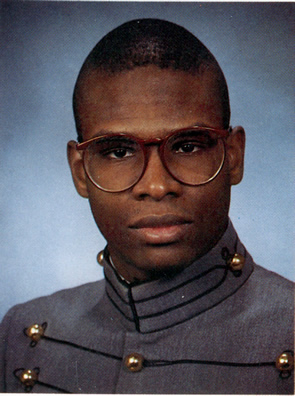 Be Thou At Peace
To date, 132 eulogies have been posted for John. Post a new eulogy to share some memories and thoughts that you may have. Additional biographical information may be found on the personal home page.
| Subject | Name | Date Posted |
| --- | --- | --- |
| Personal Eulogy | William & Queen Jones | May 27, 2019 |
| Personal Eulogy | Queen Jones | November 5, 2017 |
| Personal Eulogy | Mark Cravotta | May 30, 2017 |
| Personal Eulogy | William and Queen Jones | May 29, 2017 |
| We Always Remember | Trudy Lewis | November 5, 2016 |
| Personal Eulogy | Queen E. Jones | February 29, 2016 |
| A bright soul | Madelene Manley | August 21, 2015 |
| Personal Eulogy | Dad Jones | November 5, 2014 |
| Personal Eulogy | Dad Jones | November 5, 2014 |
| Personal Eulogy | Queen E. Jones | May 31, 2014 |
| Personal Eulogy | Eric Campbell | February 1, 2014 |
| Happy Birthday | Trudy | November 5, 2013 |
| Personal Eulogy | Jacques Walden Sr. | November 1, 2013 |
| John's Generous Mom | Mom Jones | April 12, 2012 |
| Birthday Memories | Mom & Dad Jones | November 5, 2011 |
| 50's Teammate | Vic Mondo | July 21, 2011 |
| Valentine's Day 2011 | Mom Jones | February 14, 2011 |
| Thinking of you | Dad (Jones) | February 3, 2011 |
| Missing the Family Ties | Pamela Lewis- sister | December 27, 2010 |
| November 5 | Queen E. Jones | November 7, 2010 |
| Memorial Day 2010 | Mom Jones | May 31, 2010 |
| thinking of you <3 | your little girl shanley | May 30, 2010 |
| i miss you | shanley | March 5, 2010 |
| Personal Eulogy - Memories | Queen E. Jones | February 14, 2010 |
| May God Bless You John | Karl Hamilton | December 31, 2009 |
| Christmas Joy! | Pamela Lewis, sister | December 19, 2009 |
| Personal Eulogy | William H. Jones | November 9, 2009 |
| Happy Birthday, Son | Lil Lewis | November 6, 2009 |
| Birthday Remembrance | Mom Jones | November 5, 2009 |
| West Point 20 Year Reunion - Eulogy for John | Trudy | October 4, 2009 |
| Your Mother Misses You | Pamela Lewis, sister | June 19, 2009 |
| Personal Eulogy | Debbie Brown | May 16, 2009 |
| The End of A Dynasty | Mom Jones | February 1, 2009 |
| Goodbye Heidi | Trudy | February 1, 2009 |
| Personal Eulogy -Inauguration Day 2009 | Queen E. Jones | January 20, 2009 |
| Memorial Day 2008 | Queen E. Jones | May 31, 2008 |
| A Perpetual Bond | Queen E. Jones | April 9, 2008 |
| Even Rangers Need a Warm Place | Adolphus Gwynn | December 11, 2007 |
| Birthday Remembrance | Queen E. Jones | November 5, 2007 |
| Remembrance | Gus Lee | August 30, 2007 |
| Personal Eulogy | Gus | June 10, 2007 |
| Personal Eulogy | Gus | June 11, 2007 |
| My Poem For John | Ira Davis | March 24, 2007 |
| Thankful | Mom Jones | November 25, 2006 |
| Remembering You on Your Birthday | Trudy | November 5, 2006 |
| Personal Eulogy | John Brown | September 18, 2006 |
| Message for Trudy | Cip C. Jungberg | September 11, 2006 |
| Missing our John | Kevin | September 7, 2006 |
| Message to My John | Trudy Jones Lewis | June 4, 2006 |
| Personal Eulogy | Lori Hess Tompos | May 31, 2006 |
| Be Thou at Peace | Jeff Sauer | May 23, 2006 |
| Personal Eulogy | Tina French | April 17, 2006 |
| From Days in the ROK | James R. Rice | April 15, 2006 |
| Personal Eulogy | Lunette Ellis | April 9, 2006 |
| Personal Eulogy | Ron Davis | March 27, 2006 |
| Card of Thanks | Queen E. Jones | March 24, 2006 |
| Card of Thanks | Queen E. Jones | March 24, 2006 |
| Personal Eulogy | Alen Harris | March 16, 2006 |
| Personal Eulogy | Robert M. (Bo) Balcavage | March 5, 2006 |
| Korea | Nick Panagakos | February 16, 2006 |
| Days In Korea | John Calahan | February 15, 2006 |
| Personal Eulogy | Ardenia Lewis | February 13, 2006 |
| Brothers Love | Kevin S Crouse | February 14, 2006 |
| Personal Eulogy | Dennis Simon | February 13, 2006 |
| An Acrostic for John | Queen Ester Jones | February 13, 2006 |
| Duty, Honor | Steve Parker | February 12, 2006 |
| Personal Eulogy | Judy Caudill | February 12, 2006 |
| Personal Eulogy | Roy Reid | February 11, 2006 |
| Personal Eulogy | Steve "Mildew" Miller | February 10, 2006 |
| A POEM for JOHN | Rochann Jones Calloway (sister-in-law) | February 10, 2006 |
| To all of you from the Lewis Family | Pamela Lewis | February 9, 2006 |
| Personal Eulogy | Carl Ramsey | February 7, 2006 |
| Personal Eulogy | Stephen Miller (Mildew) | February 7, 2006 |
| Personal Eulogy | Stacy (Pahl) Schretzman | February 7, 2006 |
| Personal Eulogy | Lynette (Bruecker) Arnhart | February 7, 2006 |
| Personal Eulogy | David Oksenberg | February 6, 2006 |
| Reflections - John's Smile | John Oliver | February 6, 2006 |
| Personal Eulogy | Dirk Levy | February 6, 2006 |
| Personal Eulogy | Fred A. Gorden | February 6, 2006 |
| Personal Eulogy | Jim Spence | February 5, 2006 |
| Personal Eulogy | David J. Kalb | February 4, 2006 |
| Trudy, stay strong! | Lisa Maddox | February 4, 2006 |
| Personal Eulogy | Jenny (Adams) Davis | February 4, 2006 |
| Personal Eulogy | Jack Kelly | February 4, 2006 |
| Personal Eulogy | Jon McGlothian | February 4, 2006 |
| Personal Eulogy | Darius A. Powell | February 4, 2006 |
| To my Room mate | Todd Smith | February 4, 2006 |
| Personal Eulogy | Edward C Sudzina | February 4, 2006 |
| Personal Eulogy | Quentin Misenheimer | February 3, 2006 |
| Goodbye beloved brother-in-law | Sabrina Jones | February 3, 2006 |
| Personal Eulogy | Lourdes "Marty" Martinez | February 3, 2006 |
| What a Friend We Have in Jesus | Jeff Hutchinson | February 3, 2006 |
| Personal Eulogy | Randy DeSoto | February 3, 2006 |
| Personal Eulogy | Charlie Ball | February 3, 2006 |
| Personal Eulogy | Ken Gibson | February 3, 2006 |
| Personal Eulogy | Trudy Jones Lewis | February 3, 2006 |
| Personal Eulogy | Tim Healy | February 3, 2006 |
| Personal Eulogy | Lee (Stubblefield) Davis | February 3, 2006 |
| Personal Eulogy | Trudy Jones Lewis | February 3, 2006 |
| The Man Above | Shawn Wilson | February 3, 2006 |
| In Memoriam | Tom Jarzen | February 3, 2006 |
| Personal Eulogy | Patrice (Boemio) Sutherland | February 3, 2006 |
| Personal Eulogy | Frank R. Johnson, Jr. | February 3, 2006 |
| Personal Eulogy | Lew Baker | February 3, 2006 |
| Personal Eulogy | Mike Garvin | February 3, 2006 |
| Personal Eulogy | Donna (Crouch) Ward | February 3, 2006 |
| Personal Eulogy | George F. Bowman, Jr. | February 3, 2006 |
| Personal Eulogy | Suzanne (Reeder) Miller | February 3, 2006 |
| Personal Eulogy | John Ridilla | February 3, 2006 |
| Personal Eulogy | Ben Warner | February 2, 2006 |
| Personal Eulogy | Dianne (Maniuszko) Falk | February 2, 2006 |
| Personal Eulogy | Hal Hatchett | February 2, 2006 |
| On the High Ground My Friend | Vince Malone | February 2, 2006 |
| Personal Eulogy | Dennis Fehlinger | February 2, 2006 |
| God Bless You John! | Al Alba | February 2, 2006 |
| Personal Eulogy | 1SG Reginald Mason, USA, (Ret) | February 2, 2006 |
| Personal Eulogy | Russ Williamson | February 2, 2006 |
| Personal Eulogy | Chris O'Connor | February 2, 2006 |
| Personal Eulogy | Susan Irons | February 2, 2006 |
| My room-dawg | Kevin Lingow | February 2, 2006 |
| Personal Eulogy | John Viggiano | February 2, 2006 |
| Personal Eulogy | George Hasapidis | February 2, 2006 |
| Personal Eulogy | Bill McRae | February 2, 2006 |
| Personal Eulogy | Bob Oehlers | February 2, 2006 |
| Personal Eulogy | Steven Choi | February 2, 2006 |
| Personal Eulogy | Roy E. Alston | February 2, 2006 |
| Personal Eulogy | Adolphus Gwynn | February 2, 2006 |
| Personal Eulogy | LTC Seung Joon (Steve) Lee | February 2, 2006 |
| Personal Eulogy | Rob Holmes | February 2, 2006 |
| Personal Eulogy | Melody Smith | February 2, 2006 |
| To my Roommate John | Ruben D. Lopez | February 2, 2006 |
| Personal Eulogy | Warren Hearnes | February 2, 2006 |