Click on any eulogy link to view that eulogy.
Click on "Post a new eulogy" to add your own eulogy to Ralph.
Other important links:
Ralph John Harting
West Point, 1998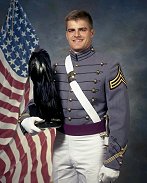 Be Thou At Peace
To date, 82 eulogies have been posted for Ralph. Post a new eulogy to share some memories and thoughts that you may have. Additional biographical information may be found on the personal home page.
| Subject | Name | Date Posted |
| --- | --- | --- |
| Personal Eulogy | Seth Lombardy | April 26, 2012 |
| Happy New Year! | June Harting | December 31, 2011 |
| Personal Eulogy | Seth L. Lombardy | December 23, 2011 |
| Personal Eulogy | Russ Conte | October 8, 2010 |
| Thinking of You Still Jay | Michael Woodall | June 7, 2010 |
| Personal Eulogy | Kathy Koons | May 31, 2010 |
| Personal Eulogy | Barbara Nazworth | April 29, 2010 |
| Personal Eulogy | Barbara Nazworth | August 21, 2009 |
| Personal Eulogy | SFC T | April 30, 2009 |
| Personal Eulogy | Donna Roper | April 30, 2009 |
| Hero in my pocket! | Jen Harting | April 29, 2009 |
| Personal Eulogy | Barbara Nazworth | April 29, 2009 |
| thinking of you | Sarah Harting | April 28, 2009 |
| Personal Eulogy Jay | Rimon Mery | October 19, 2008 |
| Personal Eulogy | Karen Schoonover | August 4, 2008 |
| Time Standing Still | Lawrence Harting | July 30, 2008 |
| Remembering you as we march ahead. on Memorial Day | June Harting, Jay's Mother | May 26, 2008 |
| Personal Eulogy | Barbara Nazworth | May 6, 2008 |
| Personal Eulogy | Tom Stevenson | May 4, 2007 |
| Personal Eulogy | Barbara Nazworth | September 21, 2006 |
| Personal Eulogy | Joe Moore | November 12, 2005 |
| A Letter from the Civil War | Sean Protas | November 6, 2005 |
| Personal Eulogy | May Sisson | November 5, 2005 |
| Personal Eulogy | Mick Mineni | October 11, 2005 |
| Personal Eulogy | william a bachman | October 6, 2005 |
| Personal Eulogy | william a bachman | October 6, 2005 |
| Personal Eulogy | Erik Becking | September 26, 2005 |
| Personal Eulogy | Marie Curry | August 8, 2005 |
| Personal Eulogy | Robbin Hafen | July 28, 2005 |
| Personal Eulogy | Matthew Marquette | June 27, 2005 |
| Personal Eulogy | Randy Tink | June 25, 2005 |
| Personal Eulogy | Sean Protas | June 22, 2005 |
| Personal Eulogy | Andrew Miller | June 14, 2005 |
| Personal Eulogy | Sarah Harting | June 7, 2005 |
| Personal Eulogy | Lorraine Rosales | May 27, 2005 |
| Personal Eulogy | Gary Pace | May 26, 2005 |
| Personal Eulogy | Barbara Nazworth | May 20, 2005 |
| Personal Eulogy | Jen Harting | May 20, 2005 |
| Personal Eulogy | Bill Nazworth | May 19, 2005 |
| Personal Eulogy | Christopher Pyle | May 17, 2005 |
| Personal Eulogy | Anthony Bosco | May 16, 2005 |
| Personal Eulogy | SFC Charles Frazier | May 16, 2005 |
| Personal Eulogy | Mary Bilyk | May 14, 2005 |
| Personal Eulogy | Sue Tuxbury | May 13, 2005 |
| Personal Eulogy | Angela Roberts | May 13, 2005 |
| Personal Eulogy | Michael S. Kim | May 12, 2005 |
| Personal Eulogy | Kathleen M. Cluck | May 12, 2005 |
| Personal Eulogy | Stewart & Donna Roper | May 12, 2005 |
| Personal Eulogy | Ruth A Biafora | May 11, 2005 |
| Personal Eulogy | Russ Makos | May 11, 2005 |
| Personal Eulogy | Sean Protas | May 11, 2005 |
| Personal Eulogy | Cheryl Patten | May 11, 2005 |
| Personal Eulogy | Deacon Matt Lamoureux, M.I.C. | May 10, 2005 |
| Personal Eulogy | Kevin Remus | May 10, 2005 |
| Personal Eulogy | Jim Tully | May 10, 2005 |
| Personal Eulogy | June Harting | May 10, 2005 |
| Personal Eulogy | Ralph J. Harting Jr. | May 10, 2005 |
| Personal Eulogy | Brian Turner | May 10, 2005 |
| Personal Eulogy | Christopher Turner | May 9, 2005 |
| Personal Eulogy | Scott Maryott | May 9, 2005 |
| Personal Eulogy | Melania Kosanovich Wilkerson | May 9, 2005 |
| Personal Eulogy | Carolyn Blackledge | May 9, 2005 |
| Personal Eulogy | Jeremy Burkes | May 7, 2005 |
| Personal Eulogy | Sam Mokhiber | May 6, 2005 |
| Personal Eulogy | Josh DeJournett | May 6, 2005 |
| Personal Eulogy | Carl Goodrich | May 6, 2005 |
| Personal Eulogy | Sean Hazlett | May 6, 2005 |
| Personal Eulogy | Martin Brett | May 5, 2005 |
| Personal Eulogy | Matthew & Julie Capodanno | May 5, 2005 |
| Personal Eulogy | Lawrence Amoruso | May 5, 2005 |
| Personal Eulogy | Bobby Bran | May 4, 2005 |
| Personal Eulogy | Ken Weeks | May 4, 2005 |
| Personal Eulogy | Lawrence Fink | May 4, 2005 |
| Personal Eulogy | Brian Duncan | May 4, 2005 |
| Personal Eulogy | Ted Lim | May 4, 2005 |
| Personal Eulogy | Doug & Rita Holman | May 3, 2005 |
| Be Thou At Peace Squad Mate | Mike Woodall | May 3, 2005 |
| Personal Eulogy | Rick & Sue Due | May 3, 2005 |
| Personal Eulogy | Lore Wiseman | May 3, 2005 |
| Personal Eulogy | Jim Shaw | May 3, 2005 |
| Personal Eulogy | Shirley Olivieri-Mathies | May 3, 2005 |
| Personal Eulogy | Rosanne Bianco | May 3, 2005 |