Click on any eulogy link to view that eulogy.
Click on "Post a new eulogy" to add your own eulogy to Andrew.
Other important links:
Andrew Pearson
West Point, 2001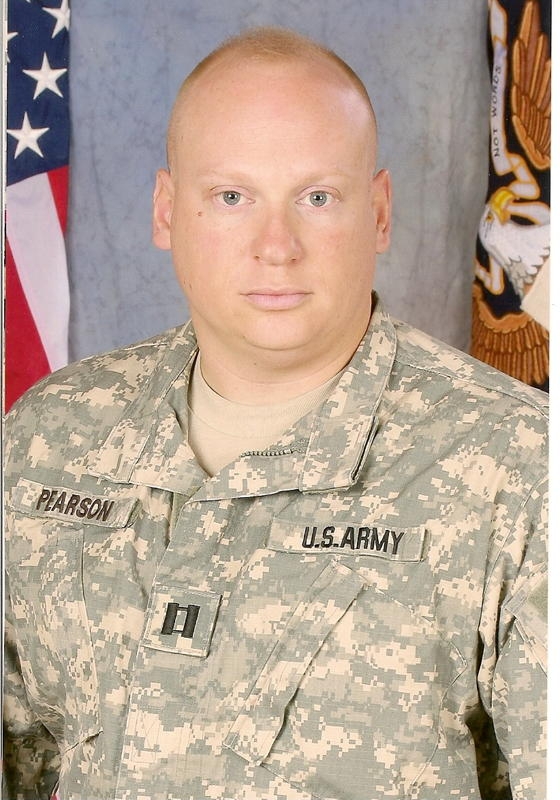 Be Thou At Peace
To date, 81 eulogies have been posted for Andrew. Post a new eulogy to share some memories and thoughts that you may have. Additional biographical information may be found on the personal home page.
| Subject | Name | Date Posted |
| --- | --- | --- |
| Personal Eulogy | adrienne sommers | June 17, 2011 |
| Personal Eulogy | Virginia Sharma | March 20, 2010 |
| Personal Eulogy | Richard Evans | January 10, 2010 |
| Personal Eulogy | SFC Richard Baker | April 15, 2009 |
| Personal Eulogy | Paul Murdock | March 13, 2009 |
| Personal Eulogy | Michael Holcomb | July 17, 2008 |
| Personal Eulogy | Edmund Oswalt | June 13, 2008 |
| Personal Eulogy | LTC Pete Kilner | June 2, 2008 |
| Personal Eulogy | MAJ Patrick Foo | May 29, 2008 |
| Personal Eulogy | Marlow Ghorstygrbrakoxfdeis | May 28, 2008 |
| Personal Eulogy | Brett Lanier | May 26, 2008 |
| Personal Eulogy | Todd Pulsifer | May 25, 2008 |
| Personal Eulogy | Robert J. White | May 22, 2008 |
| Personal Eulogy | Boyce & Diosabelle Buckner | May 21, 2008 |
| Personal Eulogy | Colonel (Ret.) Marc Hildenbrand | May 19, 2008 |
| Personal Eulogy | SSG Joseph Abitz | May 18, 2008 |
| Condolences | John Cunningham | May 16, 2008 |
| Personal Eulogy | Jon Baker | May 13, 2008 |
| Personal Eulogy | McKinley Wood | May 13, 2008 |
| Personal Eulogy | Mary ('03 and '06 mom) | May 13, 2008 |
| Personal Eulogy | Ian Grimstad | May 12, 2008 |
| Personal Eulogy | Esther Kim | May 12, 2008 |
| Personal Eulogy | Will Evans | May 9, 2008 |
| Personal Eulogy | Matthew Lee | May 9, 2008 |
| Personal Eulogy | Brian & Cristin Szydlik | May 9, 2008 |
| Personal Eulogy | 1sg(R) Wayne Holloway | May 9, 2008 |
| Personal Eulogy | Trevor Cobb | May 8, 2008 |
| Personal Eulogy | Colby Jenkins | May 8, 2008 |
| Personal Eulogy | Oswaldo Maxwell | May 8, 2008 |
| My tribute to Drew that I gave at his memorial in Iraq | CPT Ed Kennedy | May 8, 2008 |
| Personal Eulogy | CPT David Gohlich | May 8, 2008 |
| Personal Eulogy | Chris Gonzalez | May 8, 2008 |
| Personal Eulogy | Denny & Janice Garn | May 8, 2008 |
| Personal Eulogy | CPT Alex R. Garn | May 7, 2008 |
| Personal Eulogy | Susan Kennedy | May 7, 2008 |
| Role Model | Ryan Long | May 7, 2008 |
| Personal Eulogy | Mark Johnson | May 7, 2008 |
| Personal Eulogy | Mary Warren | May 6, 2008 |
| personal eulogy | Crystal Lyons | May 5, 2008 |
| Personal Eulogy | CPT Darius Anania | May 5, 2008 |
| Personal Eulogy | Shirley Olivieri-Mathies ('05 parent) | May 5, 2008 |
| Personal Eulogy | Brad Nelson | May 5, 2008 |
| Personal Eulogy | Bronwyn Anne Levy | May 5, 2008 |
| Personal Eulogy | Jerry Napolitano | May 4, 2008 |
| Personal Eulogy | ann johansmeyer | May 4, 2008 |
| Personal Eulogy | Melissa (Roy) Thomas | May 4, 2008 |
| A dear friend | Michelle Ramos | May 4, 2008 |
| Personal Eulogy | Sonja Rodriguez | May 4, 2008 |
| Personal Eulogy | Anna C. Brewer | May 4, 2008 |
| Personal Eulogy | CPT Joe Odorizzi | May 3, 2008 |
| Personal Eulogy | CPT Jeremy Scholtes | May 3, 2008 |
| Personal Eulogy | COL(ret) Teresa Pierce and Family | May 3, 2008 |
| Personal Eulogy | Sylvia & Rudy Klein | May 3, 2008 |
| Personal Eulogy | Nancy Gordon | May 3, 2008 |
| Personal Eulogy | Irene Lee and Family | May 3, 2008 |
| Lancers--Towards the Enemy | Christopher Thomas | May 3, 2008 |
| Personal Eulogy | Roger and Dianna Mathews | May 3, 2008 |
| Personal Eulogy | Pam & Dennis Desilets | May 3, 2008 |
| Personal Eulogy | Veronica May | May 3, 2008 |
| Personal Eulogy | Chuck Brooks | May 3, 2008 |
| Personal Eulogy | Bryan Harmon | May 3, 2008 |
| Rest in Peace, Buddy. | Erinkate Stair | May 3, 2008 |
| Personal Eulogy | Ryan Schrock | May 3, 2008 |
| Personal Eulogy | Randy Young | May 3, 2008 |
| Personal Eulogy | Kristin Henningsen Brengle | May 3, 2008 |
| Personal Eulogy | Joseph W. Adamczyk | May 3, 2008 |
| Personal Eulogy | Alexander Rasmussen | May 3, 2008 |
| Personal Eulogy | Melissa Malone | May 2, 2008 |
| Personal Eulogy | Kristen A. Lewis | May 2, 2008 |
| Personal Eulogy | Jamie Pope | May 2, 2008 |
| Personal Eulogy | Greg Lee | May 2, 2008 |
| Personal Eulogy | Rob Swartwood | May 2, 2008 |
| Personal Eulogy | Susan Bach | May 2, 2008 |
| Personal Eulogy | Melinda White | May 2, 2008 |
| Personal Eulogy | Mike Rosol | May 2, 2008 |
| Personal Eulogy | Mark Davison | May 2, 2008 |
| Be Thou at Peace | Matt Mason | May 2, 2008 |
| Personal Eulogy | Alexis Jung | May 2, 2008 |
| Grandpa | Amir Soofi | May 2, 2008 |
| Plebe roommate memories... | Doug Miller | May 2, 2008 |
| Personal Eulogy | Ryan Liebhaber | May 2, 2008 |