Click on any eulogy link to view that eulogy.
Click on "Post a new eulogy" to add your own eulogy to Mark.
Other important links:
Mark Andess Garner
West Point, 2002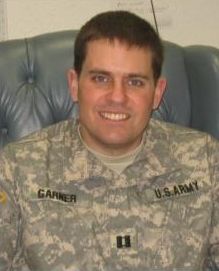 Be Thou At Peace
To date, 75 eulogies have been posted for Mark. Post a new eulogy to share some memories and thoughts that you may have. Additional biographical information may be found on the personal home page.
| Subject | Name | Date Posted |
| --- | --- | --- |
| Remembering this Memorial Day Weekend | Brittany (Meeks) Simmons | May 25, 2014 |
| Personal Eulogy | Paul Maupin | February 11, 2014 |
| Personal Eulogy | Chris | March 30, 2012 |
| From a wayward Soldier. | SPC. Zachary Risley | November 11, 2010 |
| Be thou at Peace | Mary Tobin (Class of '03) | July 6, 2010 |
| Personal Eulogy | Gary Bartels | July 6, 2010 |
| Personal Eulogy | Robert H. Wray | April 16, 2010 |
| Personal Eulogy | Libby Mannel | August 26, 2009 |
| Personal Eulogy | Bill Tomasi USMA '87 | July 30, 2009 |
| Personal Eulogy | Eric Gust | July 20, 2009 |
| Personal Eulogy | G. Travis Clifton | July 16, 2009 |
| Personal Eulogy | Peter Casterline | July 16, 2009 |
| Personal Eulogy | Matt Golsteyn | July 16, 2009 |
| Personal Eulogy | Cynthia and Michael Causbie - Parent 2012 | July 15, 2009 |
| Personal Eulogy | Andrew Hubbard | July 14, 2009 |
| Personal Eulogy | Peter F. Casterline, MD, Father of Pete A-2, 02 | July 14, 2009 |
| Personal Eulogy | CPT Kyle Wheeler | July 14, 2009 |
| Personal Eulogy | Trent Cleveland | July 13, 2009 |
| Personal Eulogy | Mary ('3 & '06 mom) | July 13, 2009 |
| Personal Eulogy | The Greenstein Family | July 13, 2009 |
| Personal Eulogy | Sharon Graham | July 13, 2009 |
| Personal Eulogy | Jerry Napolitano | July 13, 2009 |
| Personal Eulogy | Jim Morin | July 13, 2009 |
| Personal Eulogy | Connie Castanuela Helbling | July 12, 2009 |
| Personal Eulogy | Larry and Candace Rocha | July 11, 2009 |
| A Fellow Spartan | Hans Thomas | July 11, 2009 |
| Personal Eulogy | Nick Franklin | July 11, 2009 |
| Personal Eulogy | Matt and Colleen Joosten | July 11, 2009 |
| Personal Eulogy | Stacey Locher-Parent Class 2011 | July 11, 2009 |
| Personal Eulogy | Mark Jenner | July 11, 2009 |
| Personal Eulogy | Kathleen Turner | July 10, 2009 |
| Personal Eulogy | Brendan Mullen | July 10, 2009 |
| Personal Eulogy | Neal Erickson | July 10, 2009 |
| Personal Eulogy | Richard and Deborah Nifong | July 10, 2009 |
| Personal Eulogy | Jonathan Ng | July 10, 2009 |
| Personal Eulogy | Rick and Tina Wilson | July 9, 2009 |
| Personal Eulogy | Connie and Carl Doolen | July 9, 2009 |
| Personal Eulogy | SFC Mark A. Smith | July 9, 2009 |
| Personal Eulogy | Donald & Kristine Erickson | July 9, 2009 |
| Personal Eulogy | A Proud American in NJ | July 9, 2009 |
| Personal Eulogy | Sandee Cowrd | July 9, 2009 |
| Personal Eulogy | Jeremy Patten | July 9, 2009 |
| Personal Eulogy | David Brockbank | July 9, 2009 |
| Personal Eulogy | Roberts family | July 9, 2009 |
| Personal Eulogy | Jann E Foley, CNM | July 9, 2009 |
| To the Garner Family | John Stevens | July 9, 2009 |
| Personal Eulogy | CPT Rob Newbill | July 9, 2009 |
| Personal Eulogy | Melinda White | July 9, 2009 |
| Personal Eulogy | Lucille Dickinson | July 9, 2009 |
| Personal Eulogy | Laurie Lehman | July 9, 2009 |
| fellow North Carolinians | Debbie Pullen | July 9, 2009 |
| Deepest Sympathy | The Day Family | July 9, 2009 |
| Personal Eulogy | Donna DiBiase | July 9, 2009 |
| Personal Eulogy | Koeppe Family | July 9, 2009 |
| Personal Eulogy | James B. White USMA Class of 1980 | July 9, 2009 |
| Deepest Sympathy | Jeanette Mhal | July 9, 2009 |
| To the Garner Family | The Waters Family | July 9, 2009 |
| Deepest Sympathy | The Boyd family | July 9, 2009 |
| Deepest sympathy | Soderberg Family | July 9, 2009 |
| Personal Eulogy | Brittany Meeks | July 9, 2009 |
| Personal Eulogy | The Edwards Family | July 9, 2009 |
| Personal Eulogy | Dennis & Pam Desilets | July 9, 2009 |
| Personal Eulogy | CPT Tyler R. Donnell | July 9, 2009 |
| Personal Eulogy | Gary Bartels, Jr. | July 9, 2009 |
| Personal Eulogy | Paul & Kate Ryan | July 9, 2009 |
| Personal Eulogy | CPT (Ret) Louis R. F. Preysz III | July 9, 2009 |
| Personal Eulogy | The Wooley family | July 9, 2009 |
| Personal Eulogy | David & Sheryl Clay | July 9, 2009 |
| Personal Eulogy | Dan Cross | July 9, 2009 |
| Personal Eulogy | Christine Freitag | July 9, 2009 |
| God Bless you Mark | Ali Palmer | July 9, 2009 |
| Personal Eulogy | Sharon Kircher | July 9, 2009 |
| To the Garner family | Bill & Ty Vaughan | July 9, 2009 |
| Personal Eulogy | sheila sizemore | July 9, 2009 |
| Personal Eulogy | Tom Durso | July 9, 2009 |