Click on any eulogy link to view that eulogy.
Click on "Post a new eulogy" to add your own eulogy to Paul.
Other important links:
Paul Wenceslaus Pena
West Point, 2004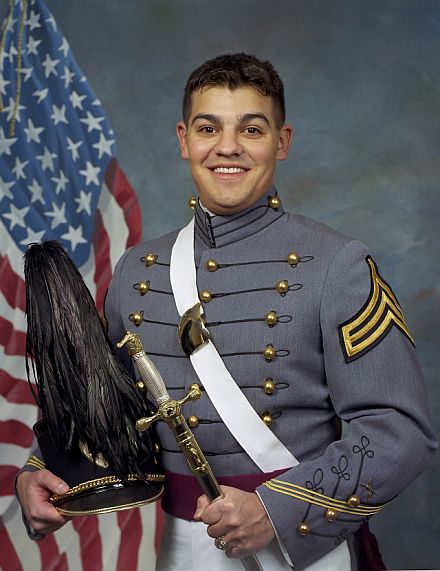 Be Thou At Peace
To date, 106 eulogies have been posted for Paul. Post a new eulogy to share some memories and thoughts that you may have. Additional biographical information may be found on the personal home page.
| Subject | Name | Date Posted |
| --- | --- | --- |
| Personal Eulogy | Maryam Habibi (friend of a friend) | May 30, 2017 |
| Personal Eulogy | Betty Cerrone | April 11, 2014 |
| Personal Eulogy | Robert Beuerlein | January 24, 2014 |
| Personal Eulogy | troy lynn sma class 1993 | December 6, 2012 |
| Personal Eulogy | Jose Reyes | January 19, 2012 |
| Personal Eulogy Happy Birthday | Paul Anthony Pena | July 7, 2010 |
| Personal Eulogy | Mary ('03 & '06 mom) | June 8, 2010 |
| Personal Eulogy | Anonymous | May 27, 2010 |
| Rest In Peace | Colleen Frazier | February 19, 2010 |
| Personal Eulogy - Remembering Paul at 3-Geronimo | Jason C. Murray | February 12, 2010 |
| Personal Eulogy | Captain Michael Parks | February 6, 2010 |
| Personal Eulogy | CPT Jason Zemcik | February 5, 2010 |
| Personal Eulogy | Sharon Engelmeier | February 4, 2010 |
| Funeral Eulogy | Matthew Bodie | February 3, 2010 |
| SMBA alum | SGT Joseph Cole | February 1, 2010 |
| Personal Eulogy | Bob Ashley | February 1, 2010 |
| Personal Eulogy | Diana Holbrook Henderson | January 30, 2010 |
| It was a good ride | Dan and Starr Whitten | January 30, 2010 |
| Personal Eulogy | CJ Burgin '85 | January 29, 2010 |
| Personal Eulogy | Phyllis Strozier | January 29, 2010 |
| Personal Eulogy | Vanessa Medina-Friend | January 28, 2010 |
| Personal Eulogy | Brother in arms | January 27, 2010 |
| Personal Eulogy | Tim Hsia | January 27, 2010 |
| Personal Eulogy | James Kwon | January 26, 2010 |
| Mother 2008 grad | Patricia Graham | January 26, 2010 |
| Personal Eulogy | Christian Fierro | January 26, 2010 |
| Personal Eulogy | Joy Cousineau | January 26, 2010 |
| Personal Eulogy | Vanessa Stolzoff | January 26, 2010 |
| Personal Eulogy | RIchard and Deborah Nifong | January 26, 2010 |
| Personal Eulogy | Pat | January 25, 2010 |
| Our deepest sympathy | Rob and Bev Pruden | January 25, 2010 |
| Personal Eulogy | Hughbert and Gail Collier | January 25, 2010 |
| Personal Eulogy | Drew Poyner | January 25, 2010 |
| Deepest Sympathy | Brett and Paula Geer | January 25, 2010 |
| Personal Eulogy | Connie Castanuela Helbling | January 25, 2010 |
| Personal Eulogy | Ashley Dellavalle Jung | January 25, 2010 |
| Personal Eulogy | Samar | January 25, 2010 |
| Deepest sympathy | Sahily Feliciano | January 25, 2010 |
| Personal Eulogy | Alice Garcia | January 25, 2010 |
| Personal Eulogy | Philomena Weatherby | January 25, 2010 |
| Personal Eulogy | Tyler Sweatt | January 25, 2010 |
| Personal Eulogy | Cheryl Bennett | January 25, 2010 |
| Personal Eulogy | Keith and Chyrisse Miller | January 25, 2010 |
| Personal Eulogy | Kathryn 08 Parent | January 25, 2010 |
| Heartfelt Prayers and Sympathy | Brian and Elaine Miller | January 24, 2010 |
| 04 parent | Denise Brice | January 24, 2010 |
| Personal Eulogy | Jim And Nanette Reitter | January 24, 2010 |
| Personal Eulogy | Connie Jones | January 24, 2010 |
| Personal Eulogy | Cynthia anc Michael Causbie - Parent 2012 | January 24, 2010 |
| Our Prayers and Deepest Sympathy | William J. and Patricia M. McKim | January 24, 2010 |
| Personal Eulogy | Jana Hublick | January 24, 2010 |
| Personal Eulogy | Al Alvarez | January 24, 2010 |
| Personal Eulogy | lela buckley | January 24, 2010 |
| Personal Eulogy | JT Soron | January 24, 2010 |
| Personal Eulogy | christine jordan | January 24, 2010 |
| Personal Eulogy | Jill Whitten | January 23, 2010 |
| Personal Eulogy | Peter Armanas | January 23, 2010 |
| Personal Eulogy | Dotty & Joe Rosa | January 23, 2010 |
| Personal Eulogy | Natalie Bradley, WP Parent Class of 2013 | January 23, 2010 |
| Personal Eulogy | Kathy Root | January 23, 2010 |
| Deepest Sympathy | Patty Soderberg -'07 parent | January 23, 2010 |
| Personal Eulogy | ann johansmeyer | January 23, 2010 |
| Personal Eulogy | Carolyn Miele | January 23, 2010 |
| Personal Eulogy from a Class of 2012 Mother | Laurie Lehman | January 23, 2010 |
| Personal Eulogy | mother of 2009 graduate | January 23, 2010 |
| Personal Eulogy | Charlsey Mahle | January 23, 2010 |
| Personal Eulogy | Jeanette Grayeb-Mihal | January 23, 2010 |
| Personal Eulogy | Tim and Patty Regan | January 23, 2010 |
| Personal Eulogy | Class of 2011 Parent | January 23, 2010 |
| Personal Eulogy | Mary Ables | January 23, 2010 |
| Personal Eulogy | Anne Marie Taylor | January 23, 2010 |
| Personal Eulogy | Mary Pleuss | January 23, 2010 |
| From a Cadet '12 Mom | Bev Kinley | January 23, 2010 |
| From a father of a cadet | Dan | January 23, 2010 |
| Personal Eulogy | Penny Knepp | January 23, 2010 |
| Personal Eulogy | Kathy Wentzler | January 23, 2010 |
| Jane Graham | Jane Graham | January 23, 2010 |
| Personal Eulogy | John & Chris Bodie | January 23, 2010 |
| Personal Eulogy | Mary & John Rhode. | January 23, 2010 |
| Personal Eulogy | Marlene Wilburn | January 23, 2010 |
| Personal Eulogy | Rick & Sue Due | January 23, 2010 |
| our sympathy | Jann and Dan | January 23, 2010 |
| in sympathy | 2008 parent | January 23, 2010 |
| Personal Eulogy | Bill and Ty Vaughan | January 23, 2010 |
| Personal Eulogy | Donna Dolan | January 23, 2010 |
| Personal Eulogy | TJ Root | January 23, 2010 |
| Personal Eulogy | CPT Jay Ireland | January 23, 2010 |
| Personal Eulogy | John & Debbie | January 23, 2010 |
| Personal Eulogy | M/M Carl Doolen-Parents of 2013 Cadet | January 23, 2010 |
| Personal Eulogy | COL (R) Joe Frankie | January 23, 2010 |
| Personal Eulogy | mother of cadet | January 23, 2010 |
| Personal Eulogy | Mike Fish | January 23, 2010 |
| Personal Eulogy | COL Tom Lewis '85 | January 22, 2010 |
| Personal Eulogy | Rhonda Laufer | January 22, 2010 |
| Personal Eulogy | Rick Johnson | January 22, 2010 |
| 2011 parent | Sharon V | January 22, 2010 |
| Personal Eulogy | Andra Kai Shaw | January 22, 2010 |
| Personal Eulogy | Gigi and Carl Sanders | January 22, 2010 |
| Personal Eulogy | M/M Dennis Desilets | January 22, 2010 |
| Personal Eulogy | David & Sherri Perry, parents of 2013 cadet | January 22, 2010 |
| Personal Eulogy | Marshall McGurk | January 22, 2010 |
| Personal Eulogy | Jon Theye | January 22, 2010 |
| Personal Eulogy | Jose Reyes | January 22, 2010 |
| Brothers and Sisters in Arms | David A. Matheson | January 22, 2010 |
| Personal Eulogy | Mike Normand | January 22, 2010 |
| Personal Eulogy | Joseph E. Nickel | January 22, 2010 |