Click on any eulogy link to view that eulogy.
Click on "Post a new eulogy" to add your own eulogy to Adam.
Other important links:
Adam Paulson Snyder
West Point, 2004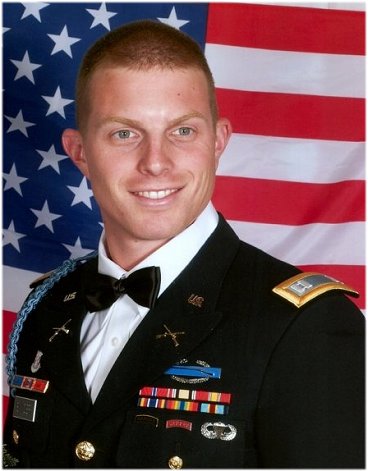 Be Thou At Peace
To date, 72 eulogies have been posted for Adam. Post a new eulogy to share some memories and thoughts that you may have. Additional biographical information may be found on the personal home page.
| Subject | Name | Date Posted |
| --- | --- | --- |
| Personal Eulogy | Rev.ScottStevenson | January 26, 2013 |
| Captain snyder | Daniel Valenzuela | May 26, 2012 |
| your friend. | Joe Sweat | August 1, 2011 |
| Thank You Adam | Rob Mercuri, USMA 04, CPT (USAR) | May 31, 2010 |
| Personal Eulogy | Bill Sherman | June 26, 2009 |
| Personal Eulogy | CPT Judi Wright | January 1, 2009 |
| Personal Eulogy | Liz Aponte | November 11, 2008 |
| Personal Eulogy | Peggy Feige | May 22, 2008 |
| Personal Eulogy | Leann Yi | May 7, 2008 |
| Eulogy given at Adam's Memorial Service | Bobby Milner | January 3, 2008 |
| Personal Eulogy | Nellie More | December 26, 2007 |
| Eulogy given at Adam's Memorial Service | Zach Thomas | December 18, 2007 |
| Personal Eulogy | Christopher Lee | December 16, 2007 |
| Personal Eulogy | Lorilyn Woods | December 16, 2007 |
| Mansions of the Lord | Patrick Bentley | December 14, 2007 |
| Personal Eulogy | CPT Jenny Kirk | December 14, 2007 |
| Personal Eulogy | Christie and Dave Woods '04 Parents | December 13, 2007 |
| Personal Eulogy | Clayton and Karen Cline | December 13, 2007 |
| Personal Eulogy | Patrick Brice | December 13, 2007 |
| Personal Eulogy | Diane Davidson | December 12, 2007 |
| Personal Eulogy | Mike Donohue | December 12, 2007 |
| Personal Eulogy | LT Ewens | December 12, 2007 |
| Personal Eulogy | Sheila Sizemore | December 12, 2007 |
| Personal Eulogy | 1LT Todd Angstman | December 12, 2007 |
| Personal Eulogy | Stephen Fuller | December 12, 2007 |
| Personal Eulogy | Jim & Nancy Carlson '06 parents | December 11, 2007 |
| Personal Eulogy | Hughbert and Gail Collier | December 11, 2007 |
| Personal Eulogy | Adam Christenson | December 11, 2007 |
| Personal Eulogy | Mary ('3 & '06 mom) | December 11, 2007 |
| Personal Eulogy | David Eisenlohr '07 parent | December 11, 2007 |
| One More Day | CPT Zeroy Lawson | December 10, 2007 |
| Personal Eulogy | Will Sherman | December 10, 2007 |
| Personal Eulogy | Adam Harmon | December 10, 2007 |
| Personal Eulogy | David and Ruth Hemmann | December 10, 2007 |
| Personal Eulogy | Mary & Mike Conway | December 10, 2007 |
| Buckner Squad Leaders together | Casey Terrell | December 10, 2007 |
| Personal Eulogy | Chuck and Denise Brice, 04 parents | December 10, 2007 |
| Personal Eulogy | CPT Jonathan Theye | December 10, 2007 |
| Mansions of the Lord | Mike Fish | December 10, 2007 |
| Personal Eulogy | CPT Aaron Shifferly | December 10, 2007 |
| Personal Eulogy | Adam B. Lewis | December 10, 2007 |
| Personal Eulogy | Daniyar Uteulin | December 9, 2007 |
| Personal Eulogy | CPT Quincy Manzey | December 9, 2007 |
| Personal Eulogy | Paul Melody | December 9, 2007 |
| Personal Eulogy | Matt and Colleen Joosten Parent's of 2005 | December 9, 2007 |
| Personal Eulogy | The Travis Family | December 9, 2007 |
| Personal Eulogy | Andy & Dawn Johnson | December 9, 2007 |
| Our deepest sympathy | John and Karen Mayer | December 9, 2007 |
| Personal Eulogy | CPT Pete Young | December 9, 2007 |
| Personal Eulogy | Ryan Kelly | December 9, 2007 |
| Personal Eulogy | Laurel McMahon | December 8, 2007 |
| Personal Eulogy | LtCol (ret) Ed Kennedy | December 8, 2007 |
| Personal Eulogy | Nate Smith USMA '04 | December 8, 2007 |
| Thank you for your son's service in all that he's done | The Bolsingers | December 8, 2007 |
| Personal Eulogy | Doug & Rita Holman, '02 parents | December 8, 2007 |
| Personal Eulogy | Trevor and Lynda Scott | December 8, 2007 |
| Personal Eulogy | Dustin Navarro | December 8, 2007 |
| Personal Eulogy | Mike and Carol Rosenberg | December 8, 2007 |
| Personal Eulogy | Randy Young | December 8, 2007 |
| Personal Eulogy | The Sider Family | December 8, 2007 |
| Personal Eulogy | Bronwyn Anne Levy | December 8, 2007 |
| Personal Eulogy | Tommy Loux | December 8, 2007 |
| Personal Eulogy | Tate Jarrow | December 8, 2007 |
| Personal Eulogy | Julie Schnitker | December 8, 2007 |
| Personal Eulogy | Katherine Mendelson-Leidenberg | December 8, 2007 |
| Personal Eulogy | Ryan Miller | December 7, 2007 |
| Personal Eulogy | Daniel Alix | December 7, 2007 |
| Personal Eulogy | Warren and Jan Swoope | December 7, 2007 |
| Personal Eulogy | Jana Hublick | December 7, 2007 |
| Personal Eulogy | Cristine Jette | December 7, 2007 |
| Personal Eulogy | Richard and Deborah Nifong | December 7, 2007 |
| Personal Eulogy | Reggie Eakins Jr. | December 7, 2007 |