Click on any eulogy link to view that eulogy.
Click on "Post a new eulogy" to add your own eulogy to Daniel.
Other important links:
Daniel Preston Whitten
West Point, 2004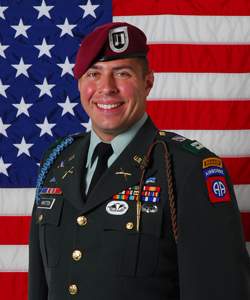 Be Thou At Peace
To date, 97 eulogies have been posted for Daniel. Post a new eulogy to share some memories and thoughts that you may have. Additional biographical information may be found on the personal home page.
| Subject | Name | Date Posted |
| --- | --- | --- |
| Dan, we never forget | MAJ Michael C. Haith | May 31, 2016 |
| Personal Eulogy | Chad Olson | May 30, 2016 |
| Personal Eulogy | Tim Marvich | August 12, 2011 |
| You will always be remembered | Sue Casey | May 30, 2011 |
| Personal Eulogy | Mike Casey's mom | February 20, 2011 |
| Personal Eulogy | CPT Karoline Hood | December 16, 2010 |
| Personal Eulogy | Kevin C. Wiman, '03 | November 15, 2010 |
| Army family | Donna and George Patten | August 1, 2010 |
| Personal Eulogy | Mary ('03 & '06 mom) | June 8, 2010 |
| Personal Eulogy | CPT Maurice Green | May 22, 2010 |
| Personal Eulogy | Meredith and Randy Westgate | March 4, 2010 |
| You will not be forgotten | SSG Michael Skinner | February 26, 2010 |
| Thank you for serving and may God Bless you in Heaven | Eric A | February 24, 2010 |
| My family's thanks | Ginevera Soto | February 24, 2010 |
| Personal Eulogy | LTC Tom Cooke | February 17, 2010 |
| Personal Eulogy | Cynthia and Michael Causbie | February 16, 2010 |
| Personal Eulogy | Sean Chang | February 14, 2010 |
| in sympathy | mother of an "08 | February 13, 2010 |
| Personal Eulogy | Rich and Cathy Hejda | February 13, 2010 |
| Personal Eulogy | Bridget and Dyer Ridley | February 12, 2010 |
| Dan Whitten - A Personal Eulogy | Justin Raphael | February 12, 2010 |
| Personal Eulogy | CPT Andrew Johannes | February 12, 2010 |
| Personal Eulogy | Pat Gill | February 11, 2010 |
| Personal Eulogy | The McMahon Family | February 10, 2010 |
| Parent to Parent | Nancy Brooks | February 10, 2010 |
| Personal Eulogy | Kurt and Jennifer Wood | February 9, 2010 |
| Our Deepest Sympathies | Brian and Elaine Miller | February 8, 2010 |
| Personal Eulogy | Dennis & Pamela Desilets | February 8, 2010 |
| Well Done. | Jenny K. Kirk | February 8, 2010 |
| Personal Eulogy | jim romar | February 8, 2010 |
| Personal Eulogy | COL(ret) Terry Pierce spouse '74, parent '07 | February 8, 2010 |
| Personal Eulogy | Col Larry Swift | February 8, 2010 |
| Service to Country, Comrades, and Family | CPT David A. Matheson | February 8, 2010 |
| Plebe Mom | lg buckley | February 7, 2010 |
| Mom '04 | Mom '04 | February 7, 2010 |
| Condolences to the Family | June and Charles Anderson | February 7, 2010 |
| Personal Eulogy | Sharon Graham | February 7, 2010 |
| our hearts go out to you | Debbie Pullen | February 7, 2010 |
| Personal Eulogy | 2011 Mom | February 7, 2010 |
| Personal Eulogy | Randy Vaughn | February 7, 2010 |
| Deepest Sympathy | Patty Soderberg -'07 parent | February 6, 2010 |
| Personal Eulogy-'07 Parents | Joan and Lou Verardo | February 6, 2010 |
| Personal Eulogy | The Blair's | February 6, 2010 |
| Mom '06 | Kathy M. Sweeney | February 6, 2010 |
| Personal Eulogy | Father of Pfc Patrick Degeus | February 6, 2010 |
| Freshman Year Roomate | Captain Michael Parks | February 6, 2010 |
| Personal Eulogy | A Cadet Mom | February 6, 2010 |
| Personal Eulogy | Dwight and Jane Dial | February 5, 2010 |
| Personal Eulogy | Laurie Lehman | February 5, 2010 |
| Personal Eulogy | 04 mom | February 5, 2010 |
| Personal Eulogy | Joey Nickel | February 5, 2010 |
| Dan | Norm Christie | February 5, 2010 |
| Personal Eulogy | ann johansmeyer | February 5, 2010 |
| Personal Eulogy | ann johansmeyer | February 5, 2010 |
| Eulogy | Harvey & Donna Ricks | February 5, 2010 |
| Personal Eulogy | Alan & Brooke Van Saun | February 5, 2010 |
| Personal Eulogy | Angelo Adams | February 5, 2010 |
| Personal Eulogy | CPT Jason Zemcik | February 5, 2010 |
| Personal Eulogy | Amy & Mike Daschle | February 5, 2010 |
| Personal Eulogy | Harry Bruner, Jr. | February 5, 2010 |
| Personal Eulogy | Nathan Kim | February 5, 2010 |
| Shock | Crystan Allan | February 5, 2010 |
| Personal Eulogy | marybeth Pusillo | February 5, 2010 |
| Personal Thoughts | Barry Champney | February 5, 2010 |
| Personal Eulogy | Michelle L. O'Toole | February 5, 2010 |
| Dan, I miss you already | Mike Haith | February 5, 2010 |
| Personal Eulogy | Jeanette Grayeb-Mihal | February 5, 2010 |
| Personal Eulogy | Connolly Family Gerard 2011 | February 5, 2010 |
| Personal Eulogy | Sue Casey,Mike's Mom | February 5, 2010 |
| Personal Eulogy | Bob Merkle | February 5, 2010 |
| Personal Eulogy | Koeppe Family | February 5, 2010 |
| Personal Eulogy | Deb Christian '04 Mom | February 5, 2010 |
| Personal Eulogy | Mahajan Family | February 5, 2010 |
| Personal Eulogy | Ron Spiegel | February 5, 2010 |
| Parent of 2013 Cadet | Tammy Sutherland-Abbott | February 5, 2010 |
| Personal Eulogy | winnie pritchett | February 5, 2010 |
| Personal Eulogy | Melinda White/mother of cadet 2010 | February 5, 2010 |
| Personal Eulogy | Pamela Gilley | February 5, 2010 |
| Personal Eulogy | Sonja Rodriguez | February 5, 2010 |
| 2012 WP Parents | Bill and Ty Vaughan | February 5, 2010 |
| Personal Eulogy | Mike Fish | February 5, 2010 |
| Personal Eulogy | Mary Pleuss '07 Mom | February 5, 2010 |
| Personal Eulogy | CPT Kyle Wheeler | February 5, 2010 |
| Personal Eulogy | SGT Mark A. Smith | February 5, 2010 |
| Personal Eulogy | Carol McCoy '06 Mom | February 4, 2010 |
| Personal Eulogy | Carl and Gigi Sanders | February 4, 2010 |
| be strong | Josiah Wearin | February 4, 2010 |
| To the Family | Leonard M. Cowherd II | February 4, 2010 |
| Personal Eulogy | Peggy Adams | February 4, 2010 |
| From Parent of Cadet '12 | Bev Kinley | February 4, 2010 |
| Personal Eulogy | Judy Cosky | February 4, 2010 |
| Personal Eulogy | Rhonda Laufer | February 4, 2010 |
| Personal Eulogy | Rick Johnson | February 4, 2010 |
| Personal Eulogy | Dan | February 4, 2010 |
| A great friend | Andy Erickson | February 4, 2010 |
| Personal Eulogy | Bill & Susan Kennedy | February 4, 2010 |
| Personal Eulogy | LTC Ron Lucas,USMA Class 1969 | February 4, 2010 |