Click on any eulogy link to view that eulogy.
Click on "Post a new eulogy" to add your own eulogy to Thomas.
Other important links:
Thomas Michael Martin
West Point, 2005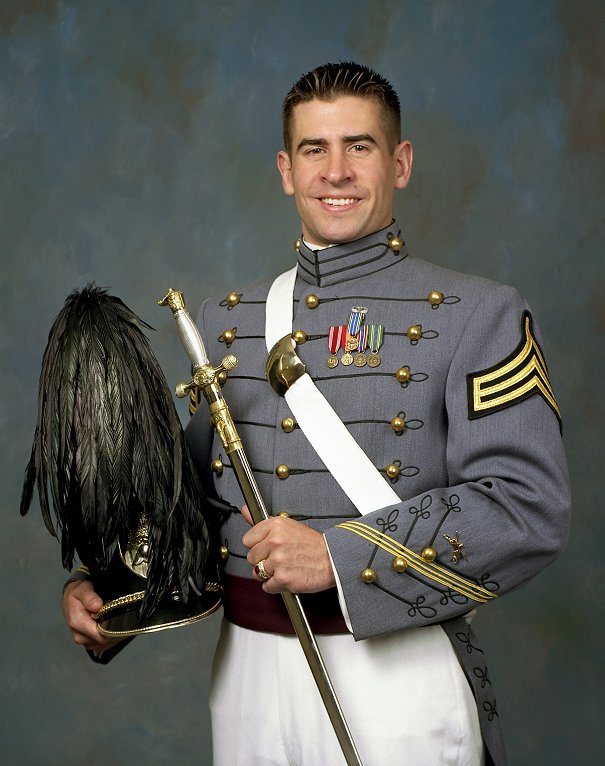 Be Thou At Peace
To date, 104 eulogies have been posted for Thomas. Post a new eulogy to share some memories and thoughts that you may have. Additional biographical information may be found on the personal home page.
| Subject | Name | Date Posted |
| --- | --- | --- |
| Personal Eulogy | Bill Martin | July 7, 2014 |
| Personal Eulogy | SFC John D. Presley | August 19, 2012 |
| Personal Eulogy | William Fox | August 10, 2012 |
| Personal Eulogy | 1LT Winston Caton | May 11, 2011 |
| Personal Eulogy | Helen Richardson | October 19, 2010 |
| Personal Eulogy | Brian Martin | December 14, 2009 |
| Personal Eulogoy from TF Bravo Tactical Officer Team | Major Grant Goldsmith | December 9, 2009 |
| Never Forgotten | William Rodney Galloway | November 25, 2009 |
| Personal Eulogy | Lauren Hardy | October 15, 2009 |
| Personal Eulogy | Ed Martin | October 14, 2009 |
| Personal Eulogy | melissa top | November 9, 2008 |
| Personal Eulogy | Nicole Miner | October 15, 2008 |
| Always Remembered | Paul Rickmeyer | October 14, 2008 |
| Not Forgotten | Randy & Kay Bauder | October 13, 2008 |
| Personal Eulogy | Andrew T. Erickson | June 2, 2008 |
| Personal Eulogy | Raymond I. Buenteo, CPT | January 25, 2008 |
| Personal Eulogy | TJ Root | December 7, 2007 |
| Personal Eulogy | LTC (Ret) Steve Arata | November 13, 2007 |
| Personal Eulogy | Braden Hestermann | November 12, 2007 |
| Personal Eulogy | Shelly Slough | November 7, 2007 |
| Personal Eulogy | Matt Dzwilefsky | November 5, 2007 |
| Personal Eulogy | Lillian Cooper | November 4, 2007 |
| Personal Eulogy | Tyler Stegeman | October 31, 2007 |
| Personal Eulogy | Phillip Simpson | October 31, 2007 |
| Personal Eulogy | clayton | October 29, 2007 |
| Personal Eulogy | Adam Davies | October 27, 2007 |
| Personal Eulogy | Thomas Piercynski | October 27, 2007 |
| Personal Eulogy | Matt and Colleen Joosten | October 26, 2007 |
| from Baghdad | Matt Mazar | October 25, 2007 |
| Personal Eulogy | MAJ Mike McKay | October 25, 2007 |
| Personal Eulogy | Sharra Deniz | October 25, 2007 |
| Personal Eulogy | Heather Peterson | October 25, 2007 |
| Personal Eulogy | Heather Peterson | October 25, 2007 |
| Personal Eulogy | Karin E. Ritenour | October 24, 2007 |
| Personal Eulogy | Sean Walsh | October 24, 2007 |
| Personal Eulogy | Kyle Brengel | October 23, 2007 |
| Personal Eulogy | Bill and Liz Murray | October 23, 2007 |
| Personal Eulogy | Cameron Keogh | October 23, 2007 |
| Personal Eulogy | Tania Miani | October 23, 2007 |
| Personal Eulogy | Anthea Hernandez | October 22, 2007 |
| Personal Eulogy | Matt Schutte '04 | October 22, 2007 |
| Personal Eulogy | Michael Porges | October 21, 2007 |
| Personal Eulogy | Keith Toy | October 21, 2007 |
| Personal Eulogy | Jerry Napolitano | October 21, 2007 |
| Personal Eulogy | Kristin Doneth | October 21, 2007 |
| Personal Eulogy | Laurel Campbell | October 21, 2007 |
| Personal Eulogy | Lorilyn Woods | October 21, 2007 |
| Personal Eulogy | Mary ('03 & '06 mom) | October 20, 2007 |
| Personal Eulogy | Tiffany Montgomery | October 20, 2007 |
| Personal Eulogy | Kevin Prevost | October 20, 2007 |
| Personal Eulogy | sandra prevost | October 20, 2007 |
| In My Thoughts | Jackie DeSenna | October 19, 2007 |
| Personal Eulogy | Kris Johnson | October 19, 2007 |
| Personal Eulogy | Liz Gulino | October 19, 2007 |
| Personal Eulogy | Abby Shields | October 19, 2007 |
| Personal Eulogy | Pamela MIkstas | October 19, 2007 |
| Personal Eulogy | Abigail d'Autremont | October 18, 2007 |
| Personal Eulogy | Ron Valentine | October 18, 2007 |
| Personal Eulogy | Mary Pleuss | October 18, 2007 |
| Personal Eulogy | Timothy Eng | October 18, 2007 |
| From Iraq | Chris Thielenhaus | October 18, 2007 |
| Personal Eulogy | Dustin Mathies | October 18, 2007 |
| Personal Eulogy | Mike Donohue | October 18, 2007 |
| Your Uncle Jim | James W. Cain | October 18, 2007 |
| Prayer for 1LT Martin | Clayton and Karen Cline | October 18, 2007 |
| Personal Eulogy | Jake Worth | October 18, 2007 |
| Personal Eulogy | Paul Rickmeyer | October 18, 2007 |
| Personal Eulogy | Leann Yi | October 18, 2007 |
| Personal Eulogy | Kathryn 08 Parent | October 18, 2007 |
| Personal Eulogy | Lori Imsdahl | October 18, 2007 |
| An exceptional leader | MAJ Eugenia Guilmartin | October 18, 2007 |
| Personal Eulogy | Carla Lois | October 17, 2007 |
| Personal Eulogy | Aaron Stark | October 17, 2007 |
| Personal Eulogy | Amanda Rogers | October 17, 2007 |
| Personal Eulogy | Edwin Lester Minges III | October 17, 2007 |
| Personal Eulogy | Joseph & Joy Dzwilefsky | October 17, 2007 |
| Personal Eulogy | Lori Kircher | October 17, 2007 |
| Personal Eulogy | Joseph W. Adamczyk | October 17, 2007 |
| Personal Eulogy | Richard and Deborah Nifong | October 17, 2007 |
| Personal Eulogy | Yolanda Ramirez-Raphael | October 17, 2007 |
| Personal Eulogy | LTC A | October 17, 2007 |
| Personal Eulogy | Pam & Dennis Desilets | October 17, 2007 |
| Personal Eulogy | Bronwyn Levy | October 17, 2007 |
| Personal Eulogy | ann johansmeyer | October 17, 2007 |
| Personal Eulogy | Jan Swoope | October 17, 2007 |
| Personal Eulogy | winnie pritchett | October 17, 2007 |
| Thank you and God bless you son. | Lawrence Ross Moody, Sr. | October 17, 2007 |
| Personal Eulogy | LTC (R) Susan Green | October 17, 2007 |
| Personal Eulogy | Randy Young | October 17, 2007 |
| Personal Eulogy | Sonja Rodriguez | October 17, 2007 |
| Personal Eulogy | Joe Meyer | October 17, 2007 |
| Personal Eulogy | Jordan Bradford | October 17, 2007 |
| Personal Eulogy | Marshall McGurk | October 16, 2007 |
| Personal Eulogy | 1LT Brad Krauss | October 16, 2007 |
| Thanks Tom | Paul Lushenko | October 16, 2007 |
| Personal Eulogy | Tiffany Martin | October 16, 2007 |
| Personal Eulogy | Mike Linnington | October 16, 2007 |
| Personal Eulogy | Lindsay March | October 16, 2007 |
| Personal Eulogy | Sara Tracy | October 16, 2007 |
| Tom's Journal & Photos | Jason Hillman | October 16, 2007 |
| Personal Eulogy | Dan Alix | October 16, 2007 |
| Personal Eulogy | Leigh (Harrell) McGurk | October 16, 2007 |
| Personal Eulogy | Shawnie (Naessens) Salgado | October 16, 2007 |
| Personal Eulogy | MAJ Rick Black | October 16, 2007 |