Click on any eulogy link to view that eulogy.
Click on "Post a new eulogy" to add your own eulogy to Nick.
Other important links:
Nick A Dewhirst
West Point, 2006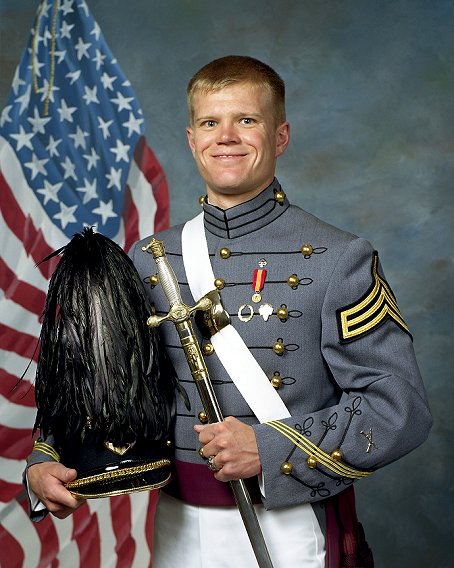 Be Thou At Peace
To date, 119 eulogies have been posted for Nick. Post a new eulogy to share some memories and thoughts that you may have. Additional biographical information may be found on the personal home page.
| Subject | Name | Date Posted |
| --- | --- | --- |
| Personal Eulogy | Paula Crawford | May 30, 2016 |
| Personal Eulogy | Mom | November 4, 2015 |
| Personal Eulogy | Someone who cares | August 25, 2015 |
| Personal Eulogy | Nemo | January 28, 2012 |
| Personal Eulogy | 1SG Glen Coleman | July 20, 2011 |
| Personal Eulogy | Paula Crawford | May 30, 2011 |
| Personal Eulogy | 1st Lt Woody Olmstead | February 13, 2010 |
| Personal Eulogy | Staff Sergeant David McNeil | December 6, 2009 |
| Personal Eulogy | CPT Daniel Krueger | July 25, 2009 |
| Personal Eulogy | 1LT Steven Song | May 24, 2009 |
| Personal Eulogy | 1LT Christopher Blackwell | April 30, 2009 |
| Personal Eulogy | Cory M Clark | December 30, 2008 |
| '06 Mom | Kathy Sweeney | December 15, 2008 |
| Personal Eulogy | MAJ Tanya Markow | September 27, 2008 |
| Personal Eulogy | 1LT Mehae Bae | September 23, 2008 |
| Personal Eulogy | Stephen Reynosa | September 11, 2008 |
| Personal Eulogy | 1LT Douglas Klein | August 15, 2008 |
| Personal Eulogy | Kim Dick | August 12, 2008 |
| Personal Eulogy | Benjamin Hartig | August 12, 2008 |
| Personal Eulogy | 1LT Miles Hidalgo | August 11, 2008 |
| Personal Eulogy | Pam & Marty Mikstas ( parents 2009) | August 9, 2008 |
| Personal Eulogy | Kathryn 08 Parent | August 6, 2008 |
| Personal Eulogy | gregory gebhardt | August 5, 2008 |
| Personal Eulogy | The Lennon Family | August 5, 2008 |
| A Great Man | Pete Crawford | August 2, 2008 |
| Personal Eulogy | Joan and Louis Verardo | August 1, 2008 |
| Personal Eulogy | CPT Keith Toy, 2005 | July 31, 2008 |
| Personal Eulogy | MAJ Kurt Roberts | July 30, 2008 |
| Personal Eulogy | Anonymous | July 29, 2008 |
| Amazing Person | Jenna Sandoval | July 28, 2008 |
| Personal Eulogy-RGR CL 05-07 | CPT Henderson, Ryan | July 28, 2008 |
| The Best in All of Us | Michael Kenneth Martinez | July 28, 2008 |
| Hero | Anthony Carollo | July 27, 2008 |
| Personal Eulogy | Carol Carier | July 26, 2008 |
| Personal Eulogy | 1LT Ashton Ballesteros | July 26, 2008 |
| Personal Eulogy | Taylor Justice | July 26, 2008 |
| Personal Eulogy | Hughbert & Gail Collier | July 25, 2008 |
| Personal Eulogy | John & Paula Crawford | July 25, 2008 |
| You Will Be Missed | 1LT Jen Nam | July 25, 2008 |
| Be Thou At Pease Brother | 1LT Jared Wagner | July 25, 2008 |
| Personal Eulogy | John & Elizabeth Perkins | July 24, 2008 |
| Personal Eulogy | John and Dodi Roesler | July 24, 2008 |
| Be thou at peace | James W Hickman, '06 | July 24, 2008 |
| Personal Eulogy | Mike Roesler | July 24, 2008 |
| Dulce et decorum est pro patria mori. | William & Susan Harryman | July 24, 2008 |
| Personal Eulogy | Beth Sutey | July 24, 2008 |
| Your state thaks you | Tom Kloiber | July 23, 2008 |
| Never Falter, Never Quit | Philip Castaneda Sr. | July 23, 2008 |
| For Nick | 1LT Chris Young | July 23, 2008 |
| Personal Eulogy | Daniel G. Hwang | July 23, 2008 |
| Well Done | 1LT Christian Hoempler | July 23, 2008 |
| Personal Eulogy | Mark Gerasimas | July 23, 2008 |
| A Good Man | 1LT Eric Suddarth | July 23, 2008 |
| Personal Eulogy | Jonathan Bate | July 23, 2008 |
| Personal Eulogy | Shirley Olivieri-Mathies ('05 parent) | July 23, 2008 |
| Personal Eulogy | Jerry Napolitano | July 23, 2008 |
| Personal Eulogy | 1LT Craig Bonham | July 23, 2008 |
| Personal Eulogy | 1LT Ben Summers | July 23, 2008 |
| Personal Eulogy | Sophia Obamije | July 23, 2008 |
| A beloved member of the "XO Squad" | Claire Foley | July 23, 2008 |
| Personal Eulogy | Mary & Mike Conway | July 23, 2008 |
| We'll see you again | 1LT Stephanie Davison | July 23, 2008 |
| Personal Eulogy | 1LT Natoshia Clinton | July 23, 2008 |
| Personal Eulogy | Jen Rayburn | July 23, 2008 |
| It ain't gonna be the same | Jon Hagen | July 23, 2008 |
| Well Done | Gregory Dieterich | July 23, 2008 |
| Personal Eulogy | 1LT Seth Gulsby | July 23, 2008 |
| Personal Eulogy | Geoffrey Whitfield | July 23, 2008 |
| Personal Eulogy | Shane Oravsky | July 23, 2008 |
| Personal Eulogy | Kyle Hatzinger | July 23, 2008 |
| Personal Eulogy | Rebecca Supon | July 23, 2008 |
| Your sorrow is ours | An '07 Parent | July 22, 2008 |
| personal eulogy | Carl and Gigi Sanders | July 22, 2008 |
| Personal Eulogy | Veronica May | July 22, 2008 |
| Personal Eulogy | Jan and Warren Swoope | July 22, 2008 |
| Prayers for your family | 1LT Barak Griffin D-2 | July 22, 2008 |
| Personal Eulogy | Joanne Connolly WP Class of 2011 Mom | July 22, 2008 |
| Personal Eulogy | Sharon Buck | July 22, 2008 |
| Personal Eulogy | Laurie Lehman | July 22, 2008 |
| Personal Eulogy | 1LT Edward Park | July 22, 2008 |
| Personal Eulogy | Diane and Vern Pritchard | July 22, 2008 |
| Personal Eulogy | Carol Schubert | July 22, 2008 |
| Personal Eulogy | 1LT Mac Barclay | July 22, 2008 |
| Personal Eulogy | Phil Biggs, USMA '86 | July 22, 2008 |
| Personal Eulogy | 1LT Michael Mingler | July 22, 2008 |
| Personal Eulogy | COL(ret) Terry Pierce family | July 22, 2008 |
| Personal Eulogy | Mary ('03 and '06 mom) | July 22, 2008 |
| Personal Eulogy | Class of 2012 Parent | July 22, 2008 |
| Personal Eulogy | Michael and Carol Rosenberg | July 22, 2008 |
| Personal Eulogy | Patrick Brundage | July 22, 2008 |
| In Sympathy | Jeanette Mihal | July 22, 2008 |
| Personal Eulogy | Mary Simonis | July 22, 2008 |
| Be Thou at Peace | Marion C. Smith | July 22, 2008 |
| Personal Eulogy | Liam Walsh | July 22, 2008 |
| Personal Eulogy | Dave Conner | July 22, 2008 |
| Personal Eulogy | 1LT Ryan McQuarrie | July 22, 2008 |
| Personal Eulogy | Pam & Dennis Desilets | July 22, 2008 |
| Personal Eulogy | Doug and JoAnn Radunzel | July 22, 2008 |
| Personal Eulogy | Cindy Graham | July 22, 2008 |
| Personal Eulogy | Ann & Tom Fong | July 22, 2008 |
| Personal Eulogy | Roger and Dianna Mathews | July 22, 2008 |
| Personal Eulogy | Hans and Vera Beck | July 22, 2008 |
| Personal Eulogy | Fort Campbell/West Point Grad Wife | July 22, 2008 |
| Personal Eulogy | Sandra Barclay | July 22, 2008 |
| Personal Eulogy | Stacey Locher | July 22, 2008 |
| Personal Eulogy | McClelland Family | July 22, 2008 |
| Personal Eulogy | Florence Jallah | July 22, 2008 |
| Personal Eulogy | Sheila Sizemore | July 22, 2008 |
| Personal Eulogy | 1LT Nicole Mounts | July 22, 2008 |
| Personal Eulogy | Bronwyn Levy | July 22, 2008 |
| Personal Eulogy | Martell & Anna Swain | July 22, 2008 |
| Personal Eulogy | Mary Becvar | July 22, 2008 |
| Personal Eulogy | Randy Young | July 22, 2008 |
| Personal Eulogy | Allen and Rebecca Seehusen | July 22, 2008 |
| Personal Eulogy | Jann and Dan Sheeran | July 22, 2008 |
| Personal Eulogy | Richard and Deborah Nifong | July 22, 2008 |
| Without Struggle, There Is No Progress | 1LT Maurice Hickman | July 22, 2008 |
| Personal Eulogy | Rhonda Laufer | July 22, 2008 |
| May God Comfort you | Colleen Pawling | July 22, 2008 |