Click on any eulogy link to view that eulogy.
Click on "Post a new eulogy" to add your own eulogy to Andrew.
Other important links:
Andrew M. Pedersen-Keel
West Point, 2006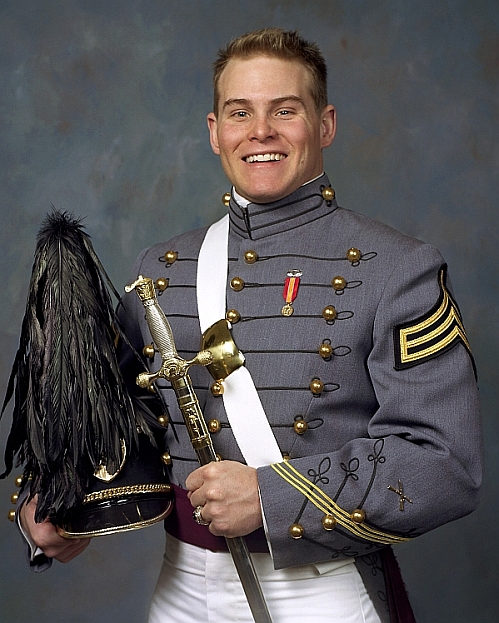 Be Thou At Peace
To date, 87 eulogies have been posted for Andrew. Post a new eulogy to share some memories and thoughts that you may have. Additional biographical information may be found on the personal home page.
| Subject | Name | Date Posted |
| --- | --- | --- |
| Respect | Glenn Koch | March 16, 2018 |
| Personal Eulogy | Someone who cares | August 25, 2015 |
| In Sympathy | Annetta Schaefer | April 1, 2013 |
| West Point Parents Club - MI | Paul Joliat | March 28, 2013 |
| Personal Eulogy | Bill and Sandy Earle | March 26, 2013 |
| My condolences | Elisa Swaebe | March 26, 2013 |
| A Loss Beyond Words | Peggie P. Thorne | March 26, 2013 |
| Personal Eulogy | Koeppes | March 22, 2013 |
| Personal Eulogy | DS | March 20, 2013 |
| Fellow Soldier Eulogy | BG Duff Duffy | March 20, 2013 |
| Personal Eulogy | Lisa McKendree | March 18, 2013 |
| Personal Eulogy | The Buckley family (Cadet 2013) | March 17, 2013 |
| Our hearts are Heavy | Mr.&Mrs. C. del Castillo- Parents 09 Grad | March 17, 2013 |
| Personal Eulogy | Joan and Louis Verardo | March 17, 2013 |
| Personal Eulogy | Esterman Family | March 17, 2013 |
| Personal Eulogy | John Lucas | March 17, 2013 |
| Personal Eulogy | linda ganem | March 16, 2013 |
| Personal Eulogy | The Mikstas Family (2009) | March 16, 2013 |
| Personal Eulogy | Mary keel vincler | March 16, 2013 |
| A shining leader | The Lucero Family - Son in Class of 2013 | March 16, 2013 |
| Personal Eulogy | Lisa Lowe | March 16, 2013 |
| Personal Eulogy | 2010 Parent | March 16, 2013 |
| Personal Eulogy | 06 mom | March 16, 2013 |
| Personal Eulogy | Ashton and Marissa Ballesteros | March 15, 2013 |
| Personal Eulogy | Cynthia and Michael Causbie | March 15, 2013 |
| Personal Eulogy | Jwan Yawer Mcgregor | March 15, 2013 |
| Personal Eulogy | Jerry Napolitano | March 15, 2013 |
| Personal Eulogy | Mayeaux Family-class of 2014 | March 15, 2013 |
| A Mother Who Knows Your Pain | Lonnette Wright Sampson | March 15, 2013 |
| Personal Eulogy | Rob & Maria Henry | March 15, 2013 |
| Personal Eulogy | David Daniels | March 15, 2013 |
| 2016 Parent | Michael J. Ireland | March 15, 2013 |
| Personal Eulogy | 2015 Cadet Parent | March 14, 2013 |
| Personal Eulogy | Parents, 2015 | March 14, 2013 |
| Thanks and Prayers | Dan Henry | March 14, 2013 |
| You are in our prays | Stephan & Nancy Murphy Delaware Parents USMA '13 | March 14, 2013 |
| Praying for you | Tindall Family 2013 | March 14, 2013 |
| Personal Eulogy | Cat Kearns | March 14, 2013 |
| Personal Eulogy | Carl and Gigi Sanders | March 14, 2013 |
| Personal Eulogy | Parents, Class of 2013 | March 14, 2013 |
| Personal Eulogy | ann johansmeyer | March 14, 2013 |
| Personal Eulogy | Steve & Liz Noack | March 14, 2013 |
| Personal Eulogy | Cindy Graham | March 14, 2013 |
| Brother | Taylor Justice | March 14, 2013 |
| Personal Eulogy | Parent, 2014 | March 14, 2013 |
| Deepest Sympathy | Jeanette Grayeb-Mihal | March 14, 2013 |
| Personal Eulogy | John Gardner | March 14, 2013 |
| God Bless You Brave Soldier | Tammy Sutherland | March 14, 2013 |
| Personal Eulogy | Harris Family | March 14, 2013 |
| Personal Eulogy | Bill Johnson Parent '14 | March 14, 2013 |
| Personal Eulogy | The Scott's | March 14, 2013 |
| Personal Eulogy | Cliff & Penny Knepp | March 14, 2013 |
| Personal Eulogy | Swoope family, '09 | March 14, 2013 |
| Deepest Sympathy | Nanette and Jim Reitter | March 14, 2013 |
| Personal Eulogy | Tiny Stallings (Momma Frantz) | March 14, 2013 |
| Personal Eulogy | The Moody Family Class of 2011 | March 13, 2013 |
| Personal Eulogy | Steve and Susan Hammond | March 13, 2013 |
| Personal Eulogy | Parent, Class of 2014 | March 13, 2013 |
| We are praying for you | Kurt and Kerry Bleikamp (2013) | March 13, 2013 |
| With Deepest Sympathy | Charles and Mary Crigger | March 13, 2013 |
| Personal Eulogy | Carol Schubert Liz '07, Sara '13 | March 13, 2013 |
| Personal Eulogy (2010 family) | Sheryl Clay | March 13, 2013 |
| Sincere condolences | Sheryl Hendler | March 13, 2013 |
| With much sympathy | Emmett/Toni | March 13, 2013 |
| Personal Eulogy | USMA Family ('73 and '99 Grads) | March 13, 2013 |
| Personal Eulogy | Tyler Sweatt | March 13, 2013 |
| Personal Eulogy | 2010 Dad | March 13, 2013 |
| Personal Eulogy | Deirdre C Major | March 13, 2013 |
| Personal Eulogy | The Westfall Family, (03) | March 13, 2013 |
| Personal Eulogy | WP Mom, Class of 2014 | March 13, 2013 |
| Personal Eulogy | Michele Swicegood | March 13, 2013 |
| Personal Eulogy | The Newman Family (class of 2015) | March 13, 2013 |
| Personal Eulogy | Jo-Ann Gradzik | March 13, 2013 |
| Personal Eulogy | David Eisenlohr | March 13, 2013 |
| Personal Eulogy | The Tuttle Family - '11 | March 13, 2013 |
| Personal Eulogy | Family of Renner Hall 2011 | March 13, 2013 |
| Personal Eulogy | Patty Brown | March 13, 2013 |
| Personal Eulogy | Katie Landis | March 13, 2013 |
| West Point Parents Club | Al Ortenzo | March 13, 2013 |
| Go Devils! | Mark Gerasimas | March 13, 2013 |
| Personal Eulogy | Lugene Armstrong | March 13, 2013 |
| Personal Eulogy | The Moton Family Classes of 2011, and 2015 | March 13, 2013 |
| Personal Eulogy | Tom Neir | March 13, 2013 |
| Personal Eulogy | Presley Family, Class of '14 | March 13, 2013 |
| Personal Eulogy | Barbara Andrews | March 13, 2013 |
| Personal Eulogy | Amy | March 13, 2013 |
| Personal Eulogy | Gayle Hoenke | March 13, 2013 |