Click on any eulogy link to view that eulogy.
Click on "Post a new eulogy" to add your own eulogy to Daniel.
Other important links:
Daniel Brian Hyde
West Point, 2007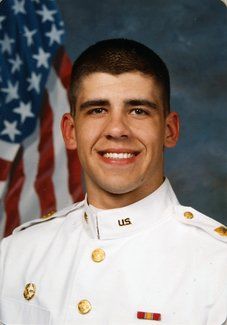 Be Thou At Peace
To date, 188 eulogies have been posted for Daniel. Post a new eulogy to share some memories and thoughts that you may have. Additional biographical information may be found on the personal home page.
| Subject | Name | Date Posted |
| --- | --- | --- |
| Memorial Day 2018 | Adam Nordin | May 29, 2018 |
| Memorial Day 2017 | Adam Nordin | May 30, 2017 |
| Memorial Day 2016 | Adam Nordin | May 31, 2016 |
| Memorial Day 2015 | Adam Nordin | May 28, 2015 |
| Memorial Day 2014 | Adam Nordin | May 26, 2014 |
| Memorial Day 2013 | Adam Nordin | June 13, 2013 |
| Our Sympathy | Judy and Lowell Locke | May 27, 2013 |
| We Still Remember | COL Dave Brady | March 20, 2013 |
| Personal Eulogy | Sandy Overly | March 9, 2013 |
| God bless you | tammy Sutherland-Abbott | March 8, 2013 |
| Personal Eulogy | Debbie Newman, West Point Mom | March 7, 2013 |
| Personal Eulogy | Jennifer Sanford | March 7, 2013 |
| Memorial Day 2012 | CPT Adam Nordin | May 28, 2012 |
| Be Thou At Peace.. | Craig Bonham ('06) | March 16, 2012 |
| Memorial Day 2011 | Adam Nordin | May 30, 2011 |
| Personal Eulogy | Jerry L Crosby, Sr, of Arizona | March 22, 2011 |
| In Remembrance | Patty Meier | June 6, 2010 |
| Personal Eulogy | Sandy Kolano, 2007 mom | October 13, 2009 |
| Deepest Sympathy | The Koenen Family of 2012 Cadet | September 14, 2009 |
| Personal Eulogy | Dan Vallone | July 11, 2009 |
| Personal Eulogy | CPT Paul Lushenko | June 24, 2009 |
| Personal Eulogy | Nancy Totman | May 29, 2009 |
| Personal Eulogy | Jason Manning | May 19, 2009 |
| An Honor. | CPT Stephen Joosten | May 18, 2009 |
| Be Thou At Peace | 1LT Collin Smith '07 | May 15, 2009 |
| Our Sympathy | Ron & Mary Tihista | April 22, 2009 |
| Great Guy | Derek Amlie | April 9, 2009 |
| Personal Eulogy | Patrick Brundage | March 31, 2009 |
| Condolences | Dan Wright | March 28, 2009 |
| Cadet Hyde | SFC Benavides, Victor | March 26, 2009 |
| Personal Eulogy | Dave Kumlien | March 22, 2009 |
| Dan - One of my Awesome New Cadets | CPT Leann Yi | March 22, 2009 |
| Condolences | Deirdre and A. Edward Major | March 20, 2009 |
| Personal Eulogy | Paul and Daryl Lyon | March 20, 2009 |
| Personal Eulogy | Nate De Kock | March 20, 2009 |
| Personal Eulogy | Bryan Bhark | March 19, 2009 |
| Personal Eulogy | Jay Berger | March 17, 2009 |
| Personal Eulogy | Anne Fields | March 17, 2009 |
| Heroes Never Die | Andrew Branch | March 16, 2009 |
| Personal Eulogy | Bill and Liz Murray | March 16, 2009 |
| God Bless Lt Hyde | David and Christine Bockstanz | March 15, 2009 |
| Personal Eulogy | Joshua Rodriguez | March 15, 2009 |
| Personal Eulogy | Anthony Ciaffone | March 15, 2009 |
| Personal Eulogy | Alex and Carol Hannenberg | March 15, 2009 |
| Personal Eulogy | Caryl Rau 2007 parent | March 14, 2009 |
| Personal Eulogy | Clay Family | March 14, 2009 |
| Personal Eulogy | 1LT Andrew Littel | March 14, 2009 |
| Personal Eulogy | Vern and Laurel Larson | March 14, 2009 |
| Personal Eulogy | Philip & Melede Meinzen | March 14, 2009 |
| Personal Eulogy | Anne Wallen, parent '09 | March 14, 2009 |
| Personal Eulogy | 2009 Mother | March 13, 2009 |
| Personal Eulogy | Cindy S | March 13, 2009 |
| Personal Eulogy | Toni Graves Whitten | March 13, 2009 |
| Personal Eulogy personal eulogy | carol and mick robinette | March 12, 2009 |
| my sympathy | a mom | March 12, 2009 |
| To the Hyde family | 2007 mom | March 12, 2009 |
| Personal Eulogy | Stan and Jill Horton | March 12, 2009 |
| Personal Eulogy | Fong family | March 12, 2009 |
| Personal Eulogy | Stephen Fennessy | March 12, 2009 |
| Personal Eulogy | James & Bridget O'Donnell (parents of Colin O'Donnell '07) | March 12, 2009 |
| Personal Eulogy | Nancy & Pete Selleck '77 (parents of Christopher Selleck '07) | March 12, 2009 |
| Personal Eulogy | The McMahon Family | March 12, 2009 |
| Personal Eulogy | Cliff and Penny Knepp '06 parents | March 12, 2009 |
| Personal Eulogy | 1LT Bryan Coward | March 12, 2009 |
| To the Hyde Family | MG Bob and Shelly Caslen | March 12, 2009 |
| Condolences to the Family of LT Hyde | Andra Kai Shaw | March 12, 2009 |
| Personal Eulogy | Bill and Ty Vaughan | March 12, 2009 |
| In Sympathy | Greg Merz & Jocelyn Javier | March 12, 2009 |
| Personal Eulogy | Matthew Busch | March 11, 2009 |
| Personal Eulogy | Bev and Rob Pruden | March 11, 2009 |
| Personal Eulogy | Sean Snook | March 11, 2009 |
| Personal Eulogy | Gerdes, Andrew | March 11, 2009 |
| Personal Eulogy | Rebecca Seehusen | March 11, 2009 |
| Personal Eulogy | Bob Preston | March 11, 2009 |
| Personal Eulogy | SFC Cespedes, Ramiro E. | March 11, 2009 |
| Personal Eulogy | Steve Kuhni | March 11, 2009 |
| Personal Eulogy | Andy & Dawn Johnson | March 11, 2009 |
| Personal Eulogy | Andy & Dawn Johnson | March 11, 2009 |
| Personal Eulogy | Janet Burchard (President, Blue Star Moms, chapter #101) | March 11, 2009 |
| Personal Eulogy | CPT Andrew Lewis ('03) | March 11, 2009 |
| Personal Eulogy | Michael and Carol Rosenberg Parents 2006 | March 11, 2009 |
| Northern Ca. 25th ID Parents | Steve and Annie Bowman USMA 2007 | March 11, 2009 |
| Personal Eulogy | Brian Jones | March 11, 2009 |
| To Daniel's Family | Janet (2007 parent) | March 11, 2009 |
| Personal Eulogy | Mary ('03 & '06 mom) | March 11, 2009 |
| Super Dan Hyde | 1LT Clayton T. Hendon (USMA 2007) | March 11, 2009 |
| Personal Eulogy | Joe Lunn | March 11, 2009 |
| Personal Eulogy | Sarah Turner | March 11, 2009 |
| Personal Eulogy | Vera and Hans Beck, parents 06, 08 | March 11, 2009 |
| Personal Eulogy | Mary A. Ng | March 11, 2009 |
| condolence | Patty Soderberg '07 parent | March 11, 2009 |
| Personal Eulogy | Bethany Clawson | March 11, 2009 |
| Personal Eulogy | Kathryn ~ 08 Parent | March 11, 2009 |
| Personal Eulogy | Colin Robb | March 11, 2009 |
| Personal Eulogy | Michael Campbell | March 11, 2009 |
| Personal Eulogy | Louis and Joan Verardo | March 11, 2009 |
| Personal Eulogy | Caroline Hidalgo | March 11, 2009 |
| Personal Eulogy | 1LT Patrick Dullano, Class of 2007 | March 11, 2009 |
| Personal Eulogy | Bryan Kelso | March 11, 2009 |
| Personal Eulogy | Matthew Hoff | March 10, 2009 |
| Words | Lindsey Gerheim | March 10, 2009 |
| Personal Eulogy | Sonja Rodriguez | March 10, 2009 |
| Personal Eulogy | Miles Murray | March 10, 2009 |
| Personal Eulogy | Bev Kinley | March 10, 2009 |
| Personal Eulogy | Michele Swicegood | March 10, 2009 |
| Personal Eulogy | Crystal Lyons mother 11 | March 10, 2009 |
| Personal Eulogy | marcia Girdley | March 10, 2009 |
| Personal Eulogy | Candi and Bob Mizell 09 parents | March 10, 2009 |
| Personal Eulogy | Thomas and Anne Marie Taylor | March 10, 2009 |
| Personal Eulogy | Dave and Peggy Bergeron | March 10, 2009 |
| Personal Eulogy | Randy Dewhirst | March 10, 2009 |
| Personal Eulogy | Cynthia Causbie | March 10, 2009 |
| Personal Eulogy | Liam Walsh | March 10, 2009 |
| Personal Eulogy | Liz Verardo | March 10, 2009 |
| Personal Eulogy | Adam Nordin | March 10, 2009 |
| Personal Eulogy | Joan Hauser, '07 Parent | March 10, 2009 |
| Personal Eulogy | Becky Harrison, mother 04, 07, 12 | March 10, 2009 |
| Personal Eulogy | Anthony M. Costa | March 10, 2009 |
| Personal Eulogy | Len & Barbara Lewandowski | March 10, 2009 |
| Personal Eulogy | Daniel Hancock | March 10, 2009 |
| Personal Eulogy | Mason Thornal | March 10, 2009 |
| Personal Eulogy | The Hurley Family ('04 parents) | March 10, 2009 |
| Personal Eulogy | Erik Edstrom | March 10, 2009 |
| Personal Eulogy | Shirley Olivieri-Mathies ('05 parent) | March 10, 2009 |
| Personal Eulogy | Jeffrey Cho | March 10, 2009 |
| Personal Eulogy | Richard and Deborah Nifong | March 10, 2009 |
| Personal Eulogy | Randy Young | March 10, 2009 |
| Personal Eulogy | Chris Selleck | March 10, 2009 |
| Personal Eulogy | Chris Beach | March 10, 2009 |
| Personal Eulogy | John Mayer | March 10, 2009 |
| sympathy | K Landis | March 10, 2009 |
| Personal Eulogy | Tom Weikert '83 | March 10, 2009 |
| Personal Eulogy | Matt Dembowski | March 10, 2009 |
| Personal Eulogy | Kevin and Carol MacGibbon | March 10, 2009 |
| Personal Eulogy | Sarah Gerstein | March 10, 2009 |
| Personal Eulogy | Dennis & Pam Desilets | March 10, 2009 |
| Personal Eulogy | Travis Clonch | March 10, 2009 |
| Sympathy | Frederick Hoenke family | March 10, 2009 |
| Personal Eulogy | Chris Hostler | March 10, 2009 |
| Personal Eulogy | Matthew Hubbard | March 10, 2009 |
| Personal Eulogy for Dan | Jeff MacGibbon | March 10, 2009 |
| Personal Eulogy | MAJ Julia Bell | March 10, 2009 |
| Personal Eulogy | Beth Sutey | March 10, 2009 |
| Personal Eulogy | Harry C. Bruner, Jr. | March 10, 2009 |
| Personal Eulogy | Greg Lewandowski | March 10, 2009 |
| Personal Eulogy | Rick & Sue Due | March 10, 2009 |
| Personal Eulogy | Anita Castro | March 10, 2009 |
| Sympathy | Jeffrey R Madsen | March 10, 2009 |
| Personal Eulogy to 1LT Hyde | MAJ Francis J. Monaco ('96) | March 10, 2009 |
| To You and Yours | Sandee Coward | March 10, 2009 |
| Personal Eulogy | Cindy Smith | March 10, 2009 |
| Personal Eulogy | Maj Dana Munari usma1988 @ 47th CSH Tikrit Iraq | March 10, 2009 |
| Condolences | Kathleen (Kadi) Turner | March 10, 2009 |
| Personal Eulogy | Lisa Murphy | March 10, 2009 |
| Personal Eulogy | Gene & Donna Humbert | March 10, 2009 |
| Personal Eulogy | Charlie West Point parent | March 10, 2009 |
| Personal Eulogy | Tom and Becky Wierschem | March 10, 2009 |
| In our Prayers | Quaye Reed | March 10, 2009 |
| God Bless You My Brother | Craig Bonham C/O 2006 | March 10, 2009 |
| Personal Eulogy | Mary Becvar (Tyler "11) | March 10, 2009 |
| Personal Eulogy | mary pleuss | March 10, 2009 |
| Personal Eulogy | Karen & Luke French | March 10, 2009 |
| Condolences | Pam Gilley, 07 parent | March 10, 2009 |
| Mother of Class of 07 grad | Terry Pierce | March 10, 2009 |
| Personal Eulogy | Roger and Dianna Mathews '06 parents | March 10, 2009 |
| Personal Eulogy | Louis R. F. Preysz III | March 10, 2009 |
| Personal Eulogy | ann johansmeyer | March 10, 2009 |
| Personal Eulogy | Jacquie Holcombe | March 10, 2009 |
| Personal Eulogy | George and Denise Corbari '09 Parents | March 10, 2009 |
| Personal Eulogy | Chloe Keveryn | March 10, 2009 |
| Prayers and Condolences | Frank McKnight | March 10, 2009 |
| A Mother 25th Infrantry | Colleen M Pawling | March 10, 2009 |
| Personal Eulogy | Tony and Joan Kunz -- '09 Parents | March 10, 2009 |
| Personal Eulogy | A mother | March 10, 2009 |
| Personal Eulogy | Ann Marie Frederick | March 10, 2009 |
| Personal Eulogy | Brian Szydlik | March 10, 2009 |
| Condolences | Susan Jane Sutton | March 10, 2009 |
| Personal Eulogy | Dave and Cindy Reilly | March 10, 2009 |
| Personal Eulogy | Mary & Mike Conway, 06 Parents | March 10, 2009 |
| Personal Eulogy | Shelley & David Eisenlohr, '07 Parents | March 10, 2009 |
| Personal Eulogy | Jeanette Grayeb-Mihal | March 10, 2009 |
| Personal Eulogy | Bronwyn Anne Levy | March 10, 2009 |
| Personal Eulogy | Lynette & Ron Pfannenstiel | March 10, 2009 |
| Personal Eulogy | E.M. (Ted) Dannemiller II | March 10, 2009 |
| Personal Eulogy | Drew Poyner | March 10, 2009 |
| Personal Eulogy | Joanne Connolly (Gerard '11) | March 10, 2009 |
| Personal Eulogy | Heather Hernandez | March 10, 2009 |
| Personal Eulogy | Aubrey McCary | March 10, 2009 |